Dolly Parton Once Called Woody Allen 'Sexy': 'He Is so Cute That He Is Sexy'
The first movie Dolly Parton ever starred in was "9 to 5" in 1980. In 1978, the "Jolene" singer was interviewed by Playboy Magazine and asked if she'd ever thought of acting in movies. She had thought about it, and so had 20th Century Fox. They were just waiting for the right film. In the meantime, there were a couple of people that Parton had her eye on to work with. One of them was Woody Allen.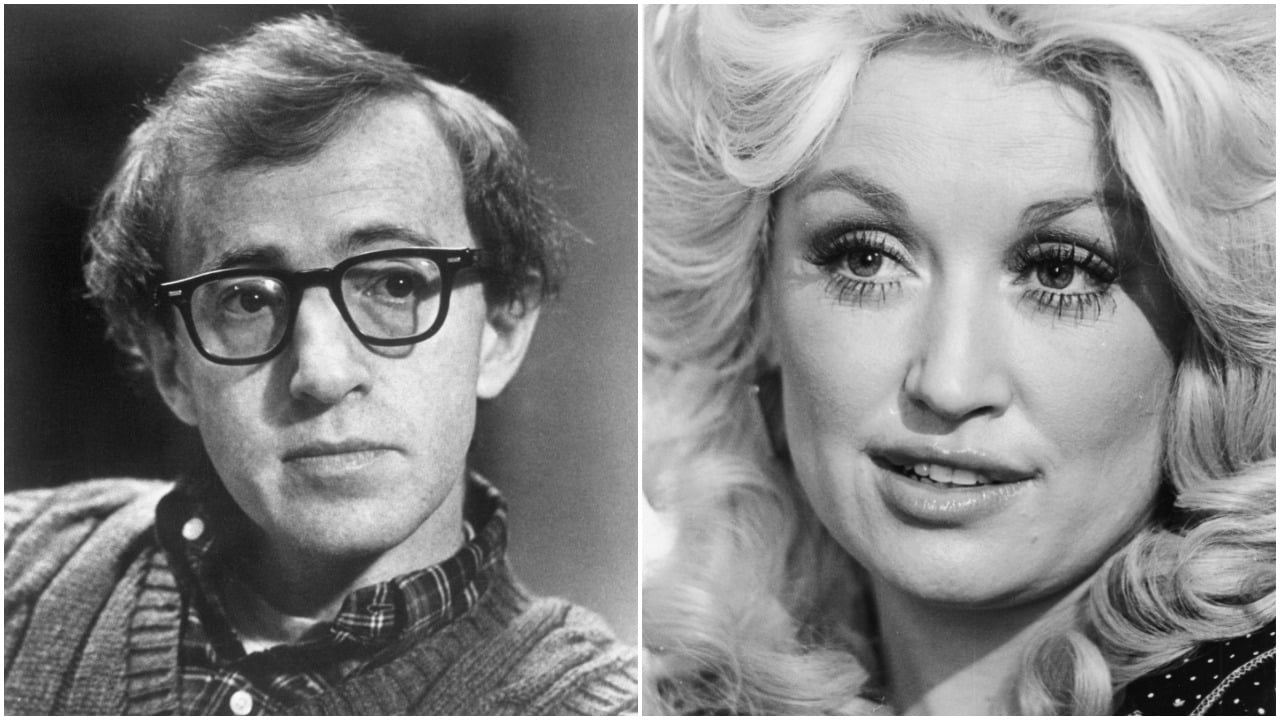 Dolly Parton 'never wanted to be in the movies'
In 1978, Parton had never "wanted to be in the movies." But the movies wanted Parton.
"I have never done any acting at all, never thought I'd be particularly good at it," she told the magazine, according to the book Dolly on Dolly: Interviews and Encounters with Dolly Parton. "But the people at 20th Century-Fox really feel like I can be, or that I am, a natural actress."
When 20th Century Fox approached Parton about acting, she was unsure simply because she lacked experience. But the Queen of Country will try anything once.
"All I said was, 'I don't know if I can or can't, but if you think I can and you want to take that chance, I'll take it with you,'" she said. "It's as simple as that. Can you imagine me bein' an actress? But a lot of people are interested. Sandy Gallin, my manager, is making a hellacious deal, but no one knows if I can do it at all."
Who Dolly Parton wanted to work with
At the time of the interview, Parton wasn't plugged into the film scene. She couldn't name any directors she admired.
"To be honest, I never thought about bein' in the movies enough to get that far along with that," she said when the interviewer asked her if there were any directors she was interested in working with. "I'm not really that involved in who does what. I don't really know who the directors or producers are. They say that if you've got the right director, that anybody can act. It's all kind of new, this movie thing. I've met a few people, but I can't remember their names."
But when the interviewer asked about screenwriters, Parton spoke highly of Neil Simon. She even said she wished he'd "write somethin' for [her]."
"I saw The Goodbye Girl and that's the type of thing that I see myself in," she said. "It's got depth, it's a comedy, it's got love . . . it just reminded me of the way I would react under the same conditions. You know, crazy and stupid, tryin' to make the best out of a bad situation. I'm even goin' to call my manager; it's probably farfetched . . . Neil Simon may not even have an interest in me, period. But I can see myself doin' the type of things he writes."
On Woody Allen in 1978
Another name Parton brought up was Woody Allen. She admired his "depth."
"I love Woody Allen," she said. "I think he's sexy. He is so cute that he is sexy. I go with the depth and that turns me on sexually."
When the interviewer asked if Parton would like to be in a Woody Allen movie she said:
"Yes, if he'd be in it with me. I loved Annie Hall and I loved The Goodbye Girl, and for the same reasons, because they were both very realistic—funny, serious, even the bad times were good. Maybe we'll team Woody and Neil up and they can do somethin' really great."
Today, Parton has quite the film resume. But she never did get around to doing a Woody Allen film.