Dolly Parton's Favorite Fast Food
Dolly Parton says she has 'a farmer's daughter's appetite.' Here's her favorite fast food restaurants, what she likes to make at home, and all about her new line of desserts.
TL;DR
The fast food Dolly Parton and husband Carl Dean love to eat.
What the Queen of Country makes at home.
Parton's new line of Southern desserts.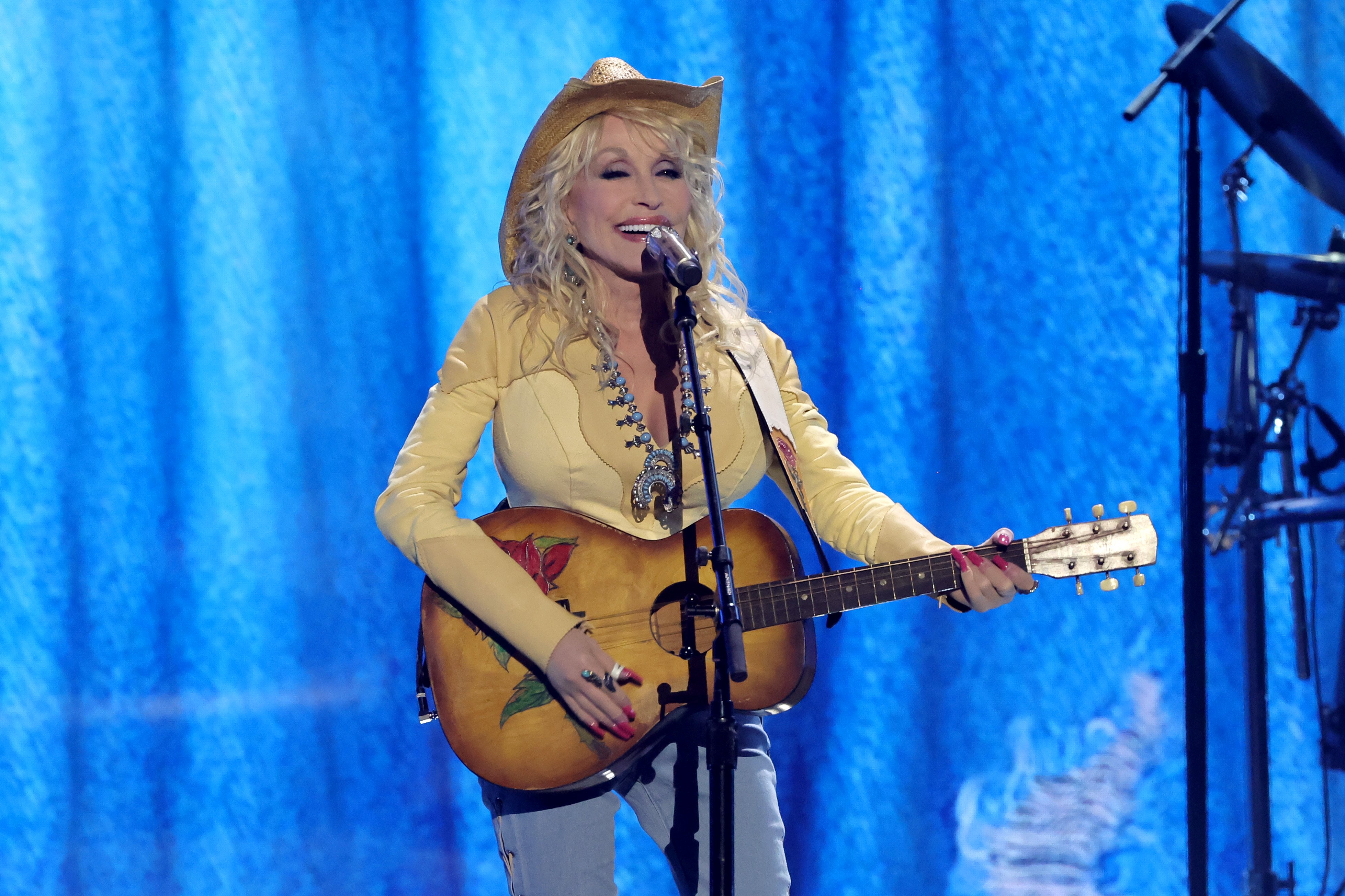 It's no secret that Dolly Parton loves Southern classics. But the "Dumb Blonde" singer is also a fan of fast food. In fact, several of Parton and husband Carl Dean's first dates took place at fast food establishments. It's a habit that's stuck all these years. Here are the fast food chains the Queen of Country likes best.
Dolly Parton and Carl Dean pick up fast food in their camper
Dean took Parton to McDonald's for their first date. And the habit stuck.
"Oh, I love to get a good burger out on the highway and french fries like everybody else," she told Insider in Jan. 2022. "And we go get hot doughnuts now and then. We love to just get out in that little camper of ours and drive through restaurants." 
One of Parton and Dean's favorite activities to do together is camping. The couple likes to keep it simple by packing a picnic or just picking up a quick meal on the go.
But even when she's not camping, Parton loves Taco Bell.
"I like soft-shell tacos," she said. "I like the others, but they fall apart so bad, especially if you're riding around. So I always get a Taco Supreme, with the sour cream and all that, in the soft shell. I love that." 
Along with a Taco Supreme, the "Jolene" singer likes "an order of rice and beans. And I get mild sauce. I don't like to get it too hot and ruin everything."
Parton also was sure to note that her actual favorite order, the Mexican Pizza. At the time of the interview, the fan-favorite item was no longer on the menu. But, as of today, April 18, 2022, it's back. And Parton may have had something to do with it, fans are speculating.
Eating at home
When Parton has the opportunity, she also enjoys cooking at home. Though, she tends to like to keep things "quick and easy."
"Through the week I'll eat things like egg salad on toast with tomato, and sometimes I'll have a bagel with cream cheese, cucumbers and tomatoes," she told The Wall Street Journal. "If I'm working I'll stay on a low-carb diet during the week and then eat anything I want on the weekends. I just watch moderation for the most part…. I have a tendency to gain weight because I'm so short and because I have a farmer's daughter's appetite."
A weekend breakfast for Parton and her husband might look like…
"Well, this morning I made breakfast for my husband and me," she told Marie Claire in 2020. "I made some sausage patties, and I baked some biscuits, and I made some milk gravy. He likes that once in a while. Now, I can't eat like that all the time, but I enjoy eating it when I do."
Dolly Parton's Duncan Hines baking line
When Parton's not eating Taco Bell or making a big breakfast for herself and Dean, she enjoys baking. That's why she's so excited about her new dessert line with Duncan Hines.
"I've always wanted to have a line of Southern foods," she told Insider. "We're launching the line with banana pudding cake because I've always loved banana pudding and thought, 'Wouldn't it be great to have banana pudding in a cake?'" 
"And then, of course, we've got a wonderful coconut cake, everybody loves coconut cake," she added. "And we have all that wonderful buttercream frosting for the cakes. I'm excited about it." 
On the Duncan Hines website, Parton's baking goodies have all sold out. But they're in grocery stores across the country as of March.