Dolly Parton Once Revealed That Her Husband 'Fantasizes' About Having a Threesome With Jennifer Aniston
Dolly Parton and her husband, Carl Thomas Dean, have been married for more than 50 years. Although their love has only gotten stronger with time, Dean has "fantasized" about being with another woman in the bedroom — namely Friends star Jennifer Aniston.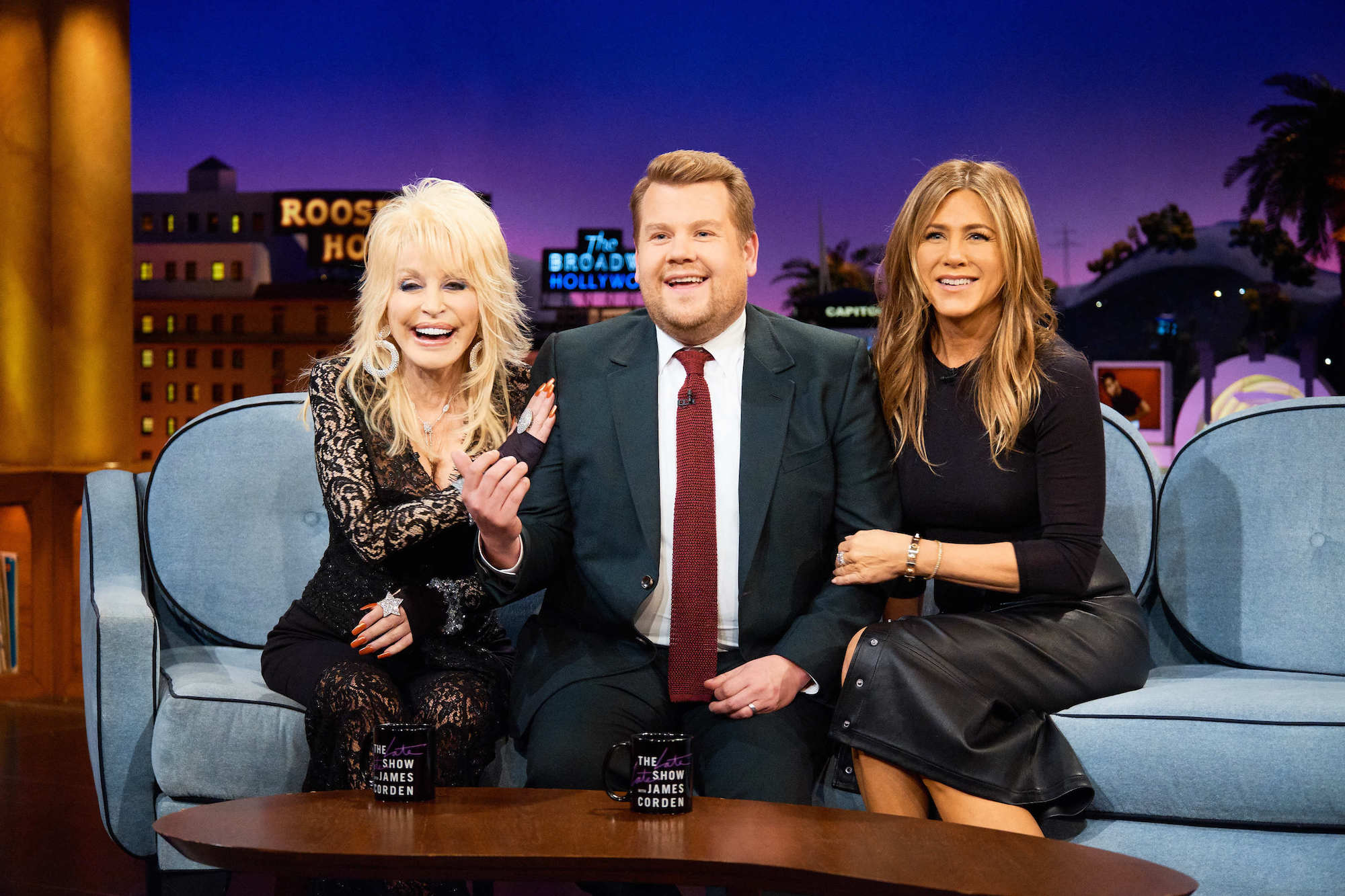 Dolly Parton's husband is 'crazy' about Jennifer Aniston
In 2018, Parton stopped by The Tonight Show Starring Jimmy Fallon to discuss her work on the Netflix film, Dumplin', starring Aniston.
In the movie, Aniston plays former beauty queen Rosie, whose anti-pageant daughter, Willowdean (Danielle Macdonald), turns to Parton's music—as well as Parton-impersonating drag queens—for comfort and wisdom after feeling neglected.
Though Parton doesn't appear in the film, she did approve of the use of her music in it. She also co-wrote six songs for the soundtrack.
Due to the singer's involvement in the movie, she and Aniston were able to work closely together, much to her husband's delight.
During her interview with Fallon, Parton revealed that Carl Dean — whom she's been married to since 1966 — was overly excited when she and the Friends star became creative collaborators.
RELATED: How Dolly Parton Responded to the Rumor That She Only Sees Her Husband 6 Weeks a Year
"I love her to death," Parton said of Aniston. "My husband is crazy about her, and he was more excited that I was going to do a movie with her than he was that I got the chance to write all this music. You see, I think he fantasizes, like a threesome."
Parton quickly assured Fallon that she was kidding, sharing that her husband is too old for that type of activity.
"I think he can't get it out to pee, much less get it up for three!" she quipped. "He's going to kill me for saying that."
Dolly Parton's comment amused Jennifer Aniston and Carl Dean
Like Fallon and the studio audience, Aniston was also pretty amused by Parton's reveal, sharing in a separate interview that she couldn't hold in her laughter after hearing the "Jolene" singer's clever quip.
RELATED: Dolly Parton and Husband Carl Dean Have Never Called Each Other By Their First Names
"My mouth just dropped," the Horrible Bosses star told USA TODAY. "And then I laughed my (butt) off. That's Dolly."
Aniston said the comments were just Parton being her fun and hilarious self, which is why many people love being around the country music legend.
"It was hilarious, I think it's flattering. And that's Dolly's sense of humor," the actor continued. "No one in the world can get away with saying anything like that about their partner on live television, except Dolly. I mean, that is a quote."
As for how Parton's husband felt about her spilling his secret fantasy, she says he actually got a kick out of it.
"My husband, he thought it was a hoot," Parton later told Access. "And he said, 'Well, maybe I couldn't do a threesome, but I think, if it is Jennifer, I could do, like, a two and a half.'"