Dolly Parton Loves Wearing These in Her Hair When She's Not Wearing Her Trademark Wigs
Dolly Parton is known to many as a modern-day renaissance woman. She has achieved legend status in the music industry thanks to her contributions to country music. She also is known for her acting skills, having starred in movies like 9 to 5 as well as wildly popular shows like Hannah Montana. The "Jolene" singer is also a known philanthropist and recently helped fund one of the COVID-19 vaccines. Furthermore, Parton is a successful entrepreneur, having made millions off her theme park, Dollywood. But Parton is also known for her signature style and trademark wigs.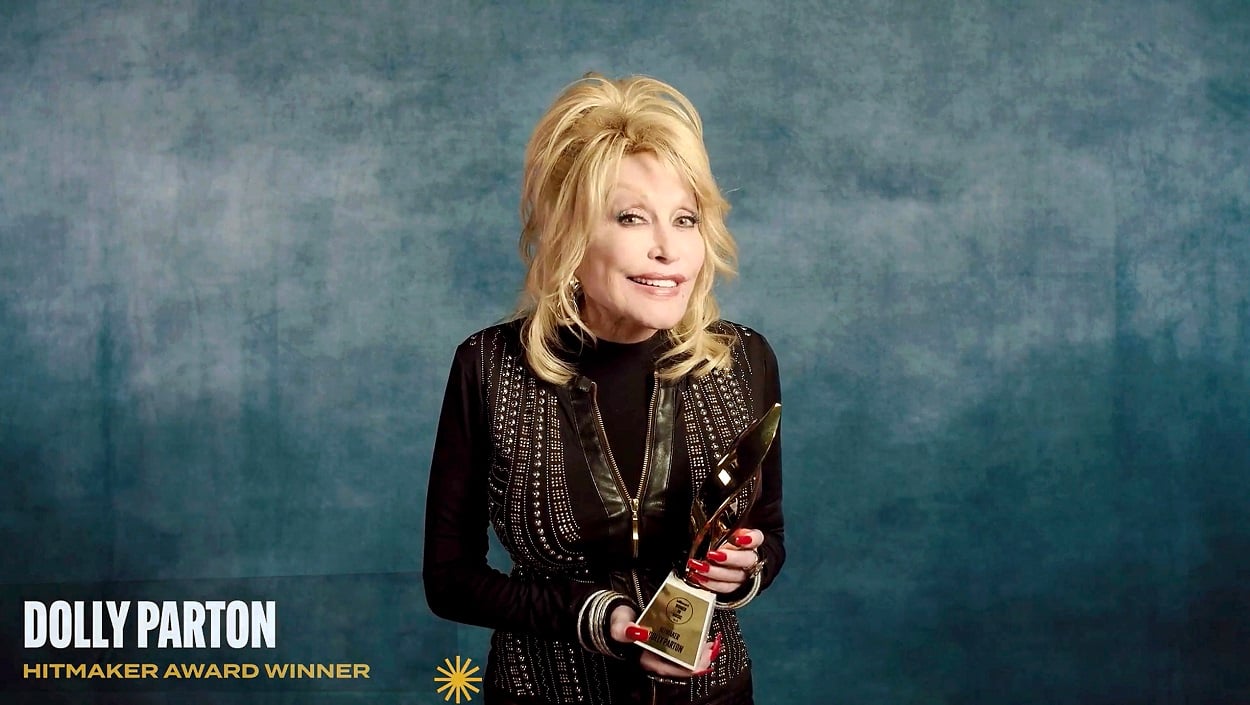 It's no secret that Parton has a larger-than-life personality. She is well known and well-loved in the entertainment industry for her winning charm. But the "I Will Always Love You" singer is also famous for her flashy style. The singer loves to support massive blonde wigs, outfits with plenty of sparkle, and colorful makeup. Though she's been criticized by many for her looks over the years, she's stuck to her guns and developed a signature style.
Dolly Parton is well-known for her trademark wigs
Now, Parton even has her own fashion line in the works with IMG. Back in 2019, she gave an interview with Elle and revealed how excited she was about the partnership. According to the Hannah Montana alum, she was thrilled to start working toward a goal that she'd had for quite a long time. "It's one of my dreams—the makeup, hair, and wigs, clothes, all of that sort of thing," she shared with the publication.
RELATED: Dolly Parton Got the Inspiration for '9 To 5' From Clicking Her Fake Nails
Of course, many of Parton's fans are thrilled that they'll have the opportunity to emulate her unique style. One thing, in particular, that fans are really excited about is Parton's wigs. Parton hasn't been seen without one of her poofy, platinum, wigs in years. In fact, many people believe that she wears them all the time, even when she's not out in the public eye. But while Parton always likes to ensure that her hair is done, her wigs get a day off every now and again.
The 'Jolene' singer wears these fun hair accessories
"I don't always wear them in my daily life, but I always still pouf up my hair," Parton revealed. "I still like to have that flashy hair." But how does the "9 to 5" singer make her hair flashy when she's not sporting one of her wigs? According to the movie star, she uses very fun hair accessories that were especially popular in the 90s and early 2000s and are currently making a comeback.
"When I'm around home, I wear my little scrunchies, but I always put on some makeup and fix my own hair as cute as I can fix it," Parton revealed. "Wigs are just so handy. I'm so busy, and I have so many choices. I never have a bad hair day, and that's a good thing."
We can certainly see how wigs could be of great convenience to someone who is as busy as Parton. It's also a great concept since her natural hair is protected. We're sure that her fans will be thrilled to get their hands on her fashion line when it releases.