Dolly Parton Made Country Music 'Sexual' According to Miley Cyrus
Miley Cyrus certainly has no shortage of famous family members. From her father to her siblings, the Younger Now artist isn't lacking for talent in her gene pool. But, what many fans often forget is that Cyrus has a close connection to one of the most iconic people in country music history. Living legend, Dolly Parton, is actually Cyrus' godmother. And while the pair aren't related by blood, they certainly consider themselves to be family.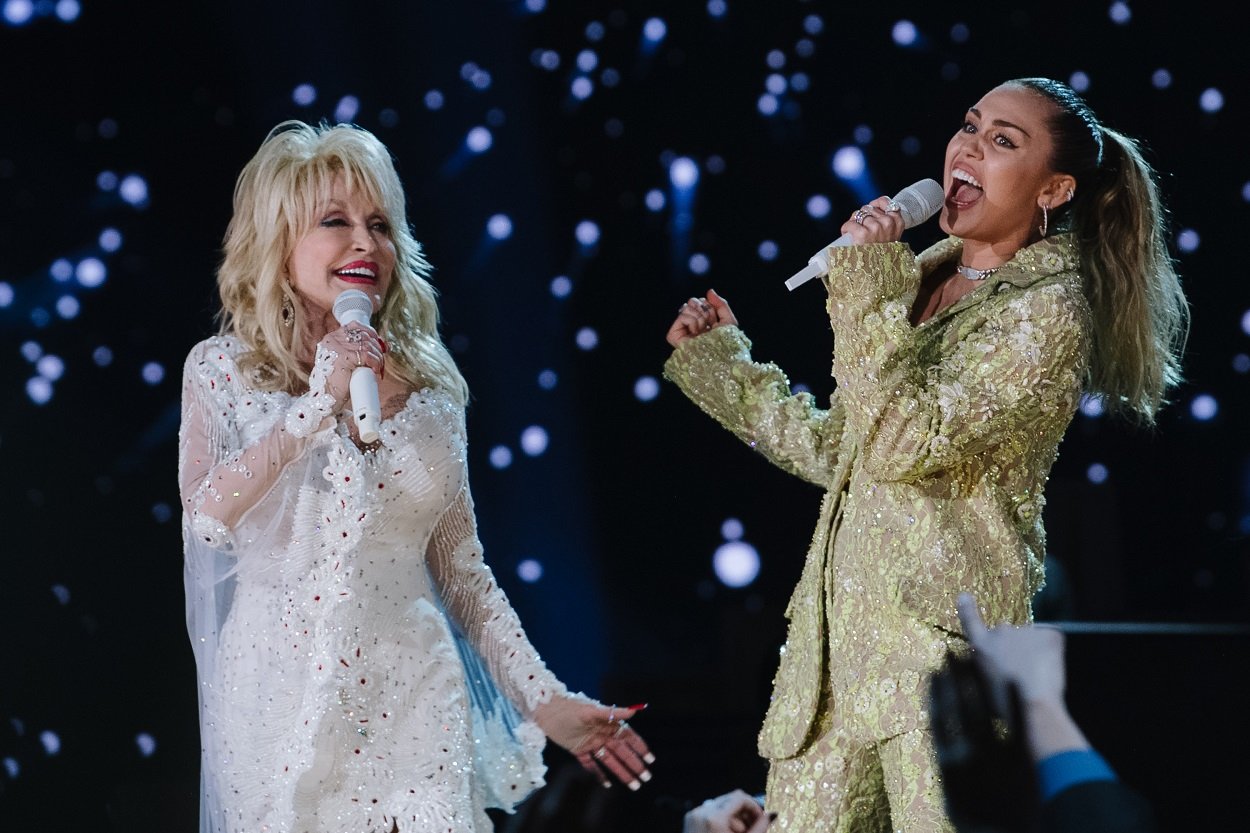 Long-term fans of Cyrus will recall that Parton actually played Cyrus' godmother in her hit Disney Channel show, Hannah Montana. The "Jolene" singer guest-starred numerous times in the show as herself and offered Cyrus' character, Miley Stewart, tons of advice on how to navigate fame, the music industry, and romantic relationships with boys. But Parton's advice wasn't limited to Hannah Montana. Cyrus has been very candid about how influential Parton has been in her life.
Miley Cyrus has learned a lot from her godmother, Dolly Parton
In an interview with NPR, Cyrus got candid about how much she's learned from her godmother. Citing, that the 9 to 5 star had shared many lessons with her over the years, Cyrus revealed one of the most important lessons that Parton taught her. "The best thing that she does is she's not afraid to laugh at herself," Cyrus shared about her godmother.
Cyrus is certainly correct that Parton isn't afraid to poke fun at herself. One thing Parton often jokes about is the amount of plastic surgery she's had done over the years. Rather than denying it like some celebrities or getting very defensive about it, the singer seems to enjoy laughing about it. In fact, Parton has said numerous times that there isn't much real about her but her heart. One famous quip from Parton that fans always seem to love is "It takes a lot of money to look this cheap."
Cyrus says the 'Jolene' singer made country music sexy
But learning to laugh at herself isn't the only thing that Cyrus has learned from Parton. The "Malibu" singer has also shared that following Parton's career has taught her plenty about what it takes to push boundaries. According to Cyrus, you truly have to like what you're doing to push the envelope. Cyrus continued on to give an example about how her godmother managed to make country music "sexy."
"And she pushed the boundaries for country music, by looking the way that she does, and saying the things that she says, and being sexual in that way," Cyrus shared about Parton. "I mean, there's no one that's been able to make country music sexual more than Dolly! But she would say, "Well, that's not why I'm doing this!" — I mean, she does it because she likes it. If you want to be pushing the boundaries, you have to like it."
The 'Midnight Sky' singer has applied Parton's advice to her career
Cyrus, like Parton, has certainly managed to push boundaries of her own. However, it seems that Cyrus isn't fixated on doing things for shock value. Instead, she's learned from her godmother to just do things with honesty and authenticity. "And to remember that you want to make music for the people that love your music for your honesty, and for your fans," Cyrus shared about what she's learned from Parton. "Otherwise, just have fun and make the music that you love."
Clearly, Cyrus has learned a lot from Parton. We're unsure if Parton's fans would agree with Cyrus that she made country music sexy. But Parton has certainly been a trailblazer in the music industry who has inspired many musicians today, Cyrus included.