When Dolly Parton Met Barbra Streisand, She Didn't Think the 'People' Singer Liked Her
Dolly Parton loved Barbra Streisand before she met her in 1980 at their manager's beach house. But when they did meet, they didn't exactly become fast friends.
Article Highlights:
When Dolly Parton met Barbra Streisand
Parton wanted to star in a movie with Streisand
The "Jolene" singer thought their differences would compliment each other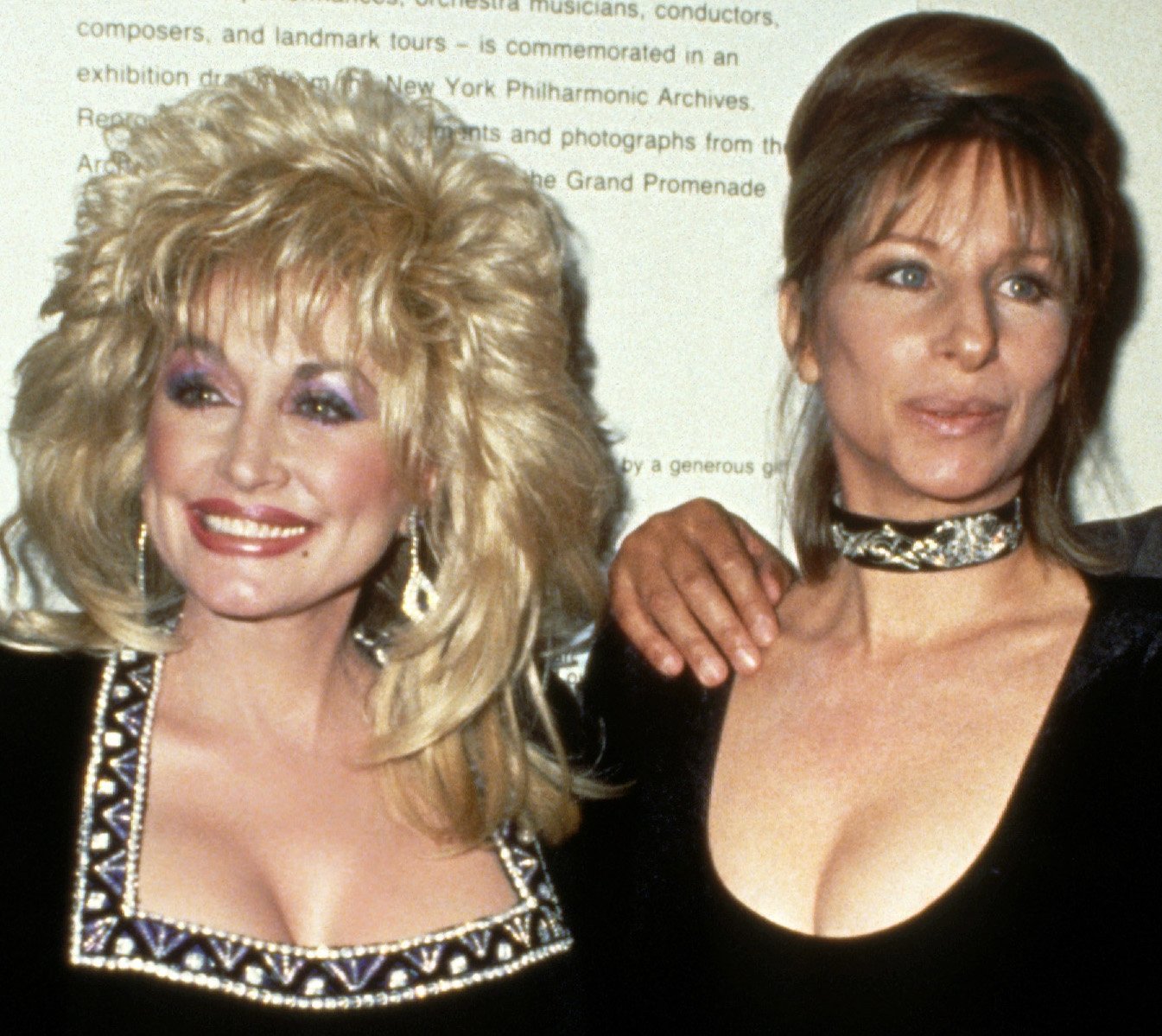 Dolly Parton admired Barbra Streisand well before they ever met. But when they finally did meet at their manager Sandy Gallin's beach house, the "Jolene" singer got the feeling that Streisand wasn't her biggest fan. Still, she dreamed of working together someday. The Queen of Country even had a few film ideas featuring a "Southern girl" and a "big-city Jewish girl."
Dolly Parton didn't think Barbra Streisand liked her when they met
When Parton was interviewed by Playgirl Magazine in 1981, she was asked if she'd ever met Streisand. She had, at their shared manager's beach house, but they "didn't have a fair chance" to get to know each other. Even so, Parton got the feeling that Streisand didn't like her.
"She's a fantastic talent, and I love her movies," Parton said of Streisand, as recorded in the book Dolly on Dolly. "I would love to be able to be as suited for my parts as she is for hers and carry them off with my personality. I didn't feel like she really liked me too much, but there were a lot of people around. It wasn't anything bad, but it wasn't anything good."
But the "Dumb Blonde" singer was confident that if she and Streisand ever really sat down and spoke they'd become friends.
"I don't know if we would have known what to have said to each other," said Parton. "I'm such a fan, but I'm not a squirrel. They say that she doesn't like people saying 'I'm a fan.' I don't know what she thought of me. If we got to know each other, I'm sure we could be friends. I know we're going to be together again on occasion because of Sandy and just because of the business."
Dolly Parton wanted to be in a movie with Barbra Streisand
"I personally think we would be fantastic in something together," she said.
Parton even had a few film pitches she'd thought of for the two of them. But they all had one thing in common: their characters would have a hard time getting along.
"A country, Southern girl befriends a strictly big-city, Jewish girl and the problems that would follow," she said. "How dumb I would find her in situations I would know how to deal with and relate to with a common touch, and how stupid she would find me with certain matters. Like two friends who fight like hell, but there's this thing that they love about each other. Or even two girls that are single, that are in business, who are friends but don't get along, but who stay together out of a need for love of some sort. Or do it for business reasons. There are all kinds of possibilities. Wouldn't even have to have anything to do with music."
The 'Jolene' singer on their different looks
Parton knew that she and Streisand brought different things to the table. Their looks and personas were very different. She thought they'd work perfectly together on screen.
"I think she is so glamorous," Parton said of Streisand. "In the movies, to me, there ain't nobody prettier. She is so different and so sexy-looking. Our looks, that would be another thing totally different. Mine is a made-up look. Hers is not made up. In many of the scenes she would come across as far more glamorous than I would. She has an elegance that I don't have. I just have a look, I know exactly what I look like, exactly what I can look like, and when I don't look good."
Parton and Streisand never were in a film together. But, especially the way the "9 to 5" singer works, it's never too late.