Dolly Parton Might Be the Only Person to Pull Jim Carrey Out of Retirement
Jim Carrey recently said that he might be stepping away from his acting career to focus on the quiet life. He made these comments just after Dolly Parton noted that she'd want him to play Porter Wagoner in a movie about her life. While Carrey said that he is serious about wanting to take a break from acting, he said that he would never hesitate to take a call from Parton.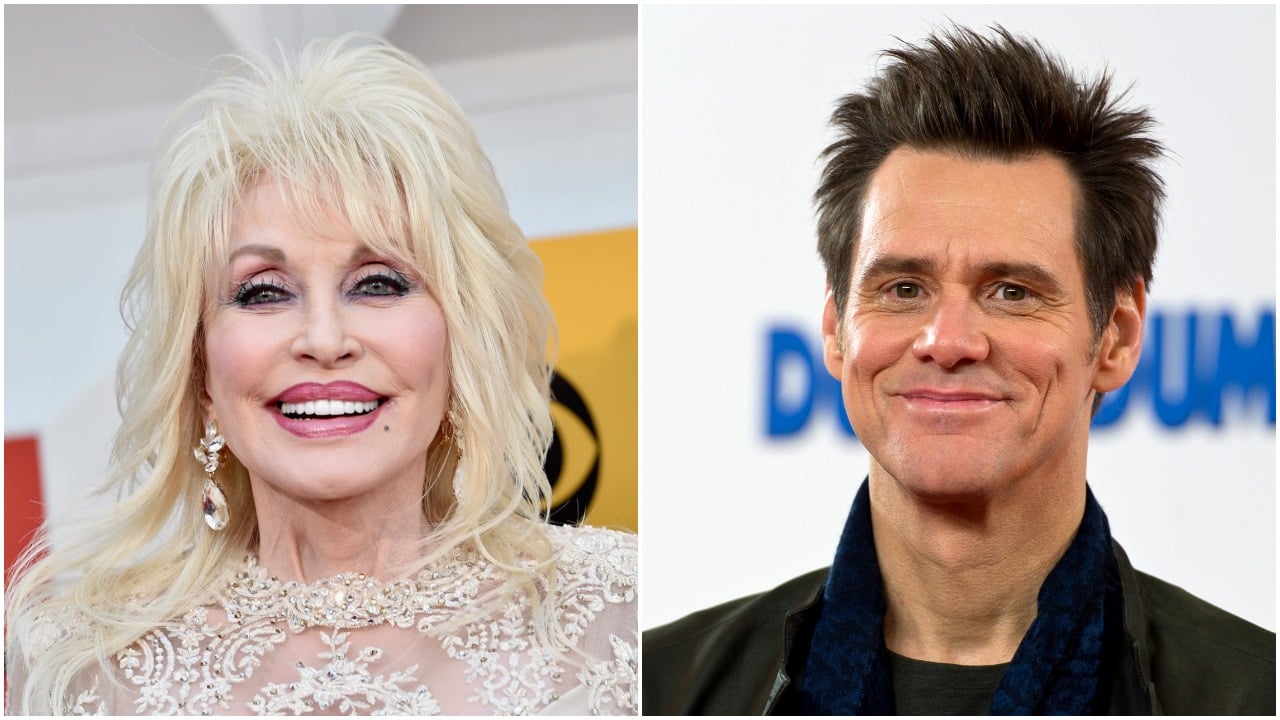 Dolly Parton said she wanted Jim Carrey to play Porter Wagoner in a movie about her life
Parton shared that she is currently in talks to bring her life story to the big screen. She explained that while the project has been in the works for a while, coronavirus (COVID-19) altered her plans.
"I've been talking about doing my Broadway musical, and we were really, really way out ahead of that, and then COVID hit, and that changed my mind about a whole lot of things," she said on the Mr. Nashville Talks radio show.
Now, she thinks a feature film might be a better fit.
"I do intend someday to be on Broadway, but I'm thinking now that I might do my life story as a feature," she said. "Maybe possibly even a musical feature, so we're in talks about that."
She shared her top pick for her longtime musical partner, Wagoner.
"You know who would make a great Porter, though, in all seriousness?" she said. "Oh goodness, what's the guy that does Ace Ventura? Jim Carrey."
Jim Carrey responded to her comments
Recent comments by Carrey appeared to complicate things, however.
"Well, I'm retiring," Carrey told Access Hollywood, per Entertainment Weekly. "I'm being fairly serious. It depends if the angels bring some sort of script that's written in gold ink that says to me that it's going to be really important for people to see. I might continue down the road, but I'm taking a break."
He shared that he wanted a quieter life, focusing on painting and his spiritual side. Despite this, he isn't completely shutting out the possibility of returning to acting, particularly if Parton comes calling.
"Well I would always speak to Dolly," he said, per Yahoo. "Dolly's just, to me, an otherworldly talent that is, just bigger than you can imagine."
Dolly Parton noted who she wants to play herself in a movie
In the past, Parton has also named actors to play her, such as Kristen Chenoweth. She recently noted that she might play herself in the movie.
"You have to have at least two Dollys, well three Dollys really," she explained. "You have to have the little Dolly, we'd have to have the medium one, and now that I've lived long enough to be older, I might play myself as my old self. I don't know, but anyhow, there's many ways to do it."
As fans await the biopic, they can watch Parton flex her acting chops in the upcoming film adaptation of Run, Rose, Run. She teamed up with author James Patterson to write the book.
RELATED: Dolly Parton Revealed Her Current Celebrity Crush: 'I Can't Excuse Myself on That'