Dolly Parton and Johnny Carson: She'd Watch His 'Tonight Show' Before Grocery Shopping
When Dolly Parton and Johnny Carson chatted about the trickier aspects of fame, she told him she still liked to do her own grocery shopping but waited until late-night hours. So, does she still like to food shop?
When Dolly Parton sat down with Johnny Carson for a Tonight Show interview in 1992, they'd both experienced the highest heights of fame. As such, Carson wanted to know if Parton liked to do certain things for herself, or if she preferred to have people do most everyday things for her.
The country queen confessed it depended on what it was she needed to do, but there was one errand she liked to complete herself — grocery shopping. And she'd wait until after she'd finished watching Carson on The Tonight Show to leave the house.
So, does Dolly Parton still like to go grocery shopping after decades as a superstar? And what else has she been spotted shopping for back home in Tennessee?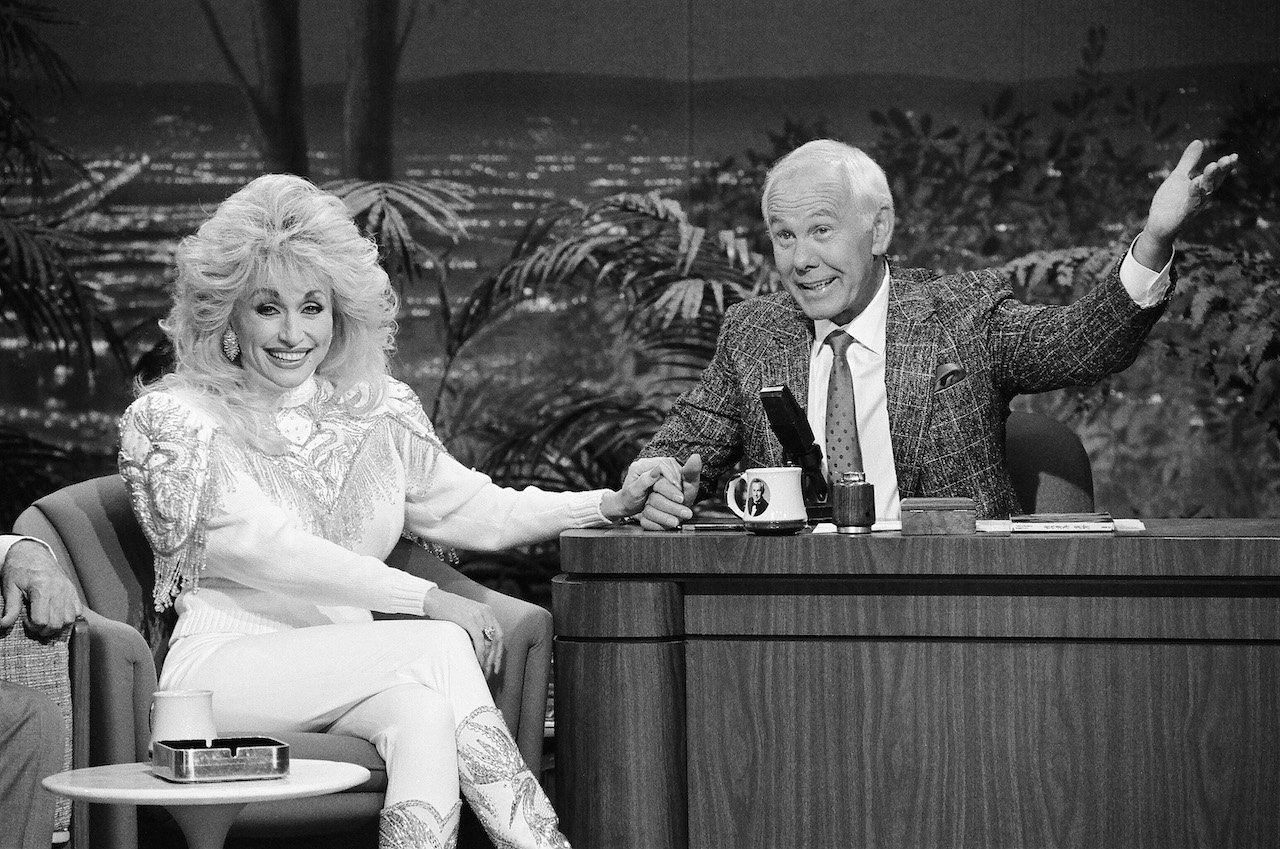 Dolly Parton and Carl Dean went to the grocery store after 'The Tonight Show Starring Johnny Carson'
When Parton stopped by for her last chat with Carson on The Tonight Show in 1992, he was curious if she had people employed to do things for her by then. "Well, I have people to do some of it," she shared. Somewhat surprisingly, she said she didn't like to shop for clothes.
But more specifically, Carson wondered if she shopped for her own groceries. She said she loved to cook and grocery shop, even though it was hard to do on a regular basis. "I usually go late at night," she explained. She also noted how some supermarkets were open 24 hours by then and she'd go out around midnight.
She said she and husband, Carl Dean, stayed up late when she was home. "So, we watch you then we go to the store," she told Carson.
Dolly Parton still does her grocery shopping sometimes
Even after decades of fame, Parton revealed to the Knoxville News Sentinel in 2019 she still does her own grocery shopping sometimes. She confessed she has "wonderful people" who pick up anything she asks, but at times a chef needs to shop.
"You know, if you're a cook, … sometimes ain't nobody going to get the stuff you really want to put in certain things that you make," she said. So, she said she and Dean still go to the grocery store, though it only happens if she has the time. Also, she still only goes late at night.
The beloved songwriter told Knoxville News Sentinel she loves people and doesn't mind seeing fans as long as they don't get in the way of her shopping. And as for store preference, she mentioned she likes Publix and Walmart.
Dolly Parton also likes to shop for her own antiques
In July 2021, some antiques stores in Tennessee got a surprise when Parton showed up looking to shop with them (per WVLT 8). According to the owner of the store, called Three French Hens Antiques Boutique, she was on a quest to find them. She even went to a neighboring place and asked for directions.
Stacey Harris-Fish said the visit came as a needed surprise in a "stressful time" for the shop owner. "Dolly doesn't understand what she gave to this shop owner that is kind of going through a stressful time right now," said Harris-Fish. "To come into the store right now it has kind of given us a renewed motivation."
So, it seems like Parton still loves to shop when she gets the chance. And she's even renewing motivations while she's at it.