Dolly Parton Played a Racy Song for Johnny Carson – Even Though 'Mama' Hated It
Queen of Country Dolly Parton had a close relationship with her mother, Avie Lee Owens Parton. It inspired 'Coat of Many Colors,' a beautiful song about the power of love in times of hardship. But when visiting 'The Tonight Show Starring Johnny Carson' in 1977, Parton chose a song she said her mom hated because it was too salacious. Why was she teasing "mama"?
Country legend Dolly Parton visited The Tonight Show Starring Johnny Carson many times between the '70s and the early '90s when Johnny Carson retired. Sometimes their interviews bordered on provocative, but Parton always came to Carson's show prepared to entertain. During one 1977 visit, she revealed she wrote a song her mama hated — and chose to play it that night.
What song was it and why did Parton's mom have a distaste for it? Plus, what other famous Parton song was inspired by her bond with her mother?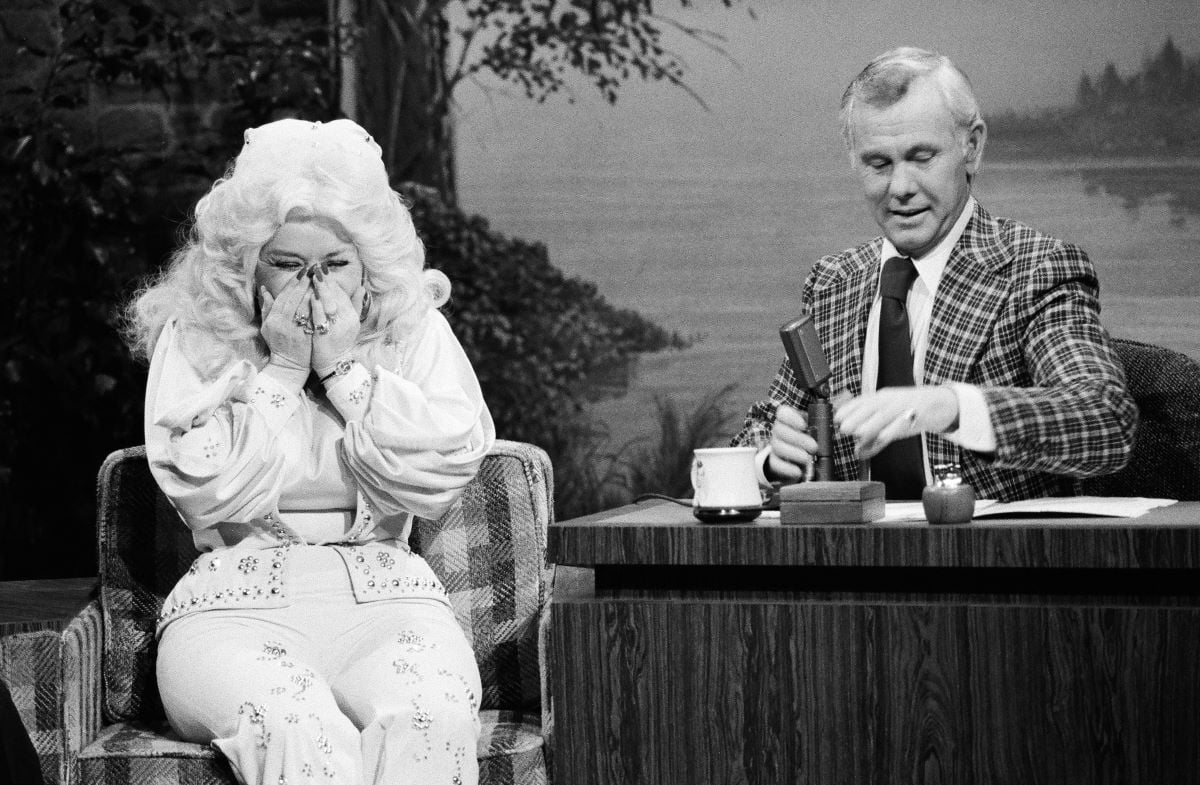 Dolly Parton's mama hated her song about a two-timing traveling salesman
In a clip on YouTube, Parton played a song she said might make her mother, Avie Lee Owens Parton, mad. "This is one she hates," she laughed to Carson. It's called "Traveling Man," and at first seems to be about a girl sneaking around with a traveling salesman. But in the end, Mama had a secret of her own.
Parton sings, "Oh, that traveling man was a two-time lover/He took my love then he took my mother/But I didn't know 'cause mama didn't told me and I don't understand/My mama running off with my traveling man."
No wonder her mother hated it! But a big hint the song is a bit of salacious fiction is in the line, "You just like my daddy, he ran off before I ever knowed him."
On the contrary, Parton told Carson and many others she had a "great mama and daddy." But she chose the song for that night to tease her mom, who hadn't been feeling well. "I wanna sing this one so she'll get better faster – so she'll get her spunk back," she explained.
Dolly Parton's 'Coat of Many Colors' is a beautiful and true song about her mama
A true song Parton wrote about Avie Lee, who died in 2003, is the tearjerker "Coat of Many Colors."
It's about her mom sewing a coat of patches that made Parton feel like the richest kid in school. She sings, "My coat of many colors that my mama made for me/Made only of rags, but I wore it so proudly/And although we had no money, I was rich as I could be/In my coat of many colors my mama made for me."
The song inspired a TV movie, Dolly Parton's Coat of Many Colors. It depicted some of the stories of Parton's upbringing in Tennessee in the '50s, including the story of the coat.
Arguably, one of the most endearing things about Parton has always been her honesty and closeness to her upbringing. She's massively rich now, but she still remembers exactly where she came from.
Dolly Parton's 'rags to rhinestones' journey  
In 2015, Parton spoke to Today about her life as one of 12 siblings, which she called a "rags to rhinestones journey." In her childhood, her mother reminded her there were many people a lot worse off than them – which is something Parton has seemingly kept in mind throughout her life.
While her mother had wise words about staying optimistic, Parton revealed she also had depression related to oncoming winters. Parton wrote in her 2020 book, Songteller: My Life in Lyrics, "Every fall, she was thinking about winter coming on, not knowing if we were going to get sick and die. And Mama would always be in sickness."
So, some things she later learned to understand bonded her to her family and seemingly made her a better songwriter. But having that bond didn't mean Parton couldn't playfully tease her mama about a fictional shared lover — even while visiting Carson.