Dolly Parton Shared a Rare Photo of Husband Carl Dean From the '60s
Dolly Parton's mysterious husband, Carl Dean, has rarely been seen or photographed, despite being married to one of the biggest stars in the world. But, recently, the Queen of Country posted a rare photo of him to Twitter.
Dolly Parton has been married to her husband, Carl Dean, since 1966. Since then, he's rarely been seen or even photographed. While Parton has never really been shy when it comes to talking about her mysterious husband, she's never been one to showcase him on her very active and enthusiastic social media accounts. But that changed on Nov. 2, 2021.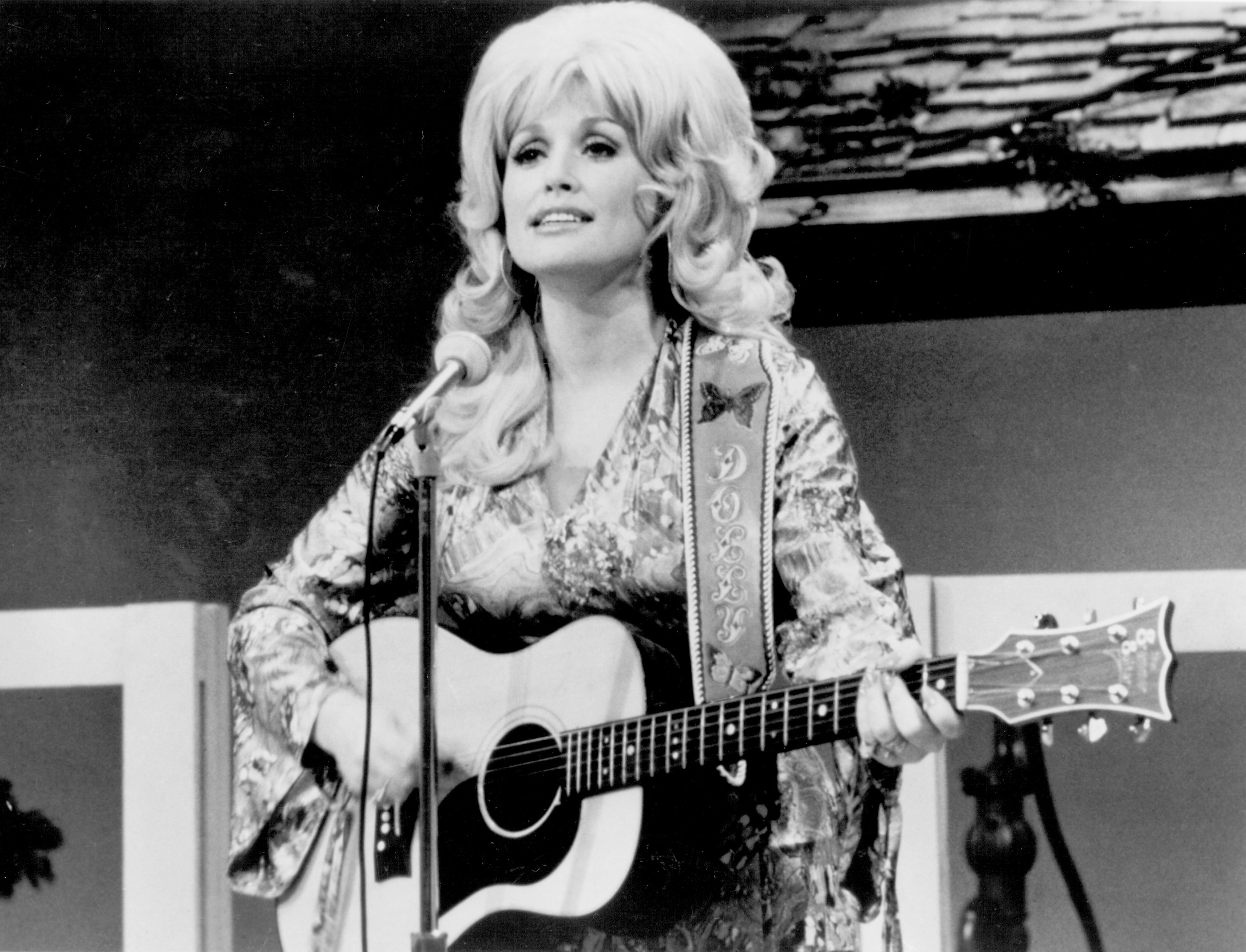 The throwback photo Dolly Parton posted of herself and Carl Dean
On Nov. 2 at 3:01 PM, Parton (or, rather, her social media team) posted a throwback photo of the Queen of Country herself standing next to none other than the infamous Carl Dean. The photo is reportedly from the 1960s and shows the couple standing holding hands. Parton is wearing a bright, salmon-colored dress with a bright yellow belt and yellow leggings to match. Long gold necklaces hang from her neck and her hair is done up in a big, blonde beehive. Her beau, Dean, wears light blue plaid pants and a clearly photoshopped shirt with his wife's face on it thrice. Her name is penned in large cursive at the top.
"Find you a partner who will support you like my Carl Dean does!" reads the accompanying tweet, along with a link to her shop.
Always the hustler, of course Parton would reveal a rare photo of her and Dean to sell merch.
The tweet was met with several replies from Parton fans sharing photos of themselves with their own Carl Deans — "33 years and going strong" — and several more from fans telling the "Light of a Clear Blue Morning" singer they were still waiting to find theirs.
Dolly Parton's Playboy Twitter post for Carl Dean's birthday
On July 20, 2021, the "Jolene" singer took to Twitter to post a video in honor of her husband's birthday, but his face was never shown.
"It's always #HotGirlSummer for my husband, Carl," read the tweet. "Happy birthday my love!"
In the video, she said:
"Hey! Today is July 20, and it's my husband Carl's birthday. And you're probably wonderin' why I'm dressed like this… well, it's for my husband's birthday. Remember sometime back I said I was going to pose on Playboy Magazine when I was 75? Well, I'm 75 and they don't have a magazine anymore but my husband always loved the original cover of Playboy. So I was tryin' to think of something to do to make him happy. He still thinks I'm a hot chick after 57 years and I'm not gonna try to talk him out of that. And I hope he agrees. What do you think? Anyway, what I did for his birthday, I did a little photoshoot in this little outfit and I had a cover made of the new Dolly — the old new Dolly — In the first one, see, remember this? I was kind of a little butterball in that one. Well, I'm string cheese now. But he'll probably think I'm cream cheese, I hope. Anyway, I'm gonna surprise him, going in singin' to him in my little bunny suit. So what do you think? You think Playboy oughta pay me for at least the photoshoot? I do."
Even when the "9 to 5" singer presented her husband with the photo in the video, his back stayed facing the camera.
But with the release of this throwback photo in the name of merch, fans are hopeful there'll be more never-before-seen Dean content in the future.