Dolly Parton's Public Persona Is a Character She Plays: 'Like a Ventriloquist Does His Dummy'
Like many people in the spotlight, Dolly Parton is different on stage and when she's with her friends and family. Early in her career, the "Jolene" singer decided to create this larger-than-life character to play to keep things interesting. Dolly Parton the celebrity certainly has some qualities that the real Dolly possesses — she's tenacious and fun and colorful — but, when she's at home, people may be surprised to learn just how "calm I really am."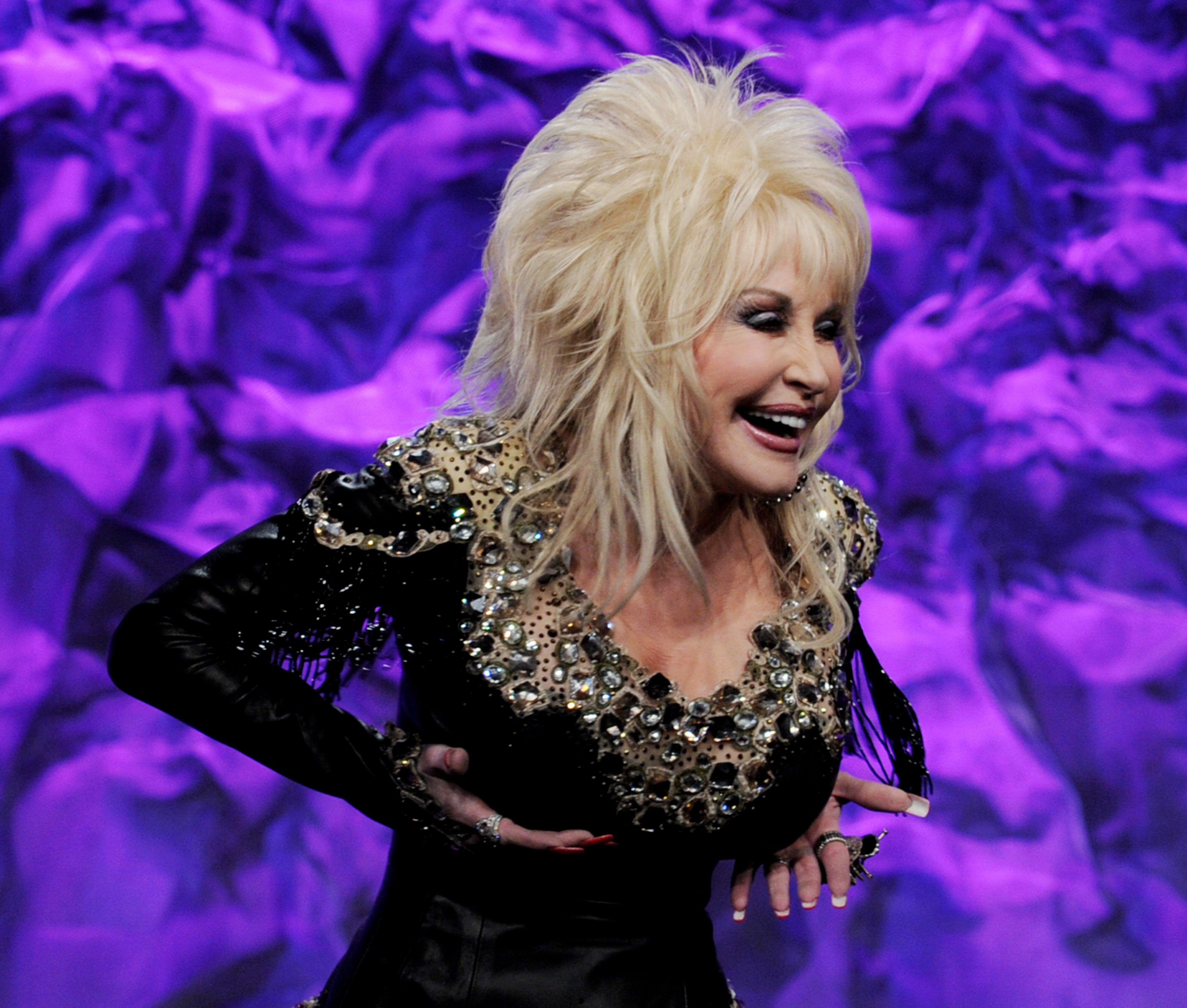 How Dolly Parton's character was born
Parton has no problem comparing herself to a cartoon. Her look and public personality are unquestionably animated.
"I look one way and am another," she told Cliff Jahr in Ladies' Home Journal, as recorded in the book Dolly on Dolly. "It makes for a good combination. I always think of 'her,' the Dolly image, like a ventriloquist does his dummy. I have fun with it. I think, what will I do with her this year to surprise people? What'll she wear? What'll she say?"
RELATED: Dolly Parton Says '9 to 5' 'Didn't Do Enough Good' for Women in the Workplace
The book goes on to suggest that Parton wasn't always the untouchable free spirit in the public eye that she is now.
"It embarrasses me and it hurts my feelings," she said of the "cruel and humiliating jokes about her voluptuous figure" in the early '70s.
But around 1977, Parton started beating everyone to the punch. The funniest jokes about the "9 to 5" singer have all come from the Queen of Country herself.
"It used to kind of embarrass me because I didn't know quite how to take it," she told biographer Alanna Nash, "but anymore I just kinda play along with it myself, and there's no way to hide it, you know. That's something you're gonna have to accept."
Embracing the outrageous
A big part of Parton's larger-than-life persona is her look, which was inspired by "the town tramp."
"My own overexaggerated look came from a serious place I've often spoken about: the town tramp in our little country hometown," she told The Wall Street Journal. "They called her trash, but to me she was absolutely beautiful. She wore colorful patchwork skirts and pretty blouses and showed a little cleavage and had red nails and piled-up blond hair and red lipstick and high heels. She was the prettiest thing I'd ever seen. When everybody would say, 'Oh, she's just trash,' I'd say, 'Well, trash is what I'm going to grow up to be.' And I guess my look is glamorous trash!"
RELATED: What Dolly Parton Thinks About Taylor Swift's 'Principles and Values'
In an interview Parton did with Playboy Magazine in 1978, she elaborated on her "outrageous" look.
"Can you imagine anybody wanting to look this way for real?" she asked, laughing. "When people first get to know me, they say, 'Why do you wear all of this?' Then, after a week of knowing me, they totally understand. They know it's just a bunch of baloney. But why not? Life's boring enough, it makes you try to spice it up. I guess I just throw on a little too much spice."
How Dolly Parton is at home
In 2014, Parton was asked by Pride Source about what her fans would be surprised to learn about her.
"I think people would be surprised at how really at-home I am," she said. "I look like a party doll but I'm very home-lovin'. I'm a homebody, and I'm family-oriented. I don't get out much unless it's a special occasion. So I guess people might be surprised at just how calm I really am."
RELATED: How Dolly Parton Responded When Asked if She Was the Next 'Female Elvis' in 1978
When Parton is at home with her husband, Carl Dean, they enjoy soaking up the quiet moments together.
"We have our little camper, and we like to get out and just sightsee," she wrote in her 2020 book, Songteller. "We'll stop at a grocery store, get a few little things, and go picnicking. We'll go to drive-through restaurants. We just like to do simple things. We don't complicate our lives, and we don't overthink things. We live a pretty peaceful life, actually."