Dolly Parton Revealed She Turns to Miley Cyrus for Career Advice
Dolly Parton handles fame with apparent ease. Still, she says that sometimes her goddaughter Miley Cyrus offers helpful advice.
Dolly Parton and her goddaughter Miley Cyrus have performed together on the stage and television. While the two come from different generations and release different styles of music, Parton shared that they're very similar in one key way. She also said that she sometimes turns to Cyrus for advice.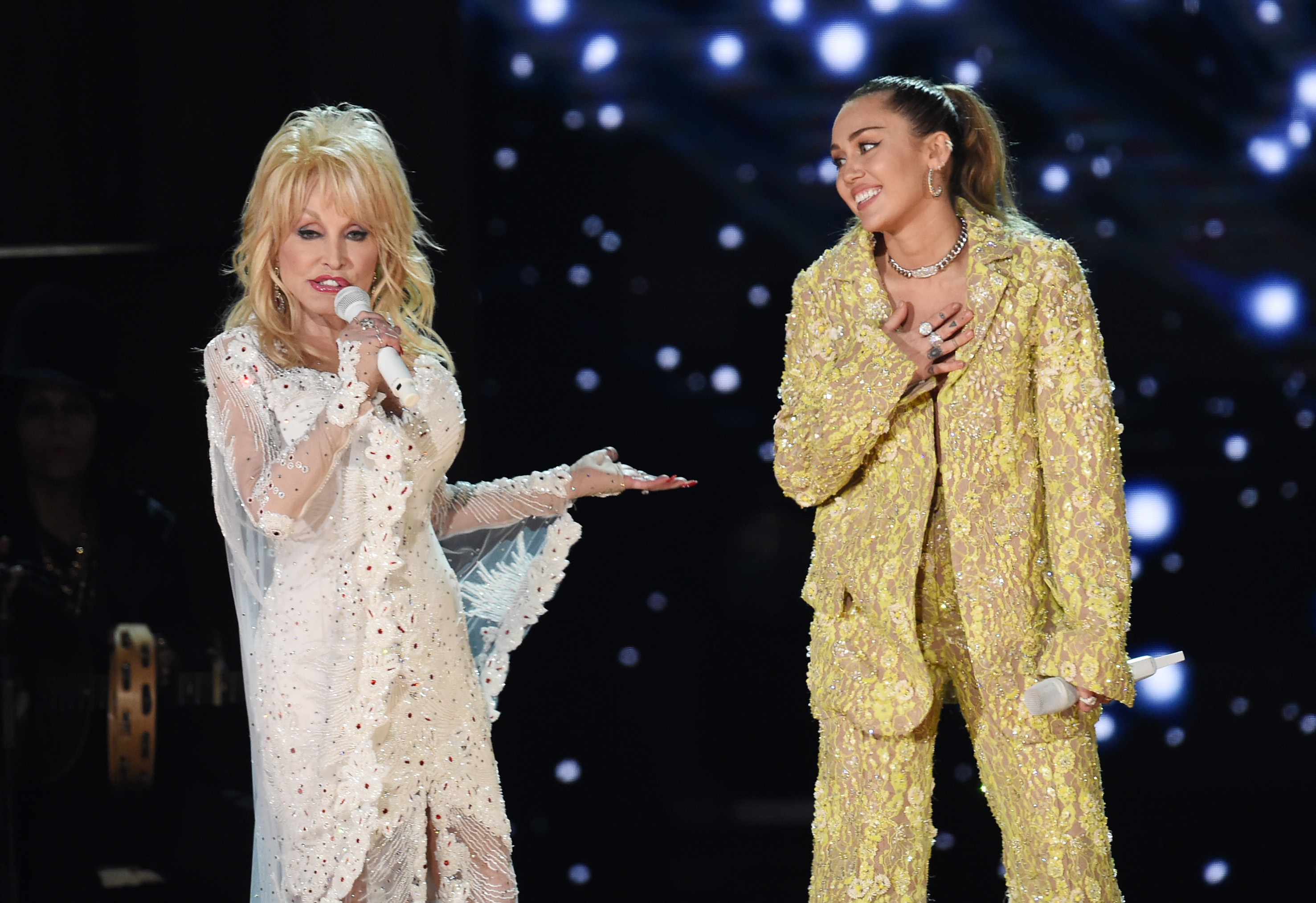 Dolly Parton is Miley Cyrus' godmother
Parton became Cyrus' godmother because of her friendship with Billy Ray Cyrus. They met while touring together in the early 1990s.
"I worked with Billy Ray for all those years, when he had 'Achy Breaky Heart,'" Parton said, per Yahoo!. "He worked with me on some shows we did in the early days. He opened some of my shows. We just got to know each other. I wrote a song called 'Romeo,' and had him in a video. We just kind of gelled, 'cause we're both country kids. We had a lot of fun just talking about that. And then when Miley came along, I said, 'She's got to be my fairy goddaughter.'"
Parton and her goddaughter are close. Parton appeared in episodes of Hannah Montana, and Cyrus has covered her godmother's music.
She said that she gets advice from her goddaughter
While promoting her line of baking mixes with Duncan Hines, Parton discussed her relationship with Cyrus. She explained that she rarely gives her goddaughter advice because of how headstrong she is.
"Everybody says, 'Do you give Miley advice?' I said, 'Nobody gives Miley advice.' She's [as] headstrong as I am, but we both respect each other," Parton told Us Weekly. "And we share things."
Parton said that she also relies on Cyrus to maintain relevancy in her career.
"If I feel like I've got something to say to her, like, a mother or an aunt or a godmother, I will say something. Or [I will] ask her a question about this or that or ask her a question even concerning my own career," Parton said. "[Because] I wanna stay involved and important in the business for as long as I live. And I've been lucky enough that that's happened."
Parton has inspired many young artists and is grateful that she's been so prominent in the music industry for so many years.
"It makes me feel proud. Makes me feel good to know that I've been an inspiration," she said. "And when I hear a lot of these young people — that I think are better than I ever thought about being — [and] they say that I'm their hero or that they've learned so much from me. Well, it makes me feel good that I can be there to help guide a few young people."
Miley Cyrus shared her love of Dolly Parton in an essay for Time Magazine
Cyrus is one of the many people who admire Parton. She penned an essay about her godmother for Time Magazine when she was named one of the 100 most influential people of 2021.
"There's a theory that you shouldn't meet your heroes, but I wish everyone had the chance to meet Dolly Parton, because she's even better than your sparkliest dreams," she wrote. "She may be my fairy godmother, but I think she's that to everyone else too. I am happy to share her with the world."