Dolly Parton Once Said Johnny Cash Was 'Dramatic,' Not 'a Good Singer'
Dolly Parton's feeling and opinions about Johnny Cash through the years. She was smitten with him as a young girl and critical of his music as a new artist.
Dolly Parton first met Johnny Cash when she was 13 years old. As a young teenage girl, she was completely smitten. Years later, in an interview with Playboy Magazine in 1978, Parton was asked her opinion on Cash as one of her "contemporaries." Here's what she said.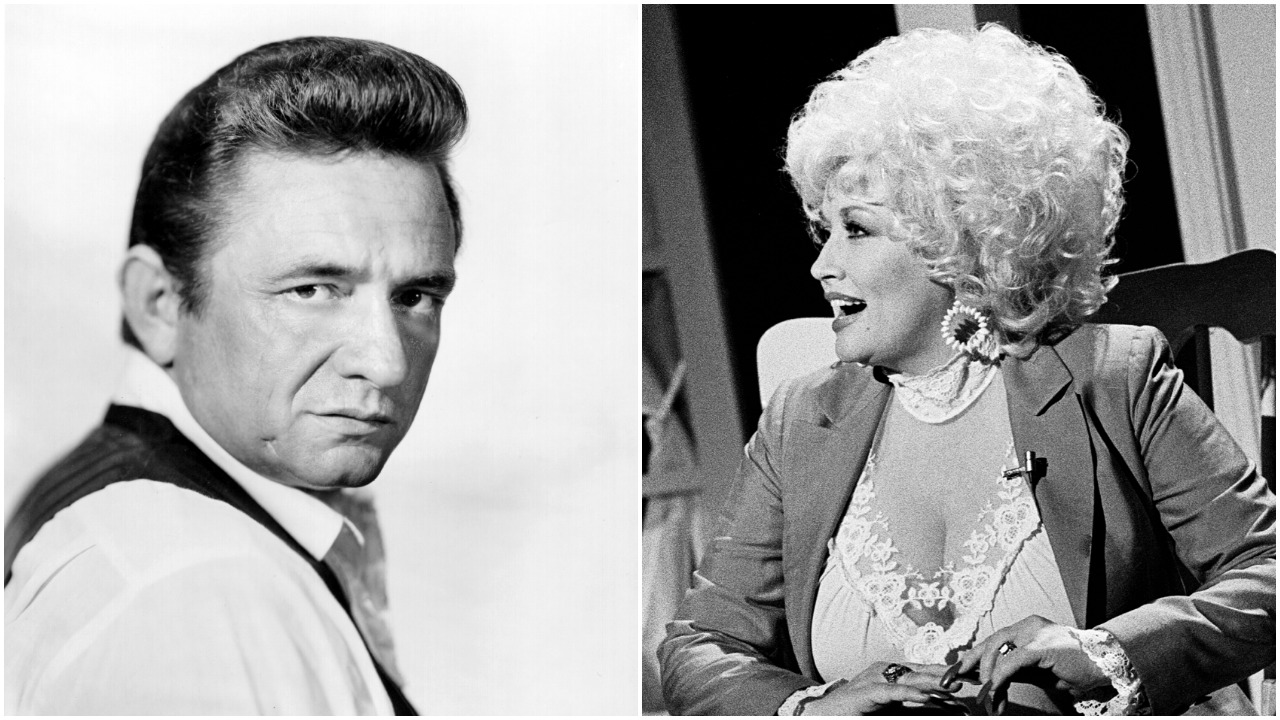 Johnny Cash made Dolly Parton 'feel like a woman'
Parton got the opportunity to perform at the Grand Ole Opry when she was just 13 years old. Her Uncle Bill Owens would drive her around to different performance venues to try and score her a slot.
"Uncle Bill was really good at talking to people and convincing people," she wrote in her 2020 book, Dolly Parton, Songteller: My Life in Lyrics. "And who's going to say 'no' to a little kid?"
When it came time for Parton to take the stage, none other than Johnny Cash introduced her. She was immediately enamored.
"I was thirteen years old," she wrote. "Johnny Cash introduced me, and I thought he was the sexiest thing that ever was. That's when I first felt hormones raging. It was his charisma and me being a growing girl. It was the first time a man had ever made me feel like a woman."
Beyond meeting Cash, Parton was ecstatic to be performing at such a prestigious venue.
"It was a special time," she wrote. "Being on the Grand Ole Opry was a dream. That was something."
Dolly Parton's opinion on Johnny Cash as a professional musician
Fast forward to 1978 and Parton had quite the career of her own. She'd come a long way from singing at the Grand Ole Opry as a 13-year-old. In an interview with Playboy Magazine, the "Jolene" singer was asked her opinion of Cash as one of her "contemporaries."
"Johnny is dramatic," she said, as recorded by the book Dolly on Dolly: Interviews and Encounters with Dolly Parton. "I don't think Johnny is a good singer, but I think he is one of those people that is so believable that people can relate to it. He's got a way of deliverin'; you just know that it had to happen if Johnny said so."
Parton might not have thought Cash was the best singer but, to be fair, in the same interview, she said the same thing about herself — "I'm not a great singer."
The 'Jolene' singer's opinions of her other 'contemporaries'
Parton's interviewer asked her thoughts on a few more of her "contemporaries."
About Kitty Wells she said:
"She was the first extremely popular female country singer. She was like a pioneer for all the rest of us. She sold all kinds of records to soldiers and jukeboxes and honky-tonks. She is such a natural, pure and authentic singer. She sings from the heart and she don't worry about what the noise is goin' to sound like."
At the time, Parton said she felt Tanya Tucker had a lot of potential — if only she could team up with the right people.
"If she ever gets with the right producer and the right label and gets the right manager, I think she can really be great, especially as a rock-'n'-roll singer," Parton said of Tucker. "Her voice is so powerful, like a Janis Joplin or a Linda Ronstadt. . . She could really be a huge artist, because she is great on stage."
And the Queen of Country compared Janis Joplin to herself — not everybody's cup of tea but an undeniable presence.
"Her voice was like mine, you either liked it or you didn't," she said of Joplin. "I never particularly cared for it. It was different. But I do appreciate what she left behind in the world of music."