Why Dolly Parton Said She Could Never Have Pulled Off What Miley Cyrus Has
Dolly Parton and Miley Cyrus are close and admire each other's careers. There's one particular part of Cyrus' career that Parton says she never could have done.
Not long after leaving Hannah Montana, Miley Cyrus surprised many fans with a far more adult public persona. Reactions varied, and many turned to Cyrus' godmother, Dolly Parton, for her opinion. Parton expressed confidence in her goddaughter and shared that she could never have pulled off what Cyrus had.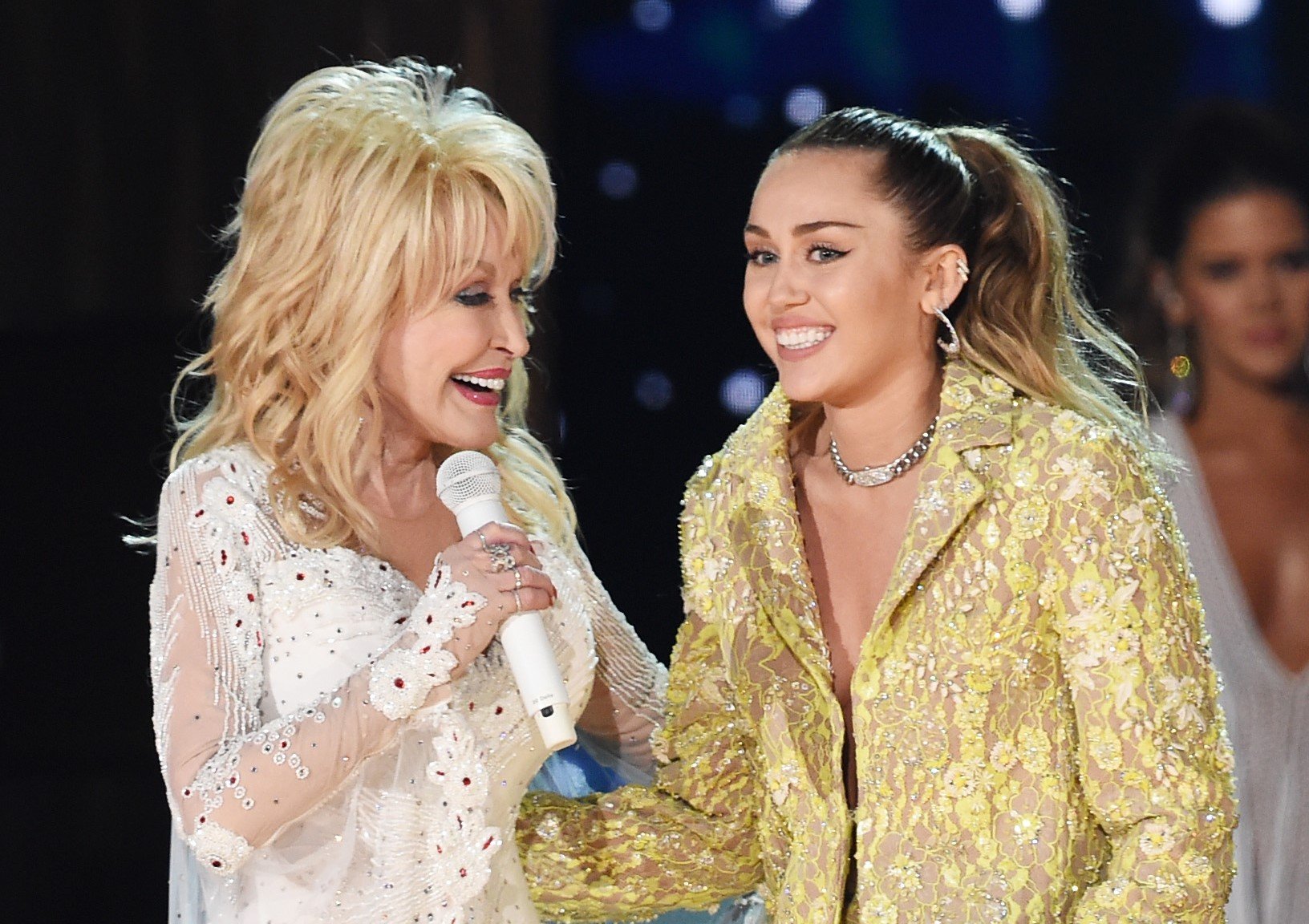 Dolly Parton is Miley Cyrus' godmother
Parton describes herself as Cyrus' "fairy godmother." She essentially assigned herself the role after growing close to Billy Ray Cyrus. 
"I worked with Billy Ray for all those years, when he had 'Achy Breaky Heart,'" Parton said, per Yahoo. "He worked with me on some shows we did in the early days. He opened some of my shows. We just got to know each other. I wrote a song called 'Romeo,' and had him in a video. We just kind of gelled, 'cause we're both country kids. We had a lot of fun just talking about that. And then when Miley came along, I said, 'She's got to be my fairy goddaughter.'"
The two have remained close, with Parton appearing on episodes of Hannah Montana, and Cyrus penning a tribute to Parton for Time100. 
She says she can relate to Cyrus but could never pull off what she did
In the past, Parton has flirted with controversy, particularly when it comes to rumors of affairs, but she has never done so as openly as Cyrus. Her jump from Disney actor to sexualized pop star drew ire from critics. Parton explained why she thought people were so angry about the career shift.
"I think people just think of Miley as their little daughter or granddaughter, so they take it personally," she told Maclean's. "I tell you, I understood why she had to go to such extremes to really make her point. She's so talented. She's so smart."
Though she understood where Cyrus was coming from, Parton joked that she could never have pulled it off.
"First of all, I wouldn't have had the legs and the beauty to have pulled that off," she said. "Miley knows what she's doing; I hope she does. If she plays her cards right, she can have a long and good career. She did it like a shock jock. She had to go that way."
Dolly Parton and Miley Cyrus have performed together
Though their careers have taken different shapes, Parton and Cyrus have performed together on more than one occasion. They have covered "Jolene" together several times, and Cyrus appeared on a duet for the album Holly Dolly Christmas.
"Miley. My little goddaughter. That's one of my favorite songs too," Parton told Marie Claire. "It's a song I wrote called 'Christmas Is.'"
Outside of performing together, Parton said she enjoys watching Cyrus' career blossom. 
"I love Miley," she said. "I think she's great. She's out there, and I love that she takes her chances. I love that she's true to herself and that she's willing to try new things and do whatever."