Dolly Parton Said 'Steel Magnolias' Director Wasn't a Fan of Her Acting: 'He Didn't Particularly Like Me'
Music icon Dolly Parton has shown her wide range of talent on stage and the big screen. Making her film debut in the 1980 film 9 to 5, Parton went on to join the ensemble of the critically acclaimed drama Steel Magnolias in 1989.
Starring alongside Hollywood heavy hitters Sally Field, Shirley MacLaine, Olympia Dukakis, Daryl Hannah, and Julia Roberts, Parton held her own as beauty salon owner Truvy Jones. Though the actors formed a friendly bond, the film's director, Herbert Ross, didn't win anyone over.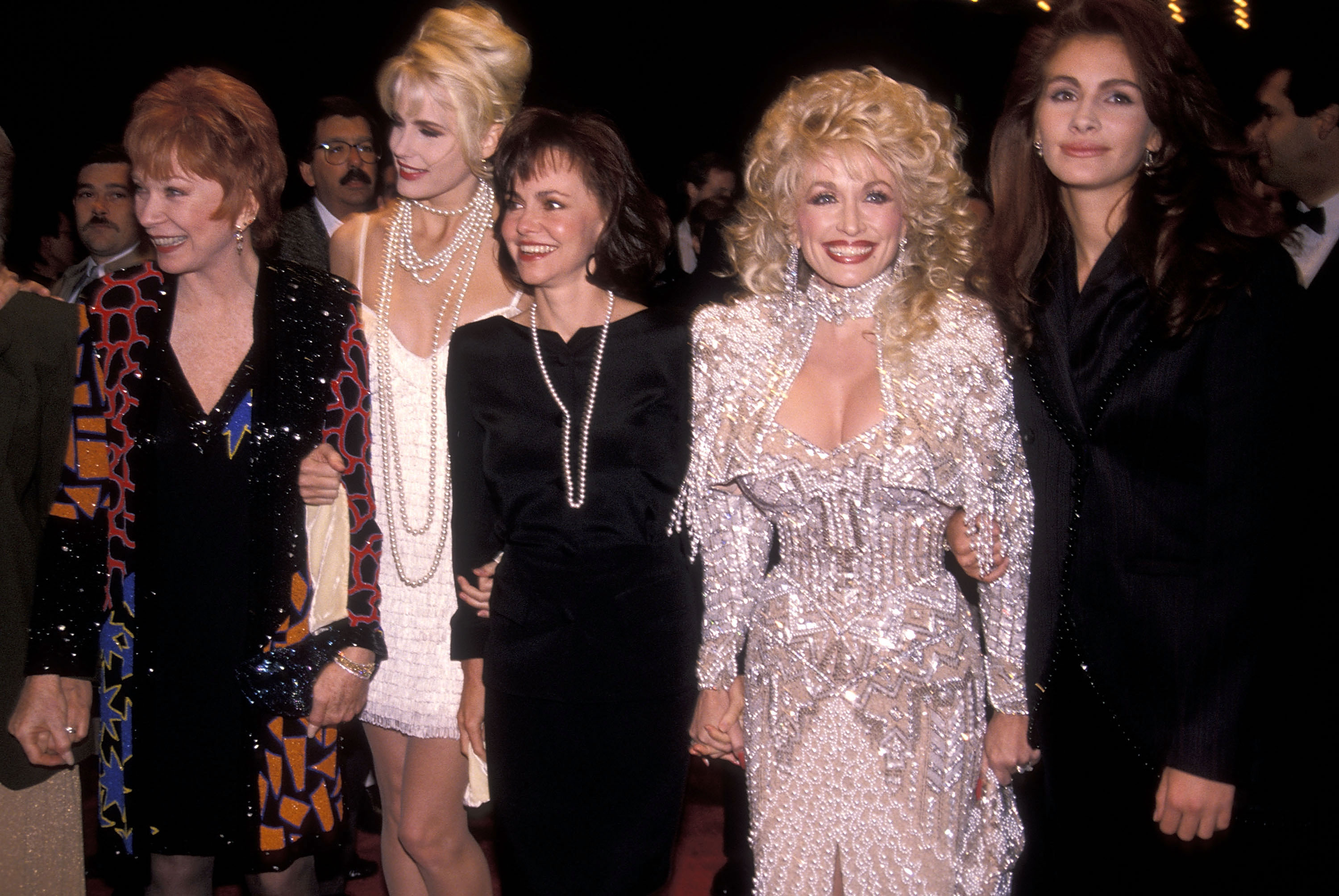 Dolly Parton told 'Steel Magnolias' director 'I'm not an actress'
In her book, Dolly: My Life and Other Unfinished Business, Parton recalled Ross's harsh demeanor, especially with her and Roberts.
"He didn't particularly like me or Julia Roberts at the start, and was very hard on us," Parton wrote. "Julia Roberts was not the big star she is now, and I think Herbert Ross resented having to use her. He told me I couldn't act. This was not news to me, and I told him so."
The queen of country had no problem putting the director in his place, and reminding him of his own responsibilities.
"'I'm not an actress, I'm Dolly Parton,'" she told Ross. "'I'm a personality who has been hired to do this movie. You're the director. It's your job to make me look like I'm acting.' By the end of the film, we had all made peace and become friends."
'Steel Magnolias' director told several cast members they 'couldn't act'
MacClaine, who played the feisty twice-widowed Ouiser, also remembered the director's critical communication style with the cast.
"Herb Ross was basically a choreographer," MacLaine said in 2013, according to Us Weekly. "That means he could be sometimes very stern and sometimes very harsh. My deepest memories of the film were how we bonded together after he told one of us or all of us we couldn't act. … I remember the day Herb said to Dolly Parton, 'Why don't you take some acting lessons?'"
Field, a two-time Oscar winner, added, "You don't say that to Dolly Parton! Dolly Parton is absolutely the funniest, wittiest and filthiest, and she will cut you to ribbons."
Cast of 'Steel Magnolias' had a bond
The ensemble of actors apparently banded together during Ross's tirades, with Parton and MacClaine often standing up to him.
 "We hated him and we would go after him," Field said. "The stronger ones of the group who were just older and had been there longer would go after him. That meant Shirley and Dolly."
Despite the tumult Ross created, Parton clearly holds fond memories of her time with the cast. She tweeted a tribute to former co-star Dukakis after the news of her death on May 1 was released.
"I was so sorry to hear that Olympia Dukakis had passed away," Parton tweeted. "She has been one of my favorite people that I have ever known or worked with. I really got very close to her and felt like we were good friends. Even though I didn't get to see her much, I thought of her often and knew that she was such a quality human being. She will be missed by her fans, her family, and those of us that were lucky enough to get to know her personally."
Ross died of heart of heart failure in 2001. Field reflected on the film's foundation of strong relationships, which developed off camera between cast members.
"For me, it is the story about the power of friendship," Field said.