Dolly Parton Says She's Not 'Naturally Pretty': 'I'm Not a Pretty Person'
Dolly Parton has always had an interesting relationship with her looks. When she was a young girl growing up in a one-bedroom shack in the mountains of East Tennessee, she dreamed of wearing makeup and fancy clothes. She wanted to feel beautiful. Since the beginning of her career, she's been telling interviewers that she's "not a pretty person." But in 1978, she told Playboy Magazine she didn't want the "responsibility" of being a beautiful woman. Here's how Parton has felt about her looks through the years, and how she "make[s] the most of everything."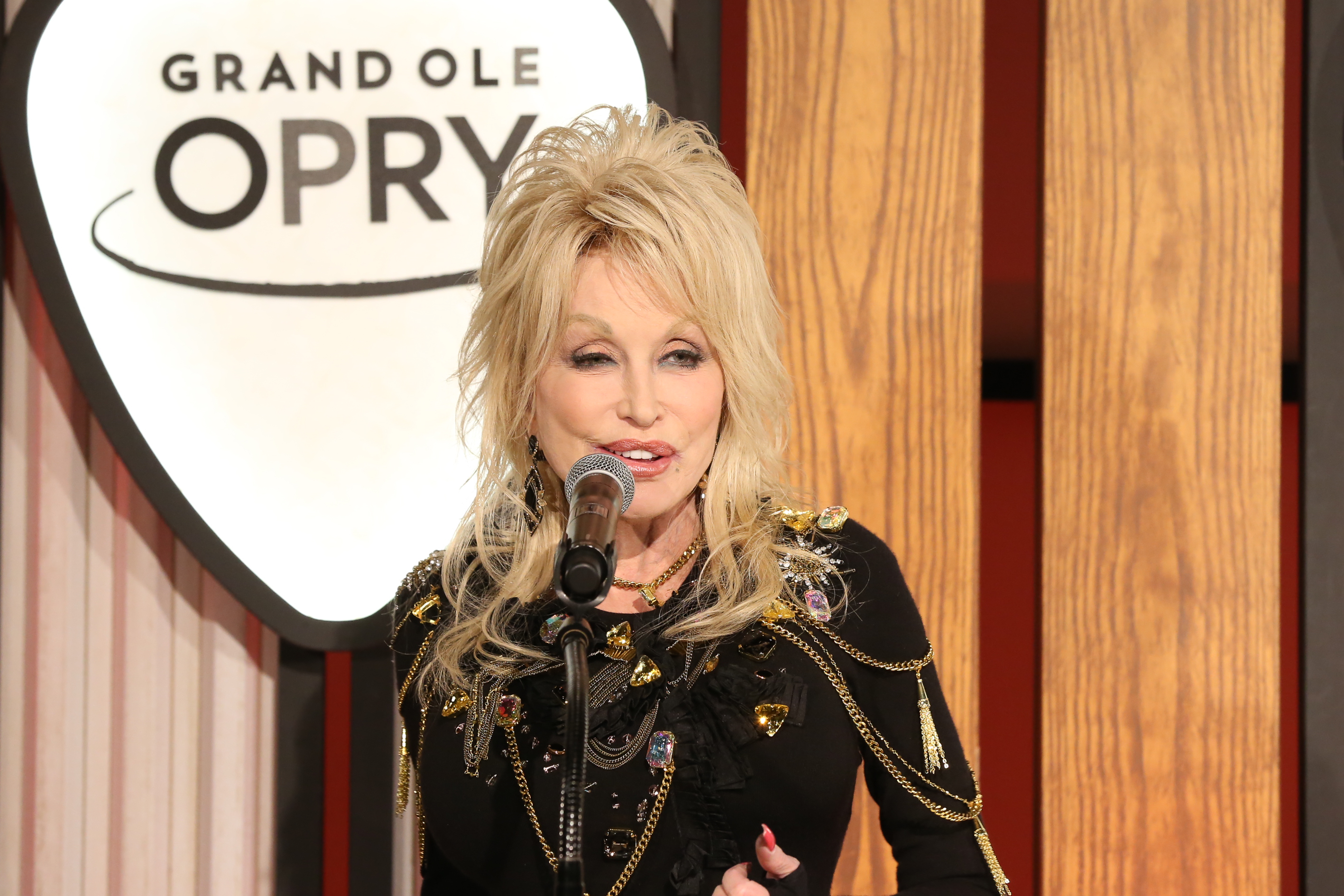 'I'm not a pretty person'
In an interview Parton did with The Tennessean in 1974, she and interviewer Jerry Bailer got on the topic of her looks — the fact that she wears her hair high and makeup heavy.
"For years, when people would talk about my dimples, I would say it's nothing but the sink holes in my make-up," she said, as recorded by the book Dolly on Dolly.
Parton has been known to make jokes at her own expense. Her looks are a frequent target.
"I can laugh at myself because I'm not a pretty person," she said. "I mean I don't have all that natural beauty. But I'm like every other woman. I like to look as good as I can with what I've got to work with. I love to play in my make-up and I love hair-dos and clothes."
Dolly Parton knows she looks 'outrageous'
When Parton was interviewed by Playboy Magazine four years later, her signature look came up once again. She made a point to say that she's well aware that she looks "outrageous." That's kind of the whole point. She'd been attracted to "gaudiness" since a young age, and it was a gimmick she leaned into.
"Can you imagine anybody wanting to look this way for real?" she asked, laughing. "When people first get to know me, they say, 'Why do you wear all of this?' Then, after a week of knowing me, they totally understand. They know it's just a bunch of baloney. But why not? Life's boring enough, it makes you try to spice it up. I guess I just throw on a little too much spice."
RELATED: Dolly Parton Once Considered Abandoning Her Iconic Image: 'I Might Throw the Wigs Away'
The Queen of Country also said that if she wanted to be perceived as beautiful, she'd dress differently, put on softer makeup, not style her hair so big.
"I don't want to have to keep up an image like that," she said. "I don't want to have to be like a beautiful woman, like Raquel Welch—which is no trouble, I never would anyway."
The "Jolene" singer believed that if people expected her to be beautiful, she'd feel more pressure.
"I'm just sayin' I wouldn't want people to look at me and if I gained ten pounds, they'd say, 'Oh, God, she's ruined her looks,'" she said.
Dolly Parton still insists she's 'not a natural beauty'
In an interview with CBS Sunday Morning in 2019, Parton spoke about how she feels about her looks later in life.
RELATED: Dolly Parton's Public Persona Is a Character She Plays: 'Like a Ventriloquist Does His Dummy'
"It is true that I look artificial, but I believe that I'm totally real," she said, 73 at the time. "My look is really based on a country girl's idea of glam. I wasn't naturally pretty, so I make the most of anything I've got." 
Co-host Tony Dokoupil protested but Parton went on.
"I'm telling you, I'm not," she said. "You should have seen me this morning before I got ready to see you. I'm serious, though. I'm not a natural beauty, but I can enhance it. Whatever it takes, I do. I try to make the most of everything."