Why Dolly Parton Says the Songs She Wrote Sylvester Stallone in Flop Movie 'Rhinestone' Weren't 'Fair to Him'
Dolly Parton on her flop movie with Sylvester Stallone, 'Rhinestone.' She thinks if Stallone had sang different songs, he might have received better reviews.
Four years after Dolly Parton made her film debut in 9 to 5, she starred in the movie Rhinestone with Sylvester Stallone. The film was considered a flop, but Parton doesn't remember the experience as being all bad. She liked the time she spent with Stallone, even if he "cannot sing country music."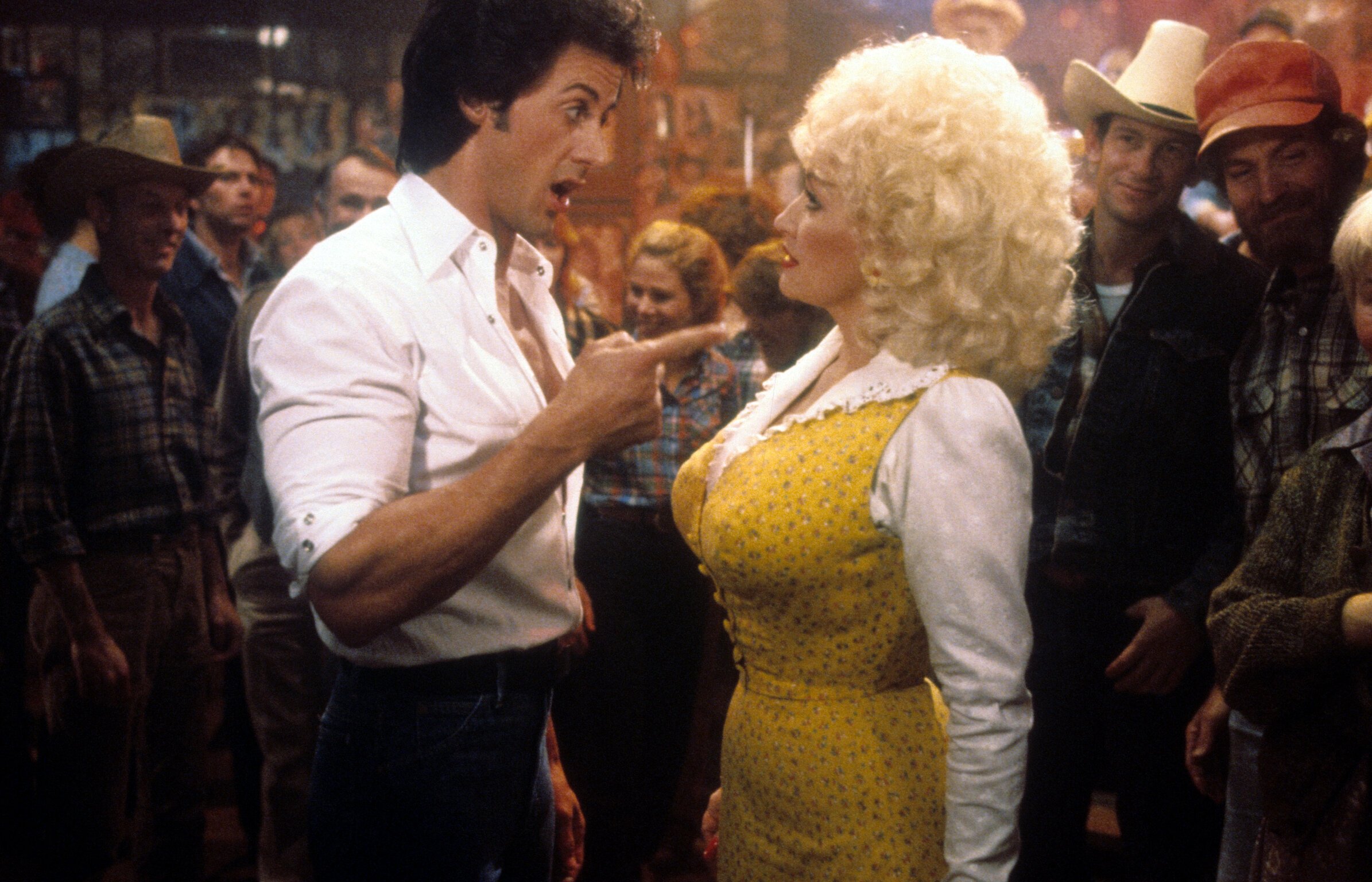 'It's true that Sylvester Stallone cannot sing country music'
In the film, Parton's character attempts to teach Stallone's character how to be a country singer.
"Well, it's true that Sylvester Stallone cannot sing country music," Parton wrote in her 2020 book, Dolly Parton, Songteller: My Life in Lyrics. "But I'll tell you what he can sing: old '50s rock 'n' roll songs. That's what he sang on the set, and it sounded good."
Parton thinks the poor reviews Stallone received, for his singing in particular, can be attributed to the types of songs he sang in the film — the songs that she wrote.
"I had to write songs for him to sing, and a lot of people didn't like that, because he really didn't execute them very well," she wrote. "But I think that had to do with the fact that they were so out of his realm. It wasn't fair to him. I'll take responsibility for that."
Dolly Parton had fun filming 'Rhinestone' with Sylvester Stallone
Even though Rhinestone didn't receive good reviews, Parton and Stallone had a good time together. The Queen of Country thinks back on "Stay Out of My Bedroom" with fond memories especially.
"'Stay out of my bedroom if you can't take the heat' was a lot of fun," she wrote. "Stallone was fun to work with, and he was always singing."
Not only did the two performers have fun together, but Stallone helped Parton when she was going through a difficult time.
"I was coming out of a big gloom at the time, and I had some health problems and was not feeling so good," wrote Parton. "But he was so health-conscious, crazy, and funny. It was good for me. So the movie was a hit to me, personally."
Dolly Parton is proud of the 'Rhinestone' album
"As a songwriter, I think Rhinestone is one of my very best albums," she wrote. "I wrote all the songs for the movie based on the stories in it. Even though the movie did not do well and didn't get good reviews, if you listen to the songs I wrote for it, they hold up. I loved a lot of the songs in that soundtrack. I enjoyed writing that as much as anything I've ever done."
Parton is particularly proud of "Tennessee Homesick Blues," the theme song for the film.
"It reminded me of when I first started writing songs about home," she wrote. "'Tonight I'll sleep in Mama's feather bed' and lines like that kind of took me back."