How Dolly Parton Stood up for Miley Cyrus When She Changed Her Image: 'I Remember When I Was Horny and Young'
While Dolly Parton isn't officially Miley Cyrus' godmother, the singers are very close. In fact, Parton refers to herself as the former Hannah Montana star's fairy godmother, which they agree is even better.
Cyrus fans surely recall the image change the singer went through toward the end of Hannah Montana. She shed her bubble-gum pop star persona for something more adult. Cyrus was finding herself after feeling forced to don a shell that didn't feel authentic for much of her childhood.
Though she received some criticism from fans, Parton was always in her corner.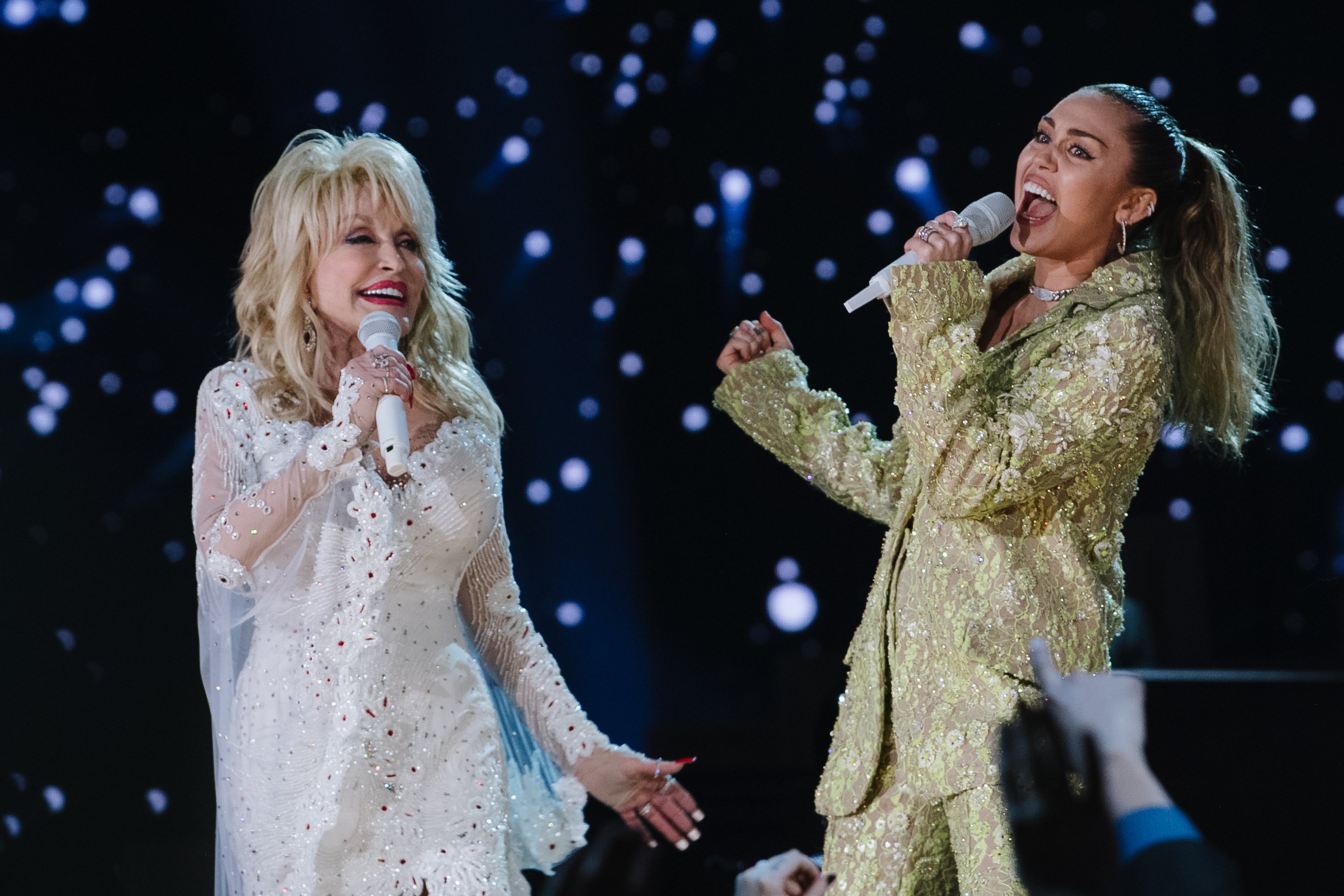 Dolly Parton understood Miley Cyrus' image change
Cyrus made headlines after performing at the MuchMusic Video Awards in 2010. She wore a black top with cutouts on either side, short black shorts, and heeled boots. Her dancing was slightly more proactive than Hannah Montana's. At the time of the performance, she was still starring on Disney Channel.
In an interview with Access Hollywood about a month after the performance, as reported by Today, Parton was asked about her (fairy) goddaughter's performance.
"If you think I'm going to sit here and pass judgment on Miley, you're wrong," she responded. "I think she's beautiful. I love her. She's trying to grow up, you know, I remember when I was horny and young."
"When you were what?" the interviewer asked.
"Horny and young," Parton repeated. "I'm still horny!"
Dolly Parton thought people were critical of Miley Cyrus' new image because they saw her as their own daughter
Parton fully supported Cyrus then, as she does now. She loves her first and foremost.
"I think she's beautiful," she said." "She's got the legs that go forever. It'll take people a while to get over her being 'Hannah Montana.' The girl's talented. The girl's beautiful and, you know, it's shocking just like [she's] your own daughter. Everybody looks at her like [she's] your own kid … I'm not passing judgment. So, we can just leave that at that."
Parton went on to say that the response to Cyrus' image and new performance style was overblown. It just wasn't that big of a deal.
"She's right there in public," said Parton. "How bad can it be? I mean, she's on camera. It's not like she's, you know, selling her body. She's precious. I love her and I have nothing but wonderful things to wish for her and wonderful things to say about her."
'We need to let her spread her wings'
Parton repeated, again, that she loved Cyrus. She wished people would give her (fairy) goddaughter the space she needed to spread her wings.
"I'm so proud of her and I just hate it when people mistreat her and say bad things because I know her little heart and I know her talent, which is great," said Parton. "She's a great writer, great singer, she's trying to grow up. It would have to be very difficult to come from the 'Hannah Montana' days and try to be your own self and express yourself as a artist, but she'll get through it and we need to let her spread her wings and do what she does. She'll be alright."