Dolly Parton Thought the Way Johnny Cash Moved Around Was 'so Sexy': 'Found out Later He Was Just Having Withdrawals'
Article Highlights:
Johnny Cash introduced Dolly Parton at the Grand Ole Opry when she was 13
Parton was immediately smitten with Cash
How she felt about him as a "contemporary" in 1978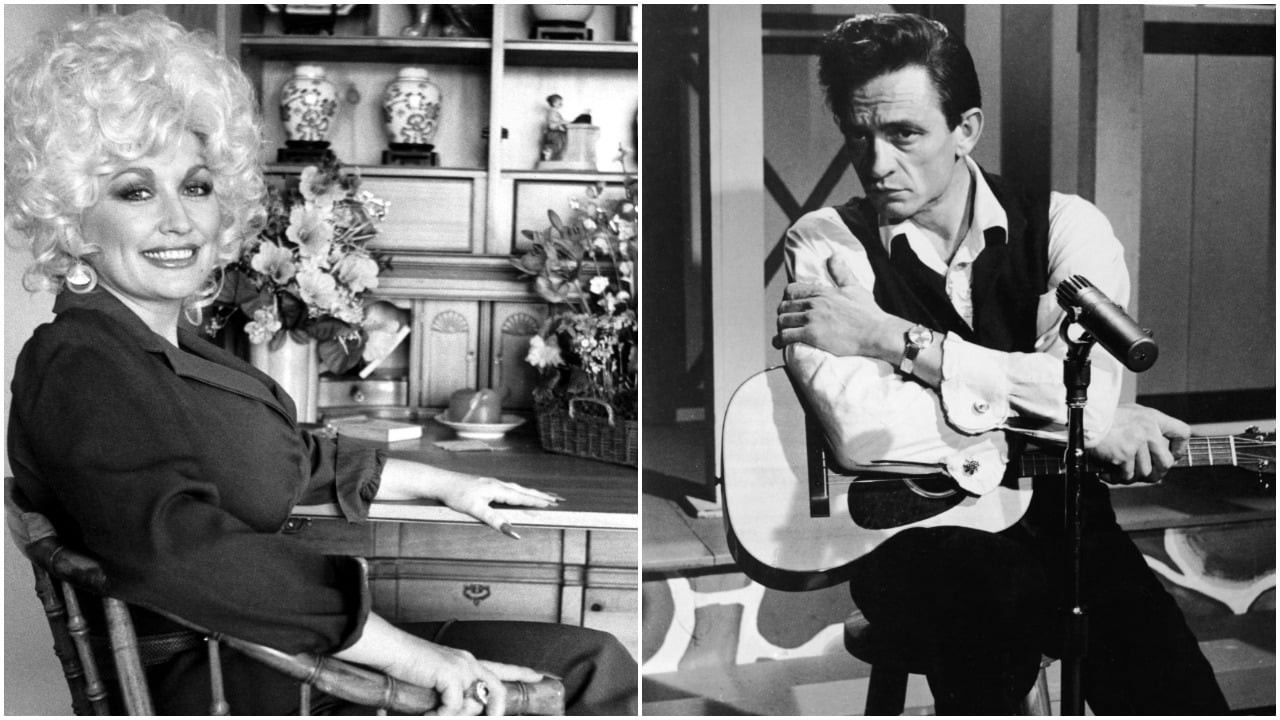 Dolly Parton's first celebrity crush was Johnny Cash. She met him in the flesh when she was just 13 years old. Immediately, she was swept up by his charm and presence. Later, the Queen of Country learned that Cash was struggling with drug addiction.
Dolly Parton played the Grand Ole Opry when she was 13
Parton got the opportunity to play her song, "Puppy Love," at the Grand Ole Opry when she was just 13. Her Uncle Bill Owens had talked the famous venue into letting her perform — "Uncle Bill was really good at talking to people and convincing people," Parton wrote in her 2020 book, Dolly Parton, Songteller: My Life in Lyrics. "And who's going to say 'no' to a little kid?"
"I got an encore," Parton told W Magazine recently of the performance, "but I only had the one song, so I sang it again! When I heard 'Puppy Love' on the radio for the first time, I about killed myself. I was sitting on the counter at my aunt's house, and suddenly I heard my voice. I slid on the floor, 'cause she was mopping. I was trying to get to the radio. Even to this day, I've never had anything that was more exciting than the first time I heard myself on the radio."
Johnny Cash introduced Dolly Parton
None other than Johnny Cash introduced Parton on the Opry stage. She was immediately enamored.
"I was thirteen years old," she wrote in her book. "Johnny Cash introduced me, and I thought he was the sexiest thing that ever was. That's when I first felt hormones raging. It was his charisma and me being a growing girl. It was the first time a man had ever made me feel like a woman."
RELATED: Dolly Parton Once Said She Writes Songs 'in Just a Few Minutes'
Parton told W Magazine that she was particularly drawn to the way Cash moved. She found out later, though, why he had the mannerisms he did.
"In the early days, I had a big crush on Johnny Cash," she said. "He was young and skinny, and he just had that magnetism. The way he moved around—you know, so sexy. I found out later he was just having withdrawals from drugs, but it still touched me. He was so, so sexy."
Dolly Parton on Johnny Cash as a contemporary
Parton met Cash when she was 13 and at the very beginning of her career. When she was interviewed by Playboy Magazine in 1978, years later, she was asked her opinion on Cash as one of her "contemporaries."
"Johnny is dramatic," she said. "I don't think Johnny is a good singer, but I think he is one of those people that is so believable that people can relate to it. He's got a way of deliverin'; you just know that it had to happen if Johnny said so."
Parton might not have thought Cash was the best singer but, to be fair, in the same interview, she said the same thing about herself — "I'm not a great singer."