Why Dolly Parton Turned a Bon Jovi Song Into a Gospel Tune
Dolly Parton has had her work covered by other people, and she has made her own version of famous songs. One of them was a Bon Jovi hit, which she turned into a gospel song.
Bon Jovi released 'Lay Your Hands on Me' in 1989
The Bon Jovi song "Lay Your Hands on Me" was a single from the album New Jersey. The rock sound has backup vocals that sound like a choir. The sexual lyrics are all about leaving someone satisfied.
Jon Bon Jovi and Richie Sambora wrote the song. The music video is a mashup of live performances at Tacoma Dome in Washington and Memorial Coliseum in Oregon. 
Bon Jovi later recorded an acoustic version of the song for This Left Feels Right album. It then got another release by having Parton cover it. However, she turned to a different genre for her version and gave it new lyrics. That's because the name of the song and a few other details gave her a different impression of what the original song was about,
Why Dolly Parton turned a Bon Jovi song into a gospel tune
RELATED: Dolly Parton Didn't Write 'Dumb Blonde' — Here's Who Did
Parton released the album Blue Smoke in 2014. The title is in reference to a Cherokee word for the Smoky Mountains. It included a few covers including one Jon Bon Jovi song.
"Yes, actually when I first heard Jon Bon Jovi's song, 'Lay Your Hands on Me' I didn't hear the verses," Parton told Wendy Williams in 2014. "I just heard the music, and I thought it was about God or Jesus. You know, like lay your hands on me, and I thought, 'Whoa, what a great gospel tune!' So later I found out that it wasn't, so then I called them up."
Parton has also said the song reminded her of her Pentecostal upbringing and the belief in healing hands. Thankfully for her, the writers agreed to her covering the song.
"It's one of my favorites on the album," she added. The cover is explicitly religious with the lyrics, "Lord, I'm ready, I'm willing/And You're able/To feel my empty cup at the/Master's table."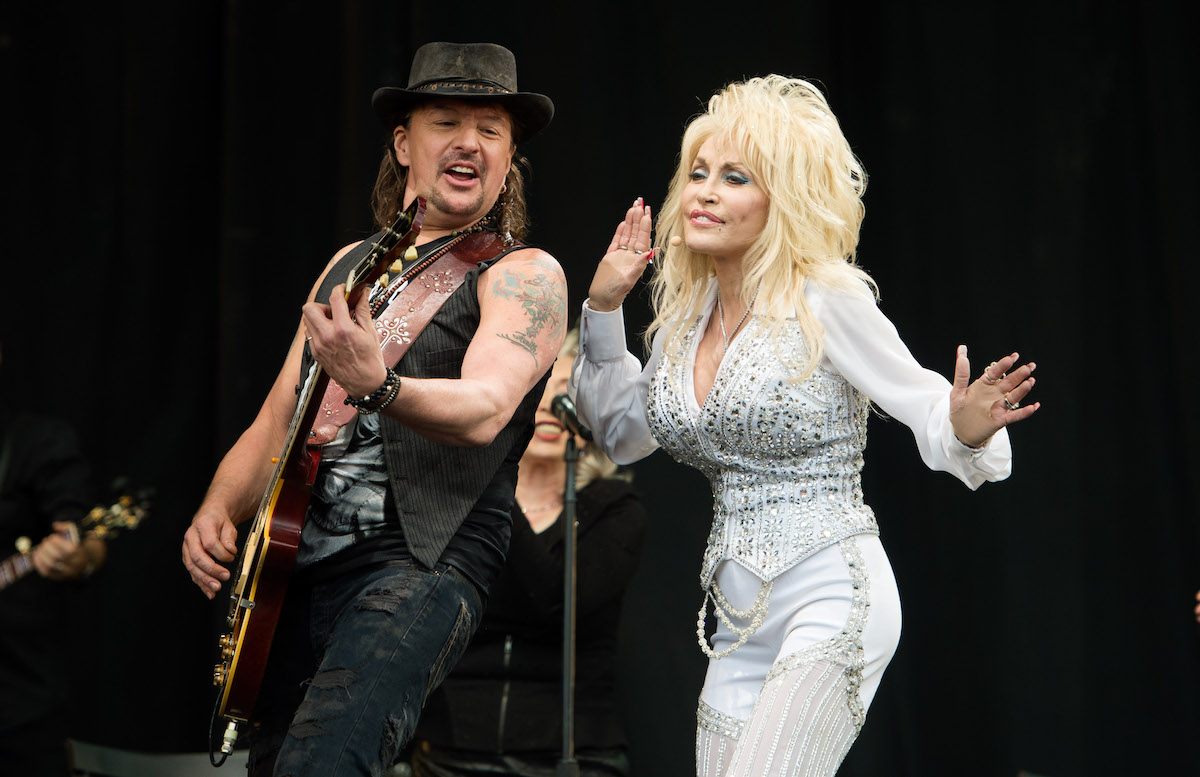 RELATED: Why Dolly Parton Doesn't Regret Not Letting Elvis Presley Cover Her Song
Parton said Bon Jovi and Sambora helped her change the lyrics. "They were all for it, and everybody threw in their little ideas, and I threw in mine," Parton told Entertainment Weekly. The country singer said they were very supportive of her afterward.
"In fact, Richie was at one of my shows in Australia [in February]," the songwriter said. "He flipped out when I did it onstage in front of the audience. He had his manager videotape it on his little phone or whatever. They say he just played it over and over. That made me feel good," Parton did eventually perform the song with writer Sambora at London's O2 Arena, according to The Hollywood Reporter.