Dolly Parton's Uncles Were Very Involved in Her Early Music Career
Article Highlights:
Uncle Bill taught a young Dolly Parton how to play guitar
Uncle Bill and Dolly Parton hit the road together
All the uncles who helped the Queen of Country get her start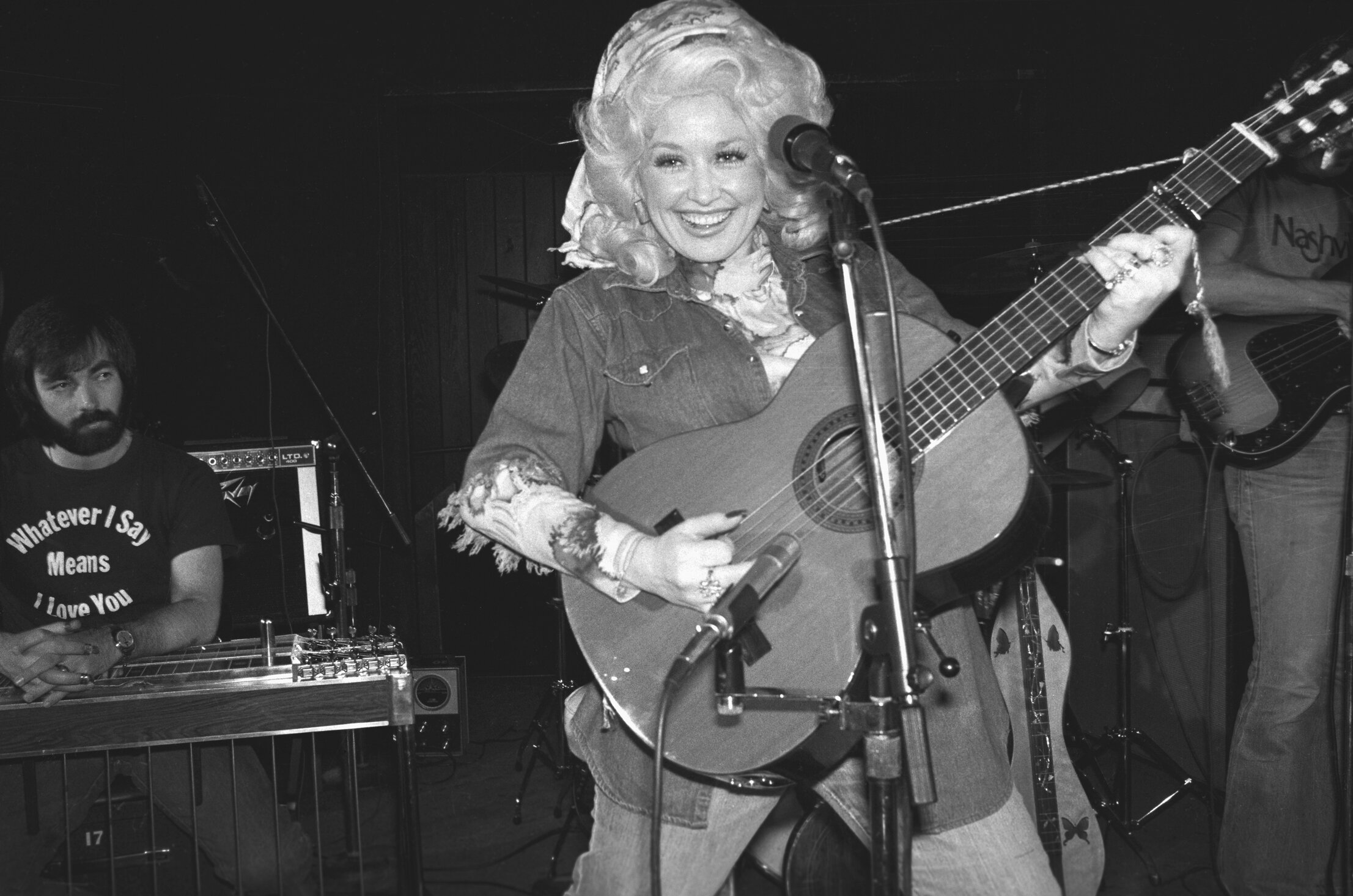 Dolly Parton grew up in a musical family. From the moment she was born into this world she was surrounded by music. Her mother was a singer and many of her mother's brothers were musicians. When the "9 to 5" singer was just getting started, her uncles helped how they could in different ways. It was a family affair.
Dolly Parton's Uncle Bill taught her how to play guitar
When the "Jolene" singer was growing up, her family always had "old instruments around with the strings busted." So she started messing around with those as soon as she was able. Then, one day, her Uncle Bill Owens (one of her mother's brothers) gifted Parton a real guitar and taught her how to play it.
"I remember I got these deep old blisters and calluses from practicing," she wrote in her 2020 book, Dolly Parton, Songteller: My Life in Lyrics. "Oh, it was so painful trying to learn. I kept saying, 'It hurts.' And he kept saying, 'No, you're going to have to learn. You gotta wait until those ol' calluses harden until you won't feel it anymore, and that's when you're going to be serious. You can't cry and complain about that. You're going to get blisters.'"
Young Dolly powered through and grew to develop a deep love for her first guitar.
Uncle Bill took an early interest in Dolly Parton's talent
Parton quickly became passionate about music, which "fascinated" Owens.
"I would sing my songs to him, because I knew he wrote songs, too," she wrote. "So he was like a kindred spirit. He saw that I had potential."
RELATED: Dolly Parton Once Revealed the Secret to a Lasting Marriage: 'Stay Gone'
Eventually, Parton and Owens set out together to try and make it big.
"Uncle Bill had this big ol' red Gretsch electric guitar, and he was good," wrote Parton. "He kind of fancied himself that he was going to be a star. He was a very handsome boy, with black hair and a spit curl. So he had this billing as 'Little Billy Earl with the Spit Curl.' Little Billy Early with the Spit Curl used to take me around to places like the county fair or to where a local radio station was going to have some sort of little musical thing on a truck bed outside of a store, different places."
It takes a village (of uncles)
Once Parton's career began to pick up steam (around the time she joined The Porter Wagoner Show), she focused on starting her own company.
"I knew early on that I wanted to have my own company and publish my own songs," she wrote. "While I was writing with Uncle Bill, we were trying to work on the business end of things, too. We started a company called Owepar Publishing, which is 'Owens-Parton.'"
Parton's other uncle, Louis, got involved to help with the formation of the company.
"Uncle Louis was also a singer-songwriter, and he was a guitar player," she wrote. "He sometimes played bass in our little trio that I had backing me with Uncle Henry playing drums, Uncle Bill playing guitar. Louis taught me a lot in those early days, and I loved him…. Louis was smarter than some of us, as far as paperwork was concerned, so he came to run the publishing company. He worked there for many, many years."
RELATED: The Truth About Dolly Parton and Porter Wagoner's Famous Witty Ad-Libs
And then there was Uncle Lester.
"My uncle Lester gave us some of the money to start the publishing company," she wrote. "He was a truck driver. A lot of people don't know about him, but he afforded some of us to make music."
"All my mom's brothers were involved in my career, in one way or another," Parton continued.
Yes, from the time she was young, it was clear to Parton's uncles that she was something special. They wanted to help their niece make her mark. And they did.