Dolly Parton Describes Her Unique Style as 'Glamorous Trash'
Dolly Parton is a style icon who never shies away from making bold fashion choices. Parton describes her style as "glamorous trash" when recalling an unlikely early beauty and fashion inspiration. The singer also sheds light on her casual at-home clothing and what her natural hair looks like when she's not wearing a wig.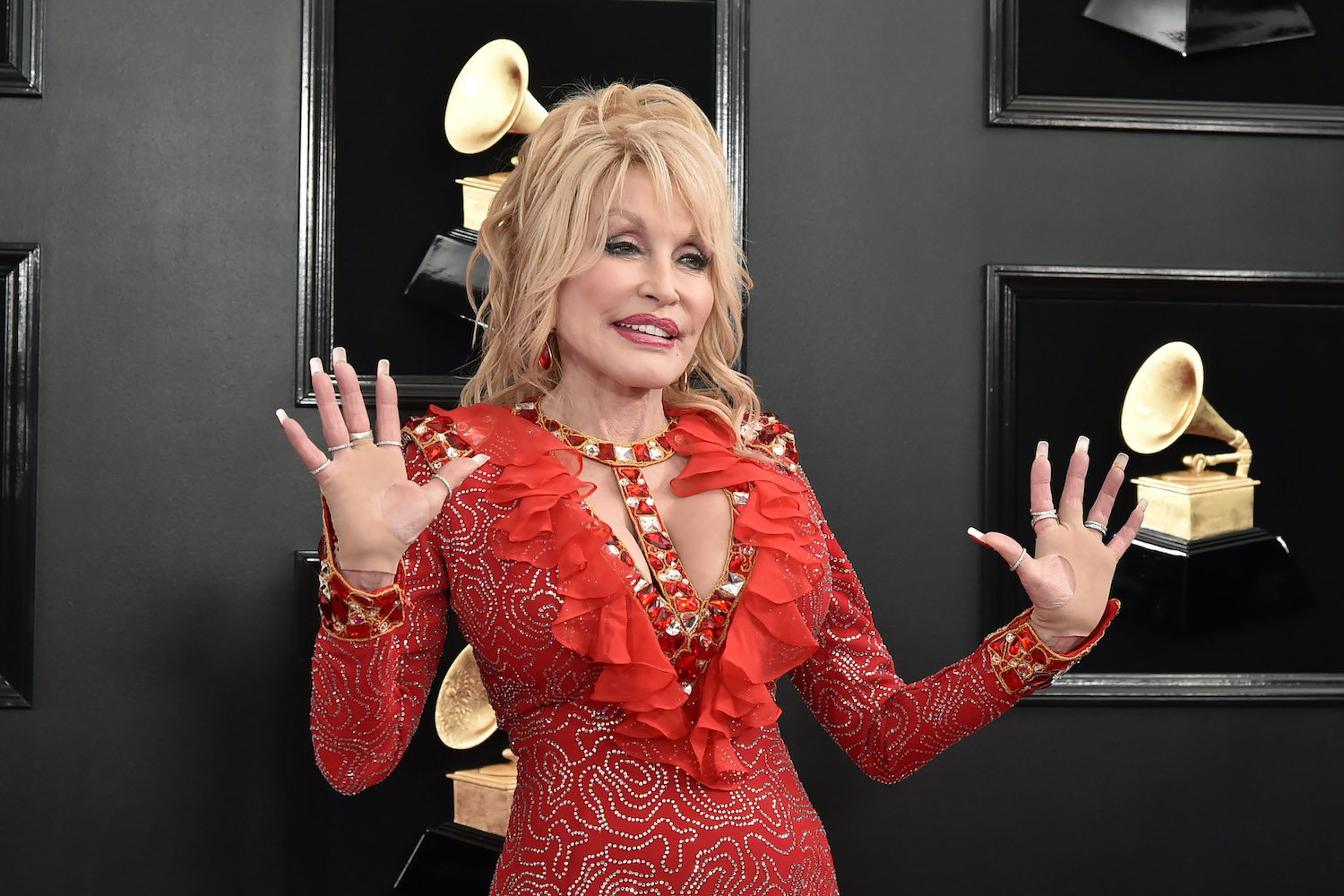 Dolly Parton borrowed her 'overexaggerated look'
During a May interview with WSJ Magazine's My Monday Morning, Parton was asked about her "first touchstones for beauty and style" and pointed to a childhood inspiration.
"I'm impressed with anybody that's got a sense of glamour and style, but I say, first of all, it's about being comfortable in your own skin," she explained. "My own overexaggerated look came from a serious place I've often spoken about: the town tramp in our little country hometown."
"They called her trash, but to me she was absolutely beautiful," Parton continued. "She wore colorful patchwork skirts and pretty blouses and showed a little cleavage and had red nails and piled-up blond hair and red lipstick and high heels. She was the prettiest thing I'd ever seen."
Parton's style evolved from that hometown example. "When everybody would say, 'Oh, she's just trash,' I'd say, 'Well, trash is what I'm going to grow up to be,'" she noted. "And I guess my look is glamorous trash!"
Dolly Parton has a unique spin on casual clothing
When asked if she leaned into wearing sweatpants during the coronavirus (COVID-19) pandemic, Parton revealed that sweats aren't her casual style at all.
"I don't wear sweatpants. But I do like to be comfortable like everybody else," Parton explained. "I have my own little house clothes, like a little dress-type teddy, a long teddy, then I have a little jacket or shirt to match if I get cold."
"I call them my baby clothes because they're soft like a baby," she added. "But I don't wear sweat clothes."
Parton says her wigs guarantee she never has a bad hair day
The singer is well-known for wearing wigs, but she doesn't wear them at home.
"I always make a joke — but it's really not a joke — that I never have a bad hair day," she said. "Cheryl Riddle is my hairdresser, and she gives me a great variety of different wigs … but I usually don't wear wigs when I'm home."
"I keep my own hair the same color and a little longer than shoulder length, just to the top of my boob … That way I can just pull it up with a little scrunchie," she explained.
Parton is forever a blonde, as she explained, "I was born blonde and couldn't wait to get it blonder. I started buying peroxide as soon as I could afford it! I just am a blonde. That's just my nature. It's me."
Parton prefers cheap makeup
Parton has built an empire and amassed a fortune over the course of her career, but she is faithful to inexpensive makeup.
"I use a lot of Maybelline products, and I've used Max Factor's Panstik makeup for all of my grown years; I have to order it from different places because I can't find it anymore," she explained.
Parton continued, "If I'm going out at night, I'll just add a little more shadow, a little more glitter, redder or brighter lipstick."
"I'm so used to doing my own makeup and hair I can do it really fast," she added.