Dolly Parton 'Usually' Has Her 'Boobs Hanging out' – but Not for This Activity
As one of the leading ladies of country music, Dolly Parton, 76, has relished in the right to be unapologetically "gaudy" — as she often refers to her performance fashion. And while she said that means she "usually" has her "boobs hanging out," there was one time she shared she thought it would be best to cover them.
When did she say her usual look could have led to a mishap? And here's a hint: it wasn't when she joked she'd have her breasts covered by insurance.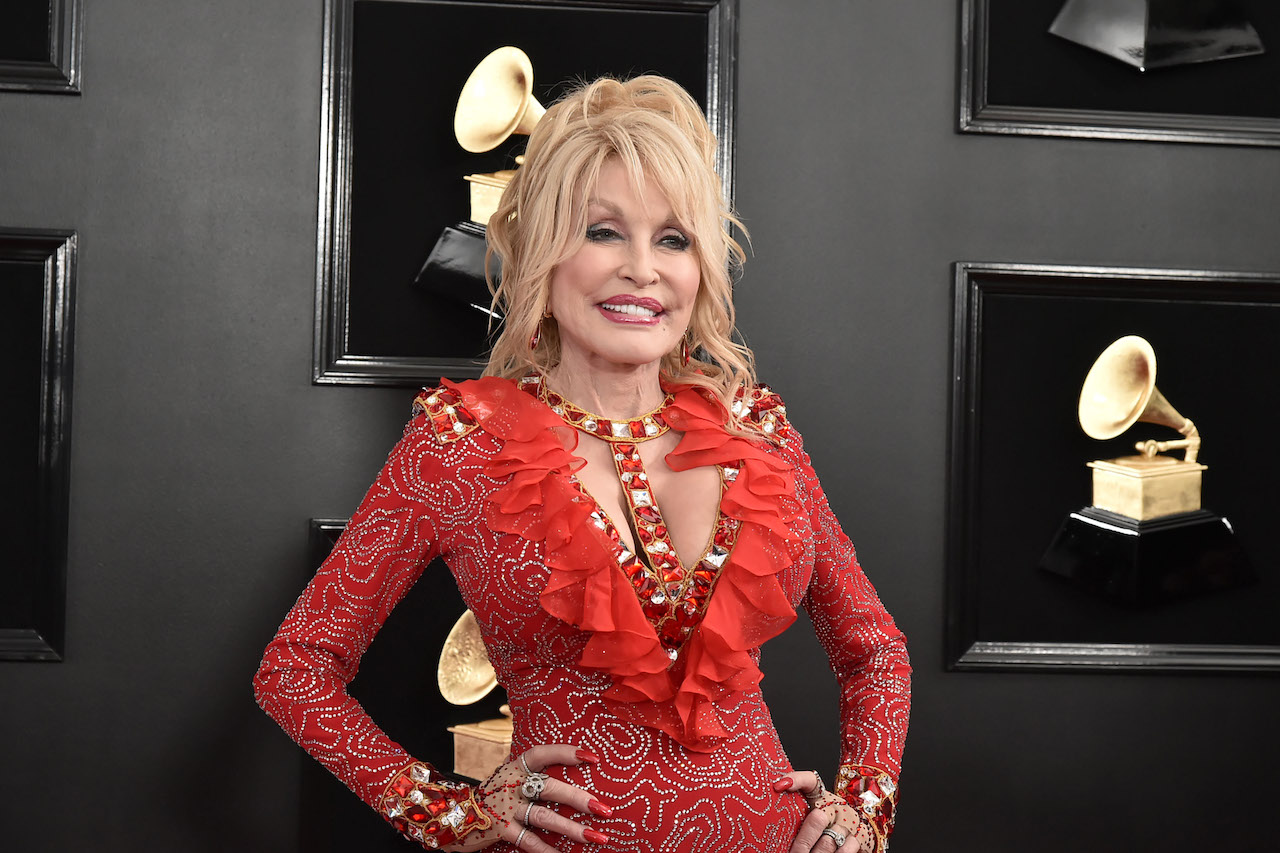 Dolly Parton joked she'd get her breasts covered by insurance – but it never happened
As conversations around Parton's figure have seemingly existed for her entire career, a rumor eventually emerged that she'd insured her breasts. She told TODAY that she even said, "Well maybe I should get my boobs insured since I'm famous for them."
As it turns out, it was just a tall tale and she never actually did it. And she gave TODAY a pretty logical reason for not moving forward with any thoughts about it. "You can get new boobs …" she noted. 
But the country star confessed to finding an everyday way to cover her insurable assets from accidents without taking out any policies on them.
Dolly Parton covered her breasts with an apron to avoid a baking mishap
Thanks to a new project, Parton has been talking about baking a bit more than what seems usual. She's introducing an already-popular new line of cake mixes and frostings with Duncan Hines. So, she's been giving fans an idea of what it's like to be in the kitchen with her.
As mentioned, she previously said she was "famous for" her breasts. But she didn't feel her famous parts belonged out for her baking demos.  
"I'm normally not wearing aprons or stuff. I'm usually wearing my gaudy stuff with my boobs hanging out or whatever, but I didn't wanna get icing on 'em," she told Yahoo Entertainment. And right in line with her signature cheeky humor, she also joked that she could probably sell a lot of cakes just by jumping out of one.
Dolly Parton doesn't think fans should know everything – like her measurements
While Parton is candid about a lot of things, she told 60 Minutes Australia in 1986 that she didn't think she should have to share every single part of herself with fans. Namely, that meant exactly how big her breasts were at any given time.
Apparently, it was a question asked of her often. And she defended her decision not to publicize the specifics of her "striking figure" when correspondent, Mike Munro, inquired why she was keeping a private thing private.
"Well, I don't think it's necessary that people know everything about you," she explained. But she also added, "The reason I never give my measurements is because they go up and down."
She launched into a needed lesson on the obvious truth of size measurements — they change with fluctuations in weight. "I'm actually not as big as people think," she declared conclusively before saying she's "tiny" and her body is "just over-exaggerated."
But Munro still prodded a little more and flatly inquired, "May I ask?"
Standing her ground, Parton replied in the negative with a laugh. But she also told him, seemingly playfully, "Up yours, buster."
RELATED: Dolly Parton Once Responded to 'Bedridden Because My Boobs Are so Heavy' Rumor