Dolly Parton Wants to Age Like Betty White but Hopes She Doesn't 'Live That Long'
Dolly Parton wants to age like the late Betty White but doesn't exactly want to live to be almost 100 years old.
Dolly Parton and Betty White; name a more iconic pair. You can't, can you? For years, Parton has been our country singing godmother while White has faithfully been our TV grandmother. Unfortunately, they never got to work with each other. However, they admired each other from afar.
White loved Parton's music, and Parton once said she wanted to age like White. Although, Parton doesn't exactly want to live as long as White.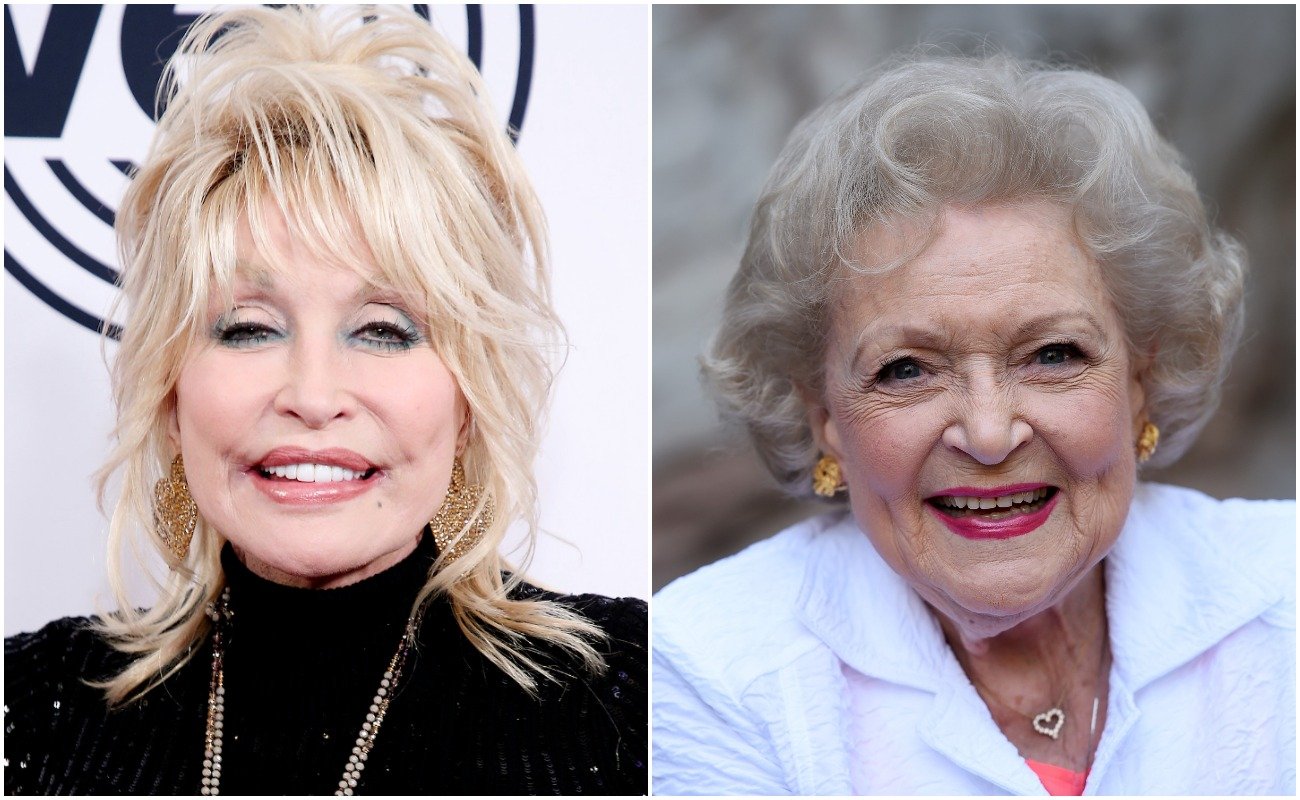 Dolly Parton wants to age like Betty White
In a recent interview with Access, Parton said she wants to age like Betty White.
"I met her a time or two, I just knew of her work, and I just loved her, I just thought she was great," Parton said. "And I hope to be like that, I hope to be able to, if I live that long, I hope to be able to be active and productive, and I will, you know, be trying if I live that long.
However, Parton doesn't want to live as long as White did. "I hope I don't live that long, to be honest, I just hope I go out at my peak whenever that peak might be and then just fall out like that," Parton continued. "But don't we all wish for that?"
Parton paid tribute to White after the TV legend died on Dec. 31
After White suddenly died on Dec. 31, many of her friends and showbiz colleagues paid tribute to her, including Parton.
On Twitter, Parton wrote, "While watching the news last night I learned of Betty White's passing. Betty will live forever not only in this world but the world here after. I will always love her as we all will!"
However, White was also a massive fan of Parton's.
White loved '9 to 5'
There was definitely some deep love between the icons, even from afar. In a 2010 interview with The Boot, White said she was a country music fan and that Parton's famous hit "9 to 5" was one of her favorite songs.
"Country music tells stories, and it's also basic," White said. "It's the kind of music that reaches right inside of you because it's simple and it's direct. I just enjoy it thoroughly. It's relaxing and nostalgic. It can turn on some lovely memories and sometimes some poignant ones.
"I like Dolly's whole approach to life with ongoing and uplifting songs," she said. "I never met Dolly but everything I ever heard about her she was a great gal to know and you could kind of get it in her music and her voice and her approach to lyrics."
Who knows what Parton and White would have done together had they gotten the chance to collaborate. They're icons, though, so anything they would have done would have been great.