Dolly Parton Wants Beyoncé to Cover 1 of Her Most Popular Songs
From Reba McEntire to Miley Cyrus, many well-known artists have covered Dolly Parton's hit song "Jolene." Though each artists' rendition of the classic track has been just as breathtaking as the next, there's one singer Parton believes would do the song justice, and it's none other than the Queen Bee herself, Beyoncé.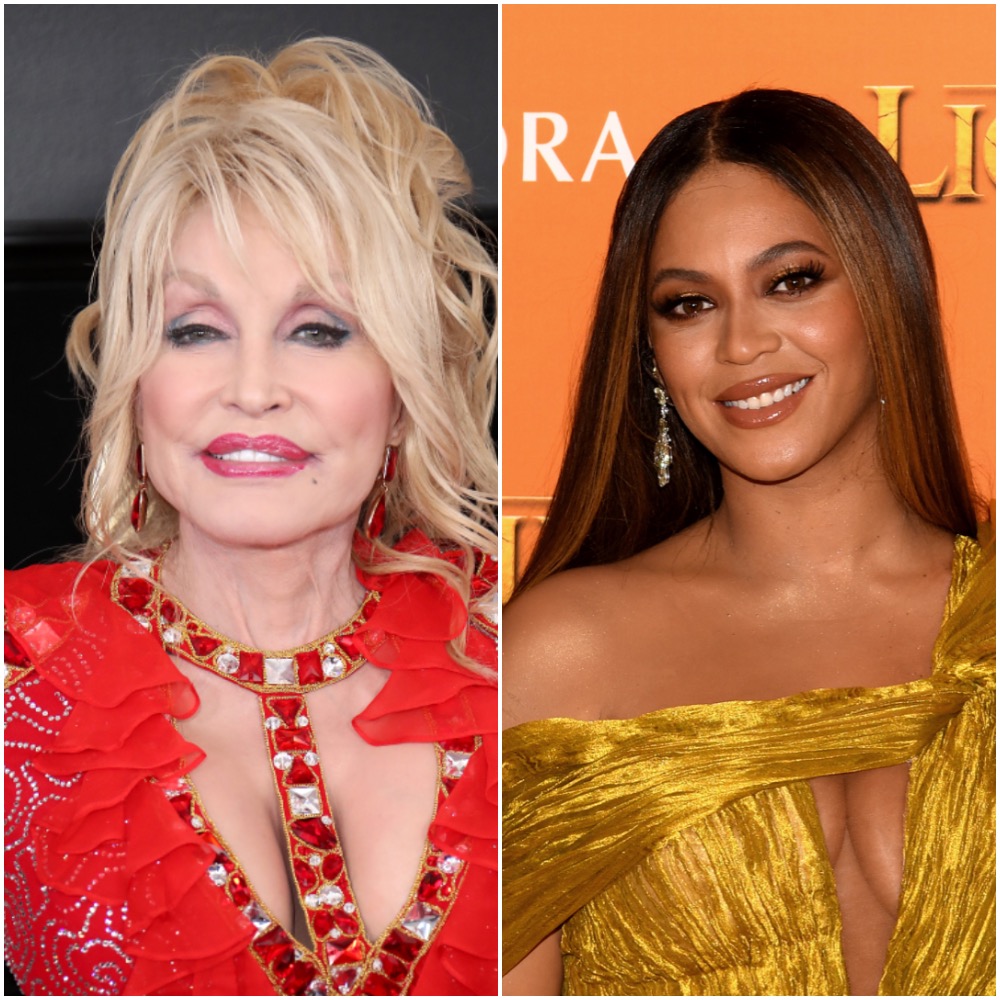 Dolly Parton thinks Beyoncé could make 'Jolene' a 'really big hit'
If there's anyone who can effortlessly nail a cover of a song made famous by an artist who inspired her own music, it's Beyoncé.
Over the years, the singer has given beautiful renditions of tracks while paying tribute to the stars who paved the way before her. From Etta James' hit "At Last" to Sam Cooke's monumental single "A Change Is Gonna Come," Beyoncé never disappoints when putting her own spin on some of the most well-known songs in music history.
Though there are a ton of popular covers in Beyoncé's arsenal, there's one classic hit she's yet to put her own spin on — and it's one Dolly Parton thinks she'd blow out of the water if she ever decides to sing it.
During a recent interview with The Big Issue, the country music legend opened up about her 1973 song "Jolene," which has been covered by hundreds of artists throughout the years.
While Parton believes that those who covered the track did a phenomenal job, she is certain Beyoncé would make "Jolene" a "really big hit" if she were to record her own take on it.
"It has been recorded worldwide over 400 times in lots of different languages, by lots of different bands," Parton told the outlet. "The White Stripes did a wonderful job of it, and many other people.
"But nobody's ever had a really big hit record on it," she continued. "I've always hoped somebody might do [it] someday, someone like Beyoncé."
Beyoncé already has a connection to 'Jolene'
Though she hasn't covered "Jolene," Beyoncé is already linked to the classic track — and has been for the last few years.
In 2016, Diana Gordon, who co-wrote several of Beyoncé's tracks on Lemonade, told Refinery29 that the singer nearly name-dropped Parton's classic 1973 song in the now-iconic "Becky with the good hair" line from "Sorry."
While that's pretty much the only connection Bey has to "Jolene," it's not the only one song of Parton's she's been linked to.
Beyoncé has covered Dolly Parton's 'I Will Always Love You' several times
Over the years, Beyoncé has performed a mashup of the country music star's "I Will Always Love You" and her romantic ballad "Halo" during her concerts.
Parton wrote and recorded the song in 1973 as a farewell to her former partner and mentor of seven years, Porter Wagoner. Though Parton's version was a commercial success and earned her the No. 1 spot on the Billboard Hot Country Songs charts twice, the track didn't take off until R&B singer Whitney Houston released her own rendition of it in 1992.
While speaking with The Big Issue, Parton recalled when Houston took her song over the top, saying it was one of her proudest moments.
"To me, that is really a classic love song. I had a No. 1on it twice, once in the 1970s, then I did it in the movie The Best Little Whorehouse in Texas and had another No. 1 in the 1980s," the singer said. "And then Whitney did it and it was considered one of the greatest love songs of all time.
"Still to this day I take a lot of pride in that. So I'd tell my younger self, you're going to end up being very proud of your little old self one day," she added. "So just buckle up and be ready for the ride."