Dolly Parton's Theme Park and How It Came to Be
Dollywood is a destination for Dolly Parton fans and lovers of the Smoky Mountains alike. Complete with a waterpark, theme park, cabins, and other resort luxuries, Dollywood has something for the whole family. Over the years, Dolly Parton's theme park, Dollywood, changed hands from Rebel Railroad (1961–1970) to Goldrush Junction in 1970–1976. It later changed to Silver Dollar City in 1976–1977, and then it became Dollywood, named after Dolly Parton in 1986.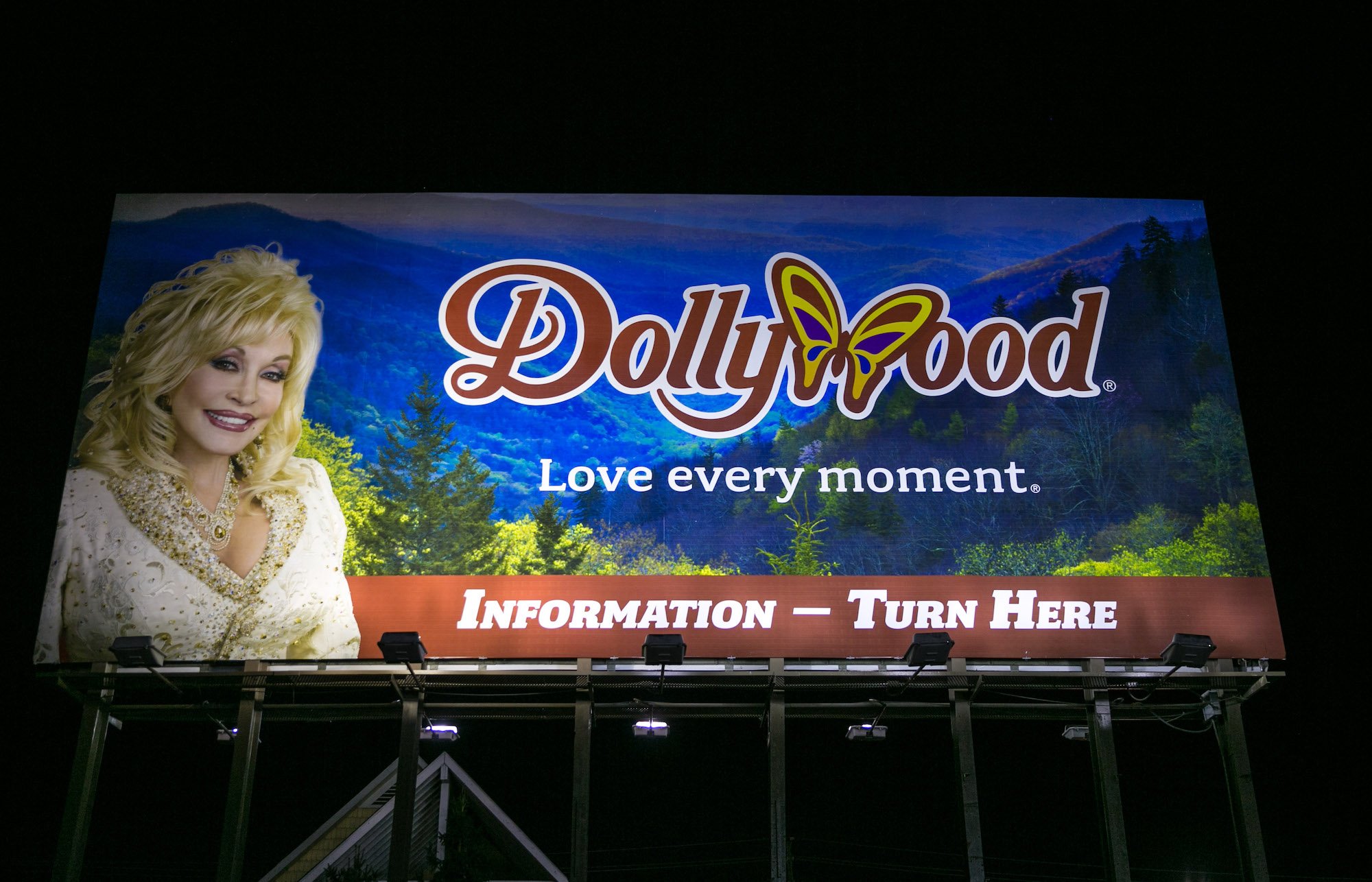 The park opened to fanfare in 1986
Located in Pigeon Forge, TN, about an hour southeast of Knoxville, Dollywood was a highly sought-after escape before it opened. The opening of Dollywood backed up traffic for 6 miles! The Grand Opening Parade in 1986 had an attendance of 72,000 people. In the next five months of opening, the park hosted one million visitors.
Dollywood stays true to its roots as a theme park by having many rides and attractions for all ages to enjoy. Some families may get overwhelmed by the variety of rides, so Dollywood allows guests to go on "rides around," where guests go on all available rides.
It has over 30 rides, including roller coasters, a carousel, and a water park. The oldest ride at the park is The Wilderness Express which was built in 1987, while the newest ride is Wild Eagle which opened in 2014. There is also an outdoor concert venue, DreamMore Amphitheater. The first roller coaster at the park was Scooby-Doo, and it cost a record-breaking $6 million.
There really is something for everyone at Dollywood
Dollywood is fun for everyone; it's great for families or couples to go on a romantic date. There is something for everyone at the park, and once you arrive, it's sure going to be a day you will never forget. 
For a long time, there has been a saying that a person can learn more about themselves in 5 minutes of riding a roller coaster than years of living. It might not be true, but it does put your life into perspective. Roller coasters are scary, yet they can be fun and exciting all at the same time.
Dollywood has many roller coasters to choose from, but the top three are Thunderhead, Mystery Mine, and Wild Eagle. Thunderhead is the fastest and tallest roller coaster in the Smokies. It's big, fast, and will leave your heart racing as you go down a steep drop at almost 80 miles per hour. 
Dollywood Gives back to the community
Dollywood stays true to its founder by being one of the top employers in Sevier County. Dolly Parton is very involved with the community and often helps out with local fundraisers. She also holds her annual Dollywood's Smoky Mountains Jamboree, where she performs in the Smoky Mountains, and the proceeds of ticket sales go to her Imagination Library. 
Dollywood tells us about our past through its history and provides entertainment for everyone. It is a great place to go if you want to have fun and enjoy yourself. The roller coasters are thrilling and exciting. It's also great if you need to take a vacation with your family or just a day trip to the mountains.