Dolores Catania and Margaret Josephs Think Jennifer Aydin Is More Upset About Her 'RHONJ' Reputation Than Her Husband's Actual Affair
'The Real Housewives of New Jersey' has to address another affair. Dolores Catania and Margaret Josephs don't trust Jennifer Aydin's feelings about her husband's affair.
Dolores Catania and Margaret Josephs of The Real Housewives of New Jersey think their co-star Jennifer Aydin is not upset about her husband's affair, which came to light during Season 12. Instead, the two women believe Aydin cares more about how viewers perceive her life now that everyone knows the truth.
Aydin defended her marriage and her life. The 44-year-old explained that she has a long history with her husband Dr. Bill Aydin. They share five kids: Justin, Jacob, Christian, Gabby, and Olivia.
'RHONJ' cast members have labeled Jennifer Aydin a 'hypocrite'
During the Season 12 premiere, Jennifer got into a big fight with Josephs at Teresa Giudice's pool party. The fight began shortly after Jennifer and Bill Aydin arrived at their co-star's house where fellow cast members, Dolores, Margaret, Melissa Gorga, Jackie Goldschneider, and Traci Johnson, were socializing, according to People.
Josephs brought up Jennifer's husband's affair, which happened 10 years ago but hadn't been publicly revealed. During the argument, Josephs told Jennifer that she thinks she is unhappy.
However, Jennifer responded that she wakes up feeling blessed and loves her life and husband. She added that he makes everything happen for her without nagging her about the bill. Giudice intervened and stopped the fight, but Jennifer and Bill left the party abruptly.
After they left, Josephs told the other housewives that Jennifer was the biggest hypocrite and she had pushed her so far that night. However, Goldschneider revealed she already knew about the affair but didn't want to hurt the couple by bringing it up.
According to Reality Blurb, even though Jennifer was hurt, Catania and Josephs discussed her marriage, citing that she was hurt more about her image than the affair. 
Jennifer Aydin knew about her husband Bill's affair many years ago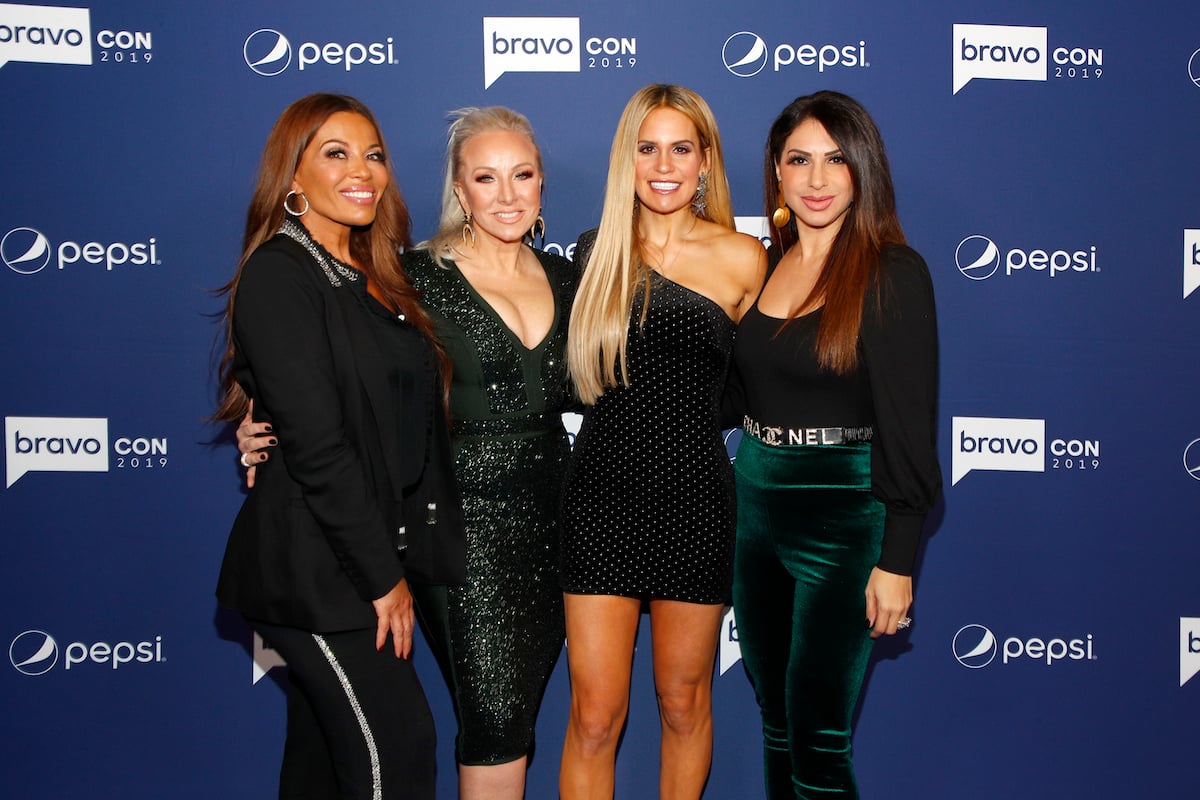 Jennifer held a pool party at her house the next day and invited Giudice and Catania. Then, Jennifer revealed her husband was so embarrassed that he hid upstairs. In an interview with The Sun, she also shared that the affair happened as she was expecting her third child.
Jennifer revealed she learned of this from her husband's text messages and credit card receipts. When confronted, her husband told her he was not in love with the other woman.
During the premiere of Season 12, Josephs also added that Jennifer has always projected a perfect lifestyle. She was proud of her enormous house — dubbed the Taj Mahal — as well as having a husband who is a doctor. Now that everyone knows of her husband's infidelity, she's worried about what people will think of her.
This isn't the first time affair allegations arose on 'RHONJ'
Once Jennifer knew about it, she questioned her friendship with Catania. On the Behind the Velvet Rope podcast, DePaola revealed that Jennifer's friendship with Catania was officially over. Jennifer also talked about how Catania and Josephs dared to discuss her marriage when theirs weren't perfect.
Jennifer previously revealed to the other housewives that Josephs had met her husband, Joe Benigno, while she was married to someone else. She added that how they met felt shameless and taboo.
Josephs met her husband and married in 2013 after divorcing her first husband. Jennifer added that Josephs is used to an environment of cheating. She even added that Josephs' mother had an affair for 15 years. 
Before the divorce, Frank Catania had cheated on Dolores when she was expecting their son, Frankie. Despite the affair and the divorce, the two still have a relationship.