'Euphoria' Star Dominic Fike Seemingly Confirms Relationship with Hunter Schafer
Euphoria features a sizzling cast of young stars, including Dominic Fike and Hunter Schafer. The young actors have been sparking rumors of a romance for weeks. And to fans' surprise, Dominic confirmed their relationship via social media, sharing a sweet photo of them kissing.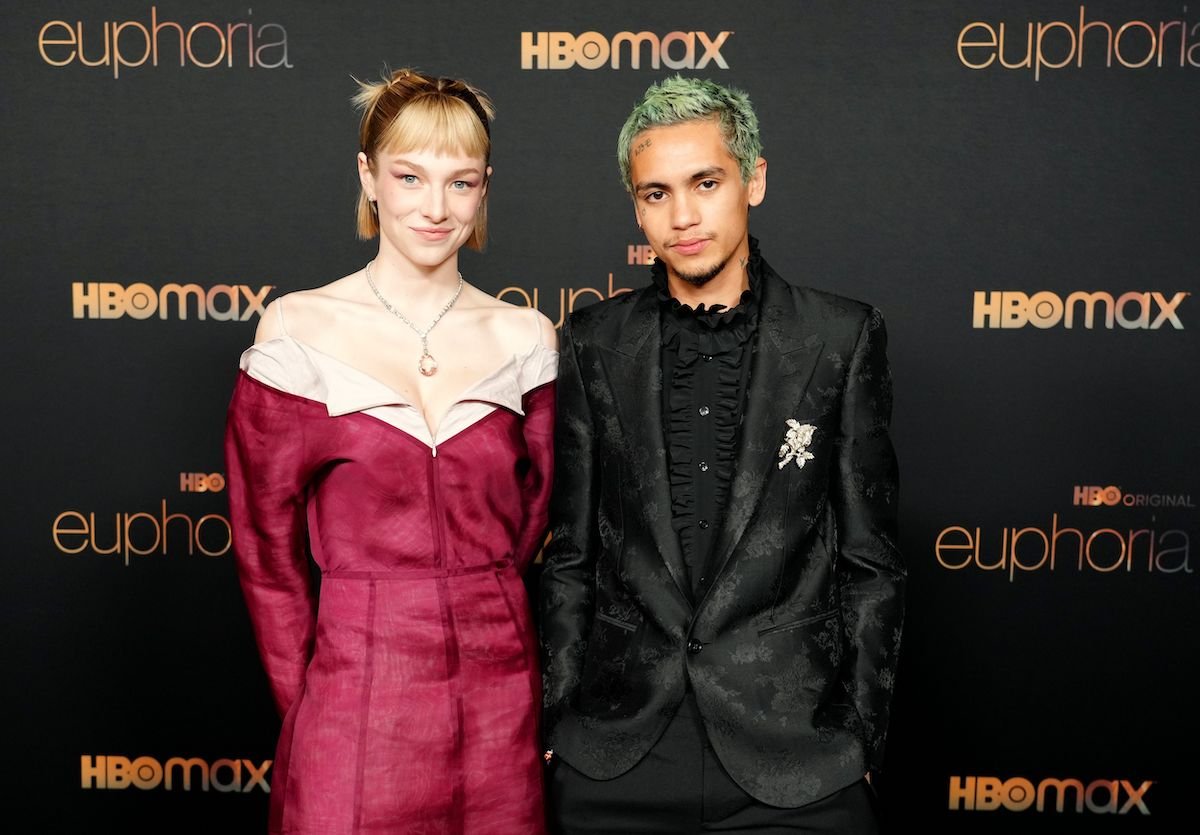 It looks like 'Euphoria' stars Dominic Fike and Hunter Schafer are dating in real life 
When Fike and Schafer were spotted holding hands in January, as reported by The Daily Mail, rumors of a romance began to swirl. The pair has yet to confirm it outright, but Fike made their relationship Instagram official in a Feb. 10 Instagram story. 
In the post, Fike shared a picture of the two sitting in a restaurant celebrating Schafer's birthday. With a piece of chocolate cake on the table, the pair are kissing. "Happy Birthday Happy Birthday," Fike captioned the post. 
Their characters, Elliot and Jules, are embroiled in a love triangle on 'Euphoria'
Fike and Schafer's potential romance is exciting, considering how close their characters, Elliot and Jules, get in Euphoria Season 2. The two become friends at the beginning of the season, while entangled in their individual feelings for Rue (Zendaya).
But Elliot eventually reveals that he likes Jules as well. And after he tells her that Rue isn't really sober, Jules hooks up with Elliot and informs Rue's mom about her drug use.
The season finale hints Rue may know what transpired between Elliot and Jules. And while fans won't get definitive answers until season 3, for now, it feels a lot like their love triangle is over.
Their future storyline is uncertain. But one thing fans can count on is seeing Elliot return next season.
In a recent episode of The Tonight Show, late night host Jimmy Fallon asked Fike, "The show has already been renewed for season 3, do you think we'll see you back for season 3?"
"Absolutely, yeah," the actor confirmed.
'Euphoria' fans are split over a potential Dominic Fike and Hunter Schafer romance
After seeing Fike and Schafer's steamy photos, some Euphoria fans were excited about their potential romance. One fan noted how strong the pair's chemistry is on screen.
"Every time those two have a scene together I feel like they're both electric," the Reddit user wrote. "I also saw that pic of them leaving a restaurant together recently so maybe I'm not wrong here. All I'm saying is, their chemistry is palpable."
"They have really good chemistry, it's no wonder why it's translated to them dating in real life," another Redditor shared. "Very sweet honestly."
But other fans aren't on the Fike and Schafer ship just yet. Some don't like the idea of the co-stars dating. And one suggested it could mess up the show if they ever broke up.
"All I know is they better not break up and then refuse to film scenes together," the Reddit fan wrote.
Euphoria Season 3 is in the works. But no premiere date has been confirmed. Euphoria Seasons 1 and 2 are streaming on HBO Max.
RELATED: Euphoria': Sydney Sweeney Addresses if Cassie and Maddy Will Team up Against Nate