Don Diamont of 'The Bold and the Beautiful' Says Bill is 'Trying' to Stay Away from Brooke
Every once in awhile, soap opera stars like to transition from the TV screen and find a new way into our homes via the internet. That's not just through their posts on social media, but through live-tweets where they interact with fans.
Such was the case with The Bold and the Beautiful's Don Diamont, who live-tweeted an episode recently when he got into the hot topic of his relationship with the love-her-or-hate-her Brooke. There has been quite a bit of melodrama there, with Brooke having a fling with Bill, while her husband Ridge is having his own flirtation.
Who are Don Diamont and Bill Spencer?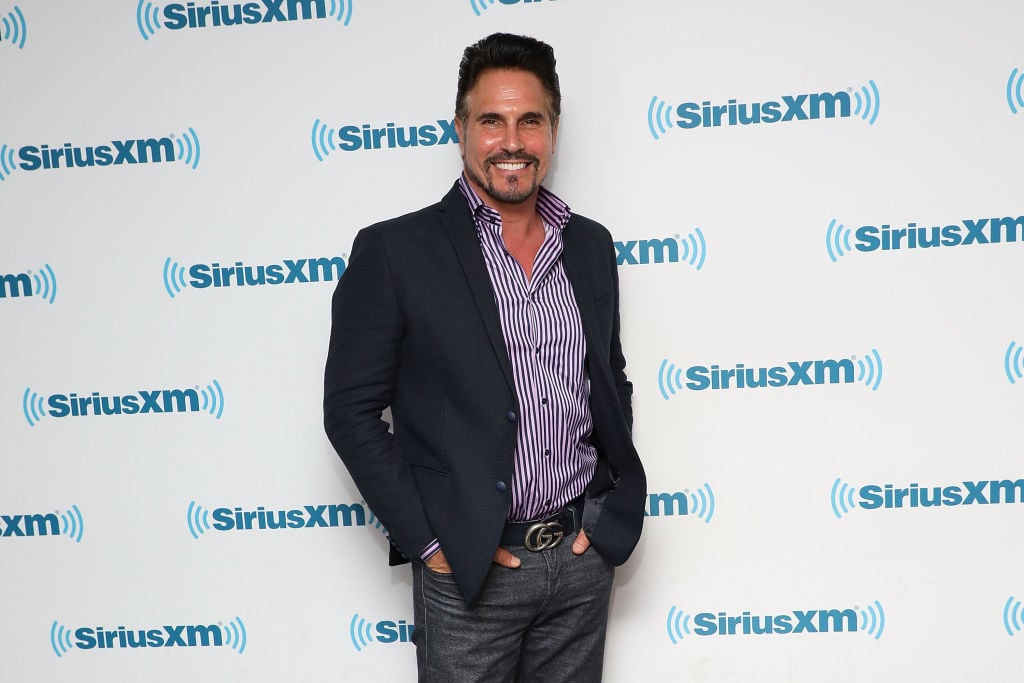 Don Diamont has the unique distinction of playing two different characters on sister soap operas. The Bold and the Beautiful is the most recent of the four soap operas still on the air, being a companion show to The Young and the Restless, with the characters sometimes crossing over.
On The Young and the Restless, Diamont played Brad Carlton, who was introduced as the Abbot family gardener. His initial stint on the series was from 1985 to 1996, then from 1998 to 2009. In 2009, he was let go from the show, which killed off Brad by having him fall into a frozen lake. Diamont was resurrected, but in an unusual way — he came on The Bold and the Beautiful to play Bill Spencer.
Diamont told Soap Opera Digest in 2017, "The stories I've had over the last several years, which all led to the current story, have been wonderful. It's uplifting when you're working with, and across from, such talented people who really bring it. It elevates your game. I hope I do the same for them, but it's been extraordinarily gratifying."
What did Don Diamont say during his live-tweets?
Lately, Bill has been in a love triangle of sorts with Brooke, having a fling with her while Brooke was trying to commit with Ridge. It seemed like she would do that, but then Ridge went off on a Vegas adventure with Shauna. One fan named Danielle said on Twitter, "Well like everyone else I have an opinion. I think he belongs with Katie! But can't seem to keep his lips off Brooke now." Diamont responded "He's trying, Danielle. Lol."
A different Danielle asked, "What qualities in Brooke does Bill like that apparently Katie does not have, apart from being blond?" Diamont responded, "They just have an unexplainable connection!" A fan identified as Lenie asked if we would get "Brill" back now, and Diamont said, "I don't know. Only time will tell."
One of Diamont's cheekiest responses came when a fan asked, "Who do you think Bill's true love is? Katie, Brooke or Steffy?" Diamont answered, "C'mon guys this is Bill He can make room for all three!" Still another fan had an answer for that, saying "Nah, Brooke is too old and just kills your sex appeal. You are obviously bored with Katie the fourth time around. The only one you have amazing chemistry and shines with is Steffy."
How else are fans reacting to the latest developments?
On April 16, the show tweeted a GIF of Brooke hugging Ridge, posing the question, "What do you think Ridge is thinking right now?" One answered, "How can I get away from Brooke?" But another replied, "Why do I want that sleazy Shauna over this woman I've loved half my life?" And someone else said, "No matter what it is always going to be Brooke because Brooke completes him they accept each other's flaws & everything else where can u find that I think they need to take their time & get to know each other again TEAM BRIDGE."
Bridges may be burning with fans with all this back and forth. Now Ridge is back with Brooke with a whale of a hangover, professing not to remember much about what happened in Vegas. Meanwhile, Bill finds out that Quinn very much has it in for Brooke, but he doesn't like that Katie was hurt in all the back and forth. A defiant Quinn urged Bill to stay away from Katie's "snake of a sister." So much for Brill for now?