Inside Donald Trump and Regis Philbin's Friendship
Regis Philbin made a lot of famous friends throughout his career. One of his friends was Donald Trump. Here's a look back on their friendship. How Regis Philbin and Donald Trump became friends In his book, How I Got This Way, Philbin said he and Trump became good friends around the time they played a …
Regis Philbin made a lot of famous friends throughout his career. One of his friends was Donald Trump. Here's a look back on their friendship.
How Regis Philbin and Donald Trump became friends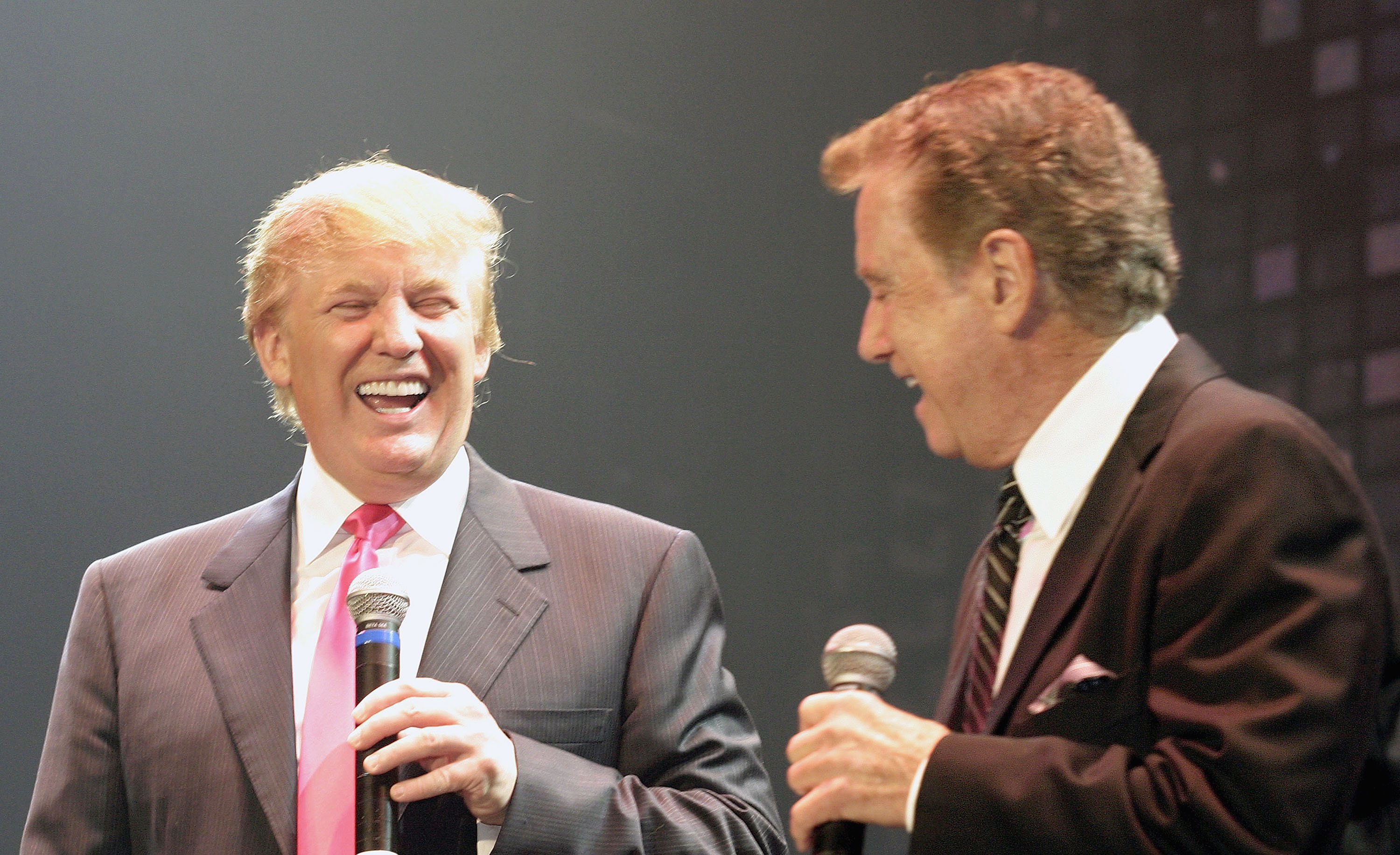 In his book, How I Got This Way, Philbin said he and Trump became good friends around the time they played a celebrity exhibition baseball game. He said Trump played first base while he was his second baseman. According to Philbin, Trump knew his way around a baseball field.
"I don't know exactly when we started becoming good friends, but it happened right around that time when we'd been teammates for a day," wrote Philbin. "In the years since, I can't tell you how many times we've driven up to Yankee Stadium together and sat in what was, and somehow will always be, George Steinbrenner's suite."
Regis Philbin said Donald Trump could always lift his spirits
Philbin said Trump is an optimist. He sometimes turned to Trump for support when he had a rough day or felt down. For him, all it took was one phone call for him to feel better. Philbin said Trump's employees would usually mention how much energy and optimism their boss had.
"You should also know that the people who work for him, and who know him best, talk endlessly about his energy and his confidence, and, most important, his optimism," wrote Philbin. "It even works on me. Sometimes I'm down or in a bad mood, but with one phone call to Trump, I'm up again. Just like that. He never fails me."
Regis Philbin gave Donald Trump advice on 'The Apprentice'  
Philbin and Trump were so close that he called him each week and chatted with him about The Apprentice. The Live! host said he would give Trump the ratings from The Apprentice the morning after it aired. He would then give him pointers on how to improve his TV appearances.
From the start, I would call Trump first thing in the morning after the previous night's show and give him the ratings, which were big and getting bigger. And then we would talk about his TV persona and, more importantly, about his attitude on camera.

He shouldn't be a tough boss all the time, I told him. He had to be understanding, warm, but firm, and decisive when it came to the firing scenes. And he did it just like that—and all of America started loving him just a little bit more!

Regis Philbin in 'How I Got This Way'
Regis Philbin's thoughts on Donald Trump's presidential run
At the time Philbin released his book in 2011, Trump was considering a presidential run. He was supportive of Trump.
I talked to him often over the course of the whole dramatic scenario, and at the time of this writing he seemed to be thinking that he could still do a lot more good from where he stands in the private sector. But there's no telling what he'll attempt in the future.

Whether Donald Trump ever wins or loses a bid for the presidency—or anything else, for that matter—he will always be the one-of-a-kind New York guy who keeps this town talking. It would be very quiet around here without him.  

Regis Philbin in 'How I Got This Way'
Read more: Regis Philbin Thought Donald Trump Was Fascinating
Follow Sheiresa on Twitter.