Donnie Wahlberg Jokes About a 'Blue Bloods' Spinoff Show After This Guest Star Was on the Set
Some Blue Bloods fans are hoping for a spinoff. There isn't one but Donnie Wahlberg, who plays Danny Reagan, has no problem joking about creating one. He posted a picture with a guest star and gave a few ideas for a spinoff. Find out who visited the set and more.
Donnie Wahlberg said he hopes Eric B. will return to 'Blue Bloods'
Blue Bloods had a few familiar faces on the show before. Eric B. of Eric B. & Rakim appeared on the show recently as Danny Reagan's friend, Mike Gee in the episode "Another Look."
His character returned to the job after retiring. He claimed civilian life just isn't for them.
"Not for nothin' but I could see myself putting in my papers sometime soon," Danny told him. In the end, the real reason Mike return was because his son is sick and he needs money. Danny asked him if what he said about civilian life was true and Mike said yes.
The rapper was arrested after the episode aired and his lawyer claimed he feared what this could mean for his future on Blue Bloods. "Yeah that recent legal trouble was really just a misunderstanding," Wahlberg told Showbiz Cheat Sheet. "There was nothing that he did wrong. So just to clear that up."
He continued, "His character logically could be a squad sergeant for Danny in Danny's squad room. And my hope would be that that could come to fruition. I think he's a great actor and he really does have that sort of relationship with me."
Wahlberg teased there could be another guest star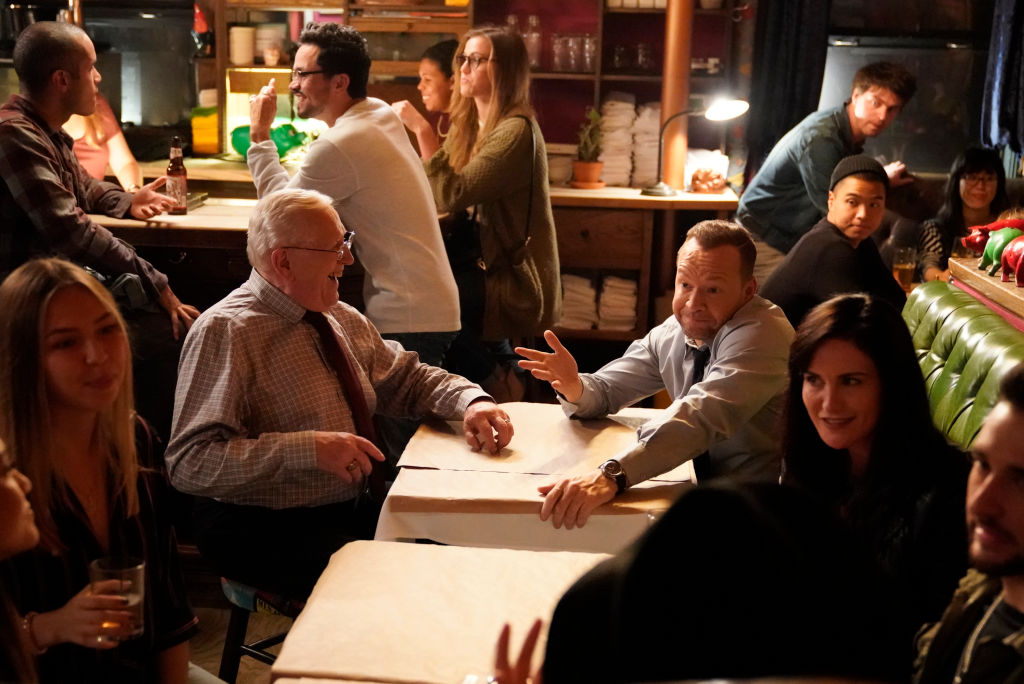 There is another person fans probably didn't even realize was in the background of a previous episode.
"And something else people don't know is Jordan Knight was a background performer on Blue Bloods once," Wahlberg told Showbiz Cheat Sheet. "He was a bad guy in the background being handcuffed."
There is another New Kids On The Block member who might also be in an episode. "But I'm pushing hard for Joey McIntyre to do it, guest star coming up soon," said the actor. "So we're working on that."
Lyle Lovett visited the 'Blue Bloods' set
Lyle Lovett might be a Blue Bloods fan because he visited the set. Wahlberg posted a picture with the country singer and Marisa Ramirez.
He captioned it with "Oh, you know, no big deal, just hanging out with this guy — Mr @lyle_lovett! He graced the set of #BlueBloods today, and delivered one of the best performances (and coolest roles) in the entire ten seasons of our show! Can't wait til you all get to see this episode!"
Wahlberg posted another picture with Lovett. He is dressed like Danny Reagan but they are both wearing cowboy hats. The post is captioned with "I'm seeing a spin-off! Anybody have any ideas for a title? I got #BlueBloodsTexas so far! @lyle_lovett sir — you rock!"
Fans had fun joking about a possible title for the spinoff. "Reagan's Ranch" one fan wrote. "#BlueBloodsBrokeback" wrote Former New England Patriot football player, Robert Ninkovich.
We will have to wait and see what kind of role Lovett will play. It looks like Wahlberg had a lot of fun having him on set.