'Double Shot at Love' and 'Floribama Shore' Trailers Drop; Fans React to the MTV Shows Returning on Sept. 16
Get ready, reality TV fans. MTV is releasing two new seasons on Sept. 16. Double Shot at Love and Floribama Shore will be back with all-new episodes. Here's what fans think of the trailers released for Double Shot at Love Season 3 and Floribama Shore Season 4B.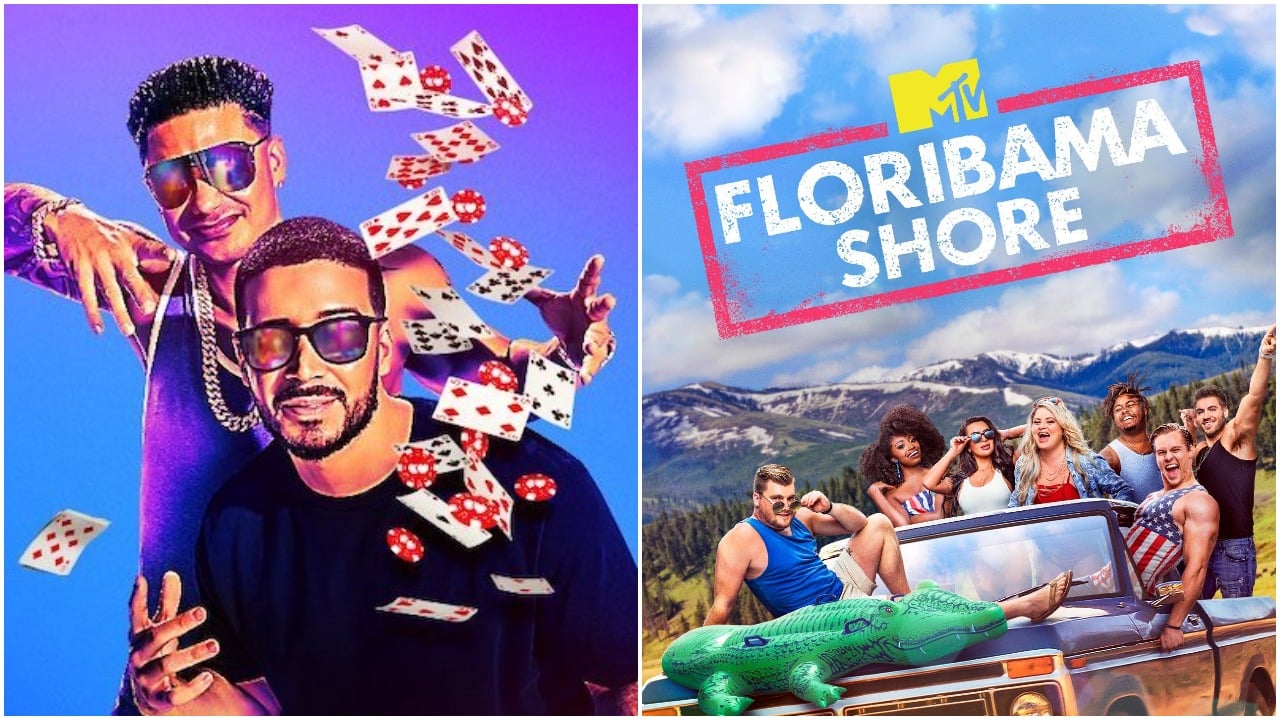 'Double Shot at Love' Season 3 returns Sept. 16
In April, MTV confirmed another season of Double Shot at Love. Now, fans know when to tune in.
According to MTV, season 3 will focus on finding Vinny Guadagnino a girlfriend. "DJ Pauly D and Nikki will guide Vin toward finding his own happiness — this time with an insider's perspective of what it's like on the other side," the network said. 
Last season, Pauly DelVecchio and Nikki Hall decided to give their relationship another shot. Now, the couple is tapping into their experience with starting a relationship on reality TV to help the "Keto Guido."
The teaser doesn't reveal much, but we know Guadagnino will have help from more than DelVecchio and Hall. A few other Jersey Shore stars flew out to Arizona, where season 3 was filmed, to help Guadagnino find the right woman. 
"Here comes throuple," reads a tweet from the show's Twitter account. "With the help of [DelVecchio] and [Hall], will [the] third time be the charm for [Guadagnino]? [Double Shot at Love] returns Thursday, September 16th at 9/8c on MTV."
'Double Shot at Love' fans react to the season 3 trailer
DelVecchio and Hall are a fan-favorite couple. In fact, most Double Shot at Love fans only want to see more of them in season 3.
Most fans are especially living for Hall's feature in the new season's trailer. "NIKKI LOOKING FINEEEEEE AS F— IN THIS!!" wrote one fan on Reddit. "I am living for this!!" wrote another in the Instagram comments. "I stan for Nikki so hard!"  
At this time, it's unclear how much of Hall fans will get to see in the new season. They'll have to tune in Sept. 16 to find out.
'Floribama Shore's new season will also air on Sept. 16
Floribama Shore Season 4B will begin the same night as Double Shot at Love. "The fambam is bringing the fun to Georgia!" said the show's Twitter account. "See what trouble these party animals get into when an all-new season of #MTVFloribamaShore returns Thursday, Sept. 16 at 8P on MTV."
RELATED: 'Floribama Shore': Jenni 'JWoww' Farley Shares Her Thoughts on the Cast
"This is Georgiabama Shore!" Candace Rice exclaims in the trailer. A pregnant Nilsa Prowant, who welcomed her son in May 2021, and Aimee Hall holding a small pig also appear in the clip from season 4B. Prowant seems to have brought her dog along for the trip, too. 
Many Floribama Shore fans are eager to find out what happened between the roommates after their quarantine in Lake Havasu, Arizona. Will Gus Smyrnios and Jeremiah Buoni finally put their differences aside?
One thing is for sure — there's bound to be plenty of drama. Floribama Shore will air before Double Shot at Love on Sept. 16. 
'Floribama Shore' fans want more in the second half of season 4 
Floribama Shore concluded at a weird spot. Filming shut down when someone in production tested positive for the coronavirus (COVID-19). Fans felt the season was incomplete, and many are excited about new episodes.
"[I] hated that last season got cut short due to covid," a fan writes on Twitter. "Can't wait for the new season! And hopefully Gus doesn't run away again lol jk love ya Gus!"
Stay tuned to updates on all things MTV. Tune in to Floribama Shore and Double Shot at Love on Thursday, Sept. 16.