Pauly D Confirmed Another Season of 'Double Shot At Love' — Here's What Fans Can Expect in Season 2
Jersey Shore fans rejoice — the hit dating show Double Shot at Love is returning for Season 2. Despite their failed first attempt, Pauly DelVecchio and Vinny Guadagnino will once again attempt to find love on a reality series.
Previously teased as DJ Pauly D and Vinny's Vegas Pool Party, Double Shot at Love will return on June 11. Here's what fans can expect the second time around.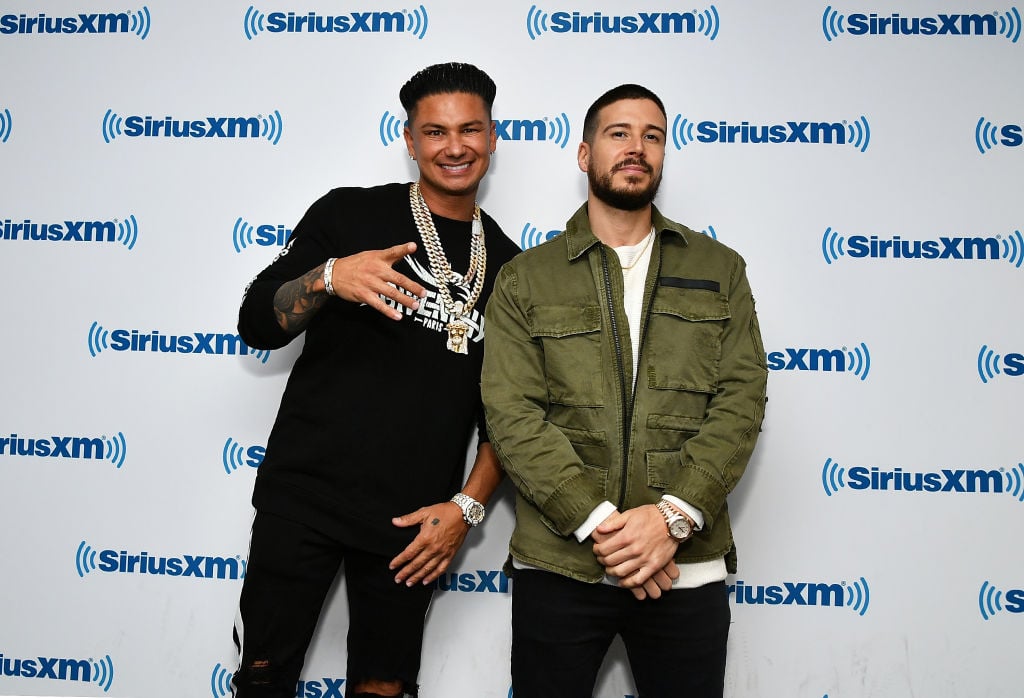 'Double Shot at Love' Season 1 recap
DelVecchio and Guadagnino have been perpetually single for some time. Throughout their Jersey Shore experience, the two have each had their fair share of hookups. Guadagnino was dating Elicea Shyann during an early season of the series reboot, Jersey Shore: Family Vacation, but that relationship quickly dissolved.
Regardless of their past hookups, the duo was set up in a house with 20 single women and given the opportunity to start a relationship in the first season of Double Shot at Love. Guadagnino was left to choose between Alysse Joyner and Elle Wilson. In the end, he asked Joyner to be his girlfriend.
"Since the first minute we chilled with each other, I [have] always drawn to you," Guadagnino said in the finale. "It's effortless when I hang out with you. I know you're shy and introverted, and I am, too. But if you're ready for a shot at love, so am I."
DelVecchio, on the other hand, threw viewers a curveball. After letting Derynn Paige go, fans thought that meant DelVecchio was choosing Nikki Hall. Much to Hall's surprise, DelVecchio told her, "I'm rolling solo for now."
Vinny's relationship with Alysse didn't last
Despite finding love in the first season, Guadagnino's relationship with Joyner didn't last. On June 27, 2019, he announced their breakup on Twitter, blaming it on their inability to see each other after the show concluded filming. 
"Unfortunately, Alysse and I weren't allowed to see each other publicly after filming for five months until the finale aired to not spoil the ending," Guadagnino wrote. "Very weird situation to be put in after the finale. I struggled to keep it alive through text. Still think she's amazing. Wish her the best."
Joyner called Guadagnino out for not making much of an effort to keep their relationship alive. She also accused Guadagnino of contacting another contestant he expressed having feelings for during the show (Maria Elizondo) instead of attempting to maintain their relationship.
What to expect in 'Double Shot at Love' Season 2
On April 27, MTV confirmed the second season of the dating show. Season 2 will feature some familiar faces from Season 1, including Brittani "B-lashes" Schwartz, Derynn Paige, Maria Elizondo, Marissa Lucchese, Nikki Hall, and Susan "Suzi" Baidya.
This season, fans can expect plenty of drama. Instead of the usual backdrop of the Jersey Shore, DelVecchio and Guadagnino will pursue love in Las Vegas. Per MTV, this season will lack the pressure of competition — an aspect the Jersey Shore guidos think will make this time around easier. But where the women of Double Shot at Love go, the drama is sure to follow!
Tune in to Double Shot at Love beginning June 11 at 9 p.m. EST.