'Double Shot at Love': Who are the Villains So Far?
What do you get when you combine 20 girls fighting for love and alcohol? Hurt, frustration, drama, and, of course, great reality television. On the new spin-off show Double Shot at Love, DJ Pauly D and Vinny have to wade through the tears to find the perfect girl for them.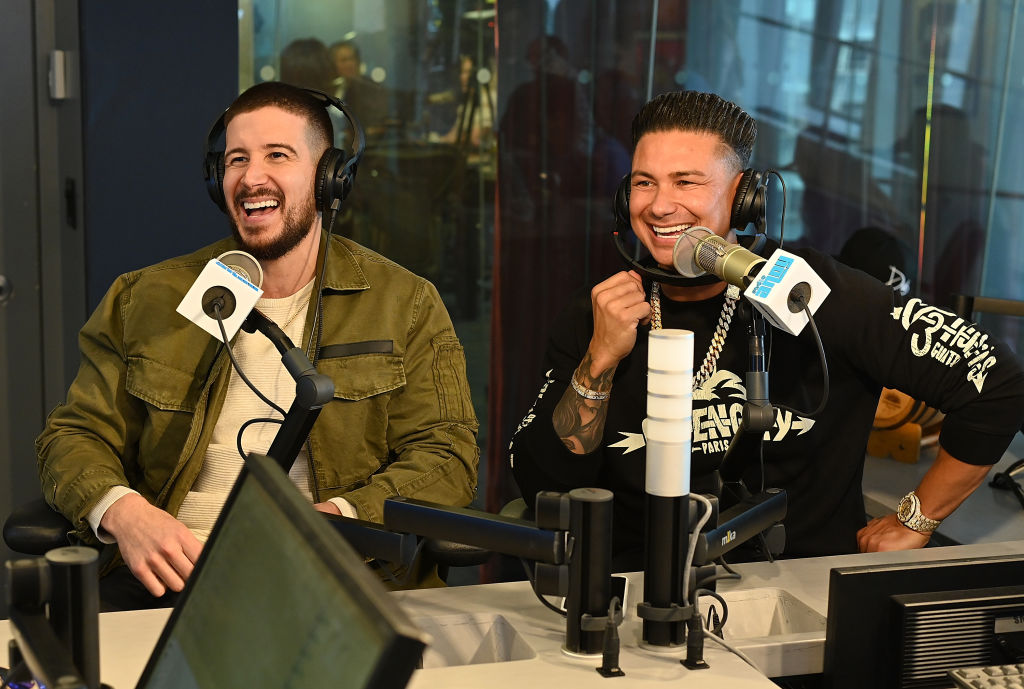 Even though there have only been five episodes so far, clear fan favorites are beginning to emerge including Maria Elizondo, who we remember from Are You The One, and freckle-faced beauty, Alysse Joyner. However, there are a few girls in the mansion who viewers, and the bachelors, deem as slightly bizarre.
Cate "Crying Cate" Lapera
Cate Lapera, 27, from Staten Island, New York started Double Shot at Love off right; she wore a leopard print dress, and her hair was complete with a Snooki puff. She connected with the other girls and even had a decent one-on-one talk with Pauly D. Things started to go a little south when Cate began drinking. She accidentally fell into the jacuzzi and started to get very emotional, claiming Pauly D "didn't like her."
Cate sits down on a couch adjacent to Pauly D, while he is having a one-on-one with another girl, and continues to cry, and drink. She chooses to take her crying session to the bathroom, where she decides it is time for her to have her cab called. Vinny had no problem with her going home because he "hates Staten Island girls."
Derynn "Cat Lady" Paige
Derynn Paige, 25, from Franklin Lakes, New Jersey initially creeped Double Shot at Love viewers out on the first night when she began crawling on the ground and talking to plants. She even went to bed with the plants because she claims they "give her good energy." She also decided to start talking about STDs to the bachelors before they even knew her name. The self-proclaimed "classic cat lady" claims she did it because "any publicity is good publicity."
Every week Pauly D and Vinny compete to win a date with one of the girls. Pauly D chose Derynn to get to know her better "outside of the talking to plants." During their conversation in a swan pedal boat, viewers perspectives started to shift also. They're even vying for her to get her own spin-off show.
Is this only an act to get attention? It turns out Derynn has a degree in Psychology, Economics, and Entrepreneurship from Rutgers University. She also started her own female-positive business, Goddess of Easton, at the young age of 23.
Holly "Fan Girl" Gurbisz
Jersey Shore vets remember Pauly D's interaction with a girl who "stalks his whole life," and he may have another one on the show. Holly is clearly a Jersey Shore fan, and she ended up coming off too strong. She accused him of cheating on his ex, Aubrey O'Day, and questions him in an interrogative way. A challenge in which the girls have to air their dirty laundry revealed Holly bites her toenails when she is nervous.
Holly is always grabbing Pauly D for solo time, in her mind to get to know him better, but Pauly was turned off by it. He told other contestants, Nikki Hall and Maria Elizondo, that "she's nice but ugh. She always pulls me away every second." Pauly told Holly he likes weird and chose to not end her Double Shot of Love.
Nikki "Stage 4 Clinger" Hall
After Pauly D expressed himself to Nikki, she agreed with him and decided to tell Mish what Pauly said. Nikki told Mish that Pauly called Nikki weird and it escalated to into an odd fight after Mish told Holly what was said. In one corner, Mish is crying because she was "trying to be a good friend." In the other corner, Holly is upset and wants Pauly to send her home. Upstairs in the bathroom, Nikki is putting on a "bullet-proof face mask" to confront the drama and Pauly D.
The bachelors immediately thought Nikki was "sexy." However, she chose to pursue Pauly D. She was the first to get a kiss from Pauly D, and even though Derynn saw and told the other girls about it. Nikki denied the kiss ever happened and said she lied about the kiss because she felt it was no one else's business. She also got extremely jealous when Pauly and Vinny were in the hot tub with multiple other women. Pauly notices how clingy she is and although he likes her, has to remind her that he is dating other girls in the house.