Dove Cameron Claps Back At Trolls Slut-Shaming Her On Instagram
Disney darling, Dove Cameron, made headlines yesterday when she posted an empowering feminist message on her Instagram feed. Unfortunately, fans and tolls alike almost immediately began slut-shaming the 23-year-old because her message accompanied a photo where she was braless. Now the actress is defending her actions and clapping back at those who are shaming her. …
Disney darling, Dove Cameron, made headlines yesterday when she posted an empowering feminist message on her Instagram feed. Unfortunately, fans and tolls alike almost immediately began slut-shaming the 23-year-old because her message accompanied a photo where she was braless. Now the actress is defending her actions and clapping back at those who are shaming her.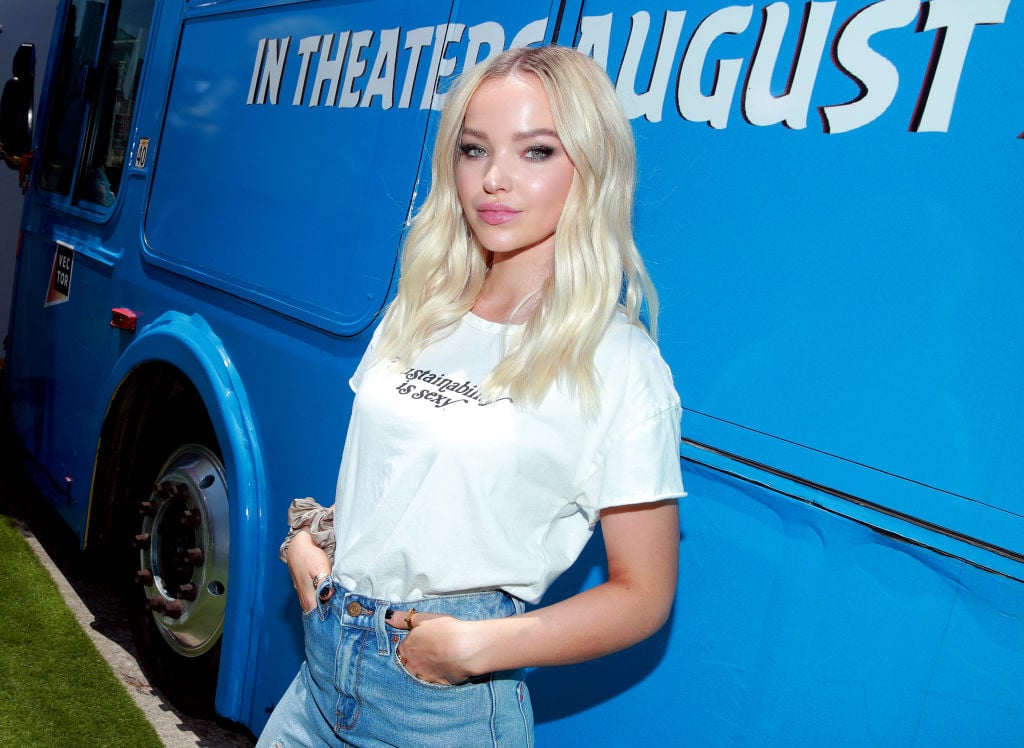 Taking to her Instagram page on Tuesday afternoon, Cameron posted a selfie of herself. In the picture, she is staring directly into the camera and sporting a white tank top and several gold necklaces. Cameron also is braless in the picture and her nipples are visible, which was cause for concern for a lot of people.
Cameron posts a feminist message to Instagram
"Women HAVE a history that has been systematically suppressed. Our collective spirituality has largely been tainted to fit the needs of men and those in power. This has a profound effect on the self-esteem of girls and the women they become. This influence can be seen in their life choices, partners and financial security for the rest of their lives. It also has an effect on the way their future partners will view them – and ultimately treat them. Our girls deserve better. The time to introduce feminism and woman-centered spirituality to ALL children is now," Cameron captioned her selfie.
Critics attack Cameron for the braless selfie
Immediately critics came out of the woodwork expressing outrage and concern. They couldn't come to grips with the idea that Cameron would deign to post an Instagram picture where her nipples were on show. "Sorry but inappropriate for someone who has young kids that look up to you. Why do you have to do this to prove anything at all," one person questioned, somehow managing to miss the point of the post altogether.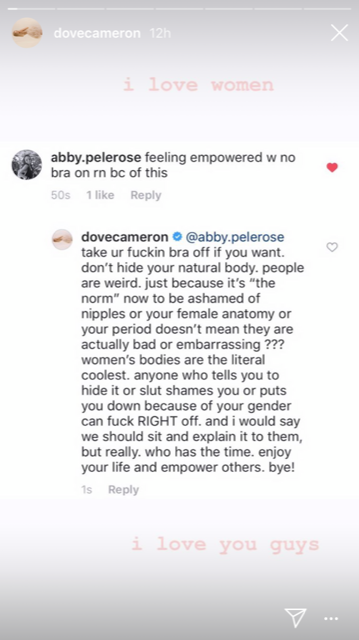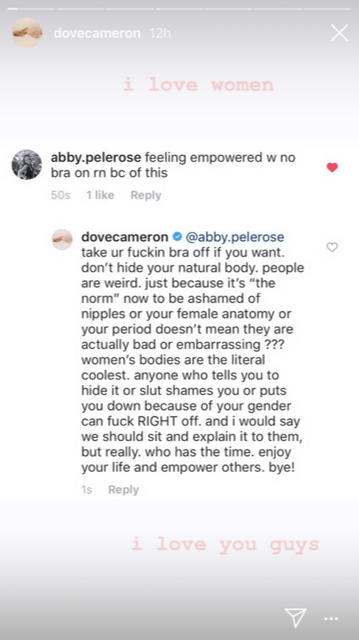 Other critics were much harsher with their critiques, claiming that Cameron was just looking for male attention with her post. "She is not showing "how strong of a woman she can be" when actually she is just giving men what they want to see and when you think about it that's not being strong that's falling weak. Now, I'm obviously not saying Dove is weak, but I am saying she should share her amazing talent and how strong she can be in other ways and not have to use her body in a sexual way," a critic wrote.
Cameron claps back on trolls
Fans were quick to defend Cameron for her posts, but she also took the time to clap back at critics herself in the most respectful way possible. "A body isn't inherently sexual. That's why this isn't a sexual post. I never post things like this, which is why your comment about me "using my body" doesn't make sense. And the idea that my body is only FOR MEN TO FIND ATTRACTIVE, and can't be AS IT IS, and I have to "cover it up" as to not "attract men" or "fall weak" is EXACTLY why I posted this," Cameron began in response to the aforementioned critic above.
"The female body is NORMAL, this post is not a big deal at all. And that's why I posted it. This should be normal and not have all this backlash. It's a comment like this, the idea that a woman becomes "weak" by "giving men what they want by just…HAVING tits and not putting a bra over them. Bizarre. Society is so upside down. Bye!," the actress concluded.
Free the nipple
We completely side with Cameron on this debate. How people can body parts that most babies feed off and turn them into hypersexualized commodities is beyond us. Furthermore, Cameron is a grown woman and is perfectly free to make decisions that work best for her body and lifestyle. If people are uncomfortable with their kids seeing images like this, they can simply do a better job with controlling the media that their children have access to. Furthermore, if a child is under the age of 13, they shouldn't be on Instagram to begin with.