'The Challenge' Stars Angela Babicz and Nelson Thomas Appeared on 'Dr. Phil' to Save Their 'Toxic' Relationship
After appearing on Oxygen's Bad Girls Club and MTV's The Challenge, Angela Babicz met Nelson Thomas while they both starred on the second season of Ex on the Beach.
She claimed they had traveled the world together and were happy as can be until she found out that Thomas cheated on her. Therefore, they broke up, but he "reeled" her back in, and now she can't let go of the self-described "toxic relationship."
So, Babicz came on the show to either save the relationship or learn how to move on. Messy details about their relationship including an incident where Thomas ripped off Babicz's fingernail and threatened to leak their sex tape were revealed, and in between several "pop-off" moments, Dr. Phil gave the two good advice.
What happened during the show's two parts and are the two back together?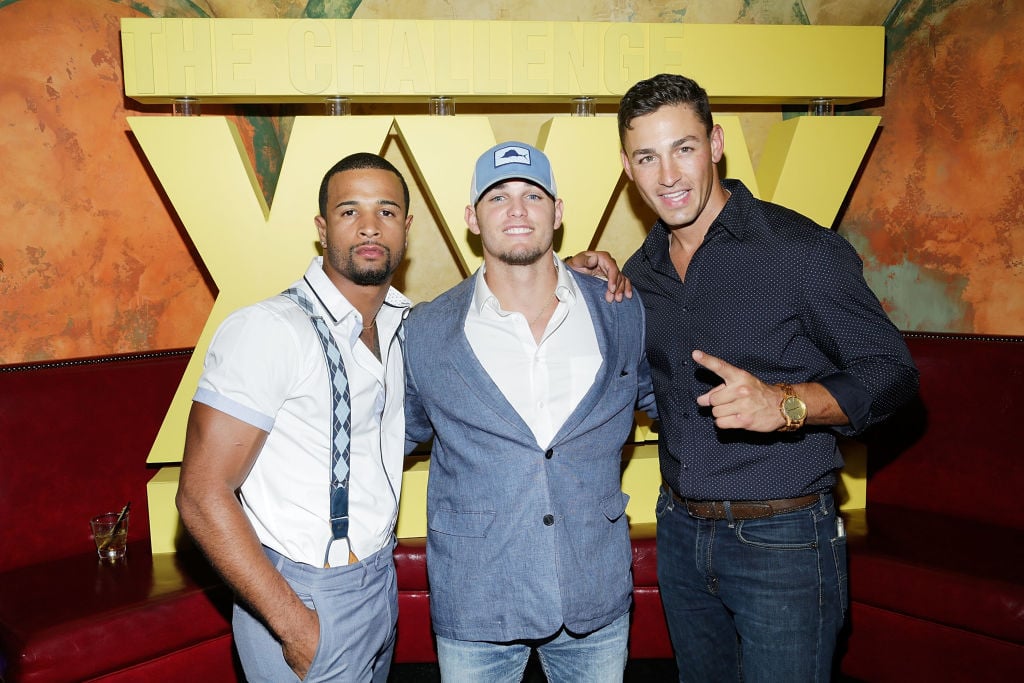 Angela Babicz accused Nelson Thomas of ripping off her fingernail
First, Babicz talked to Dr. Phil about her failing relationship with Thomas, admitting they broke up between 20 and 30 times between October 2018 and July 2019.
However, she wants to salvage the relationship because she believes he is changing and loves her, but needs help learning how to respect her. Dr. Phil then pulled up "Nelson's resume," which included several traits Babicz believes he possesses including toxic, cocky, bipolar, liar, cheater, narcissist, and scary due to out of control anger.
When the host questioned why she wanted to continue a relationship with someone like that, the reality star teared up and said she's ready to find love and get married.
Dr. Phil then asked Babicz what would be the one thing that would make her leave Thomas, and she said she would if he became violent. However, Babicz admitted Thomas did rip off one of her fingernails when she tried to call the police on him because he wouldn't calm down.
Nelson Thomas wanted to work things out in private with Angela Babicz
Thomas entered the stage and explained that he did fall for Babicz "really hard," and they moved in with each other after only a couple of months. While he did admit to cheating on Babicz at the beginning of their relationship, Thomas claimed she brings it up in every argument when he believes they've already gotten past it.
The Are You the One? star also admitted he was terrified of Dr. Phil and wanted to talk things out in private because he believes Babicz only wants to "expose" him and garner "applause from the audience."
Thomas also accused the former Bad Girl of only wanting to appear on television to work out their problems to increase her social media following.
Babicz's twin sister, Kristina, also appeared on the show to claim Angela is Thomas' "sugar mama," because she pays for "90%." However, the Ex on the Beach star said she's more worried about Thomas being faithful than she is the money.
Kristina and Thomas ended up getting into a screaming match, so Angela stormed off upset because she said she's serious about saving her relationship.
Nelson Thomas refused to admit he cheated on Angela Babicz
In Part 2, Dr. Phil brought up text messages exchanged between Thomas and Babicz where he threatened to leak their sex tape while intoxicated in April 2019.
He admitted he had no plans of going through with it but wanted to "get a reaction" out of her so she would text him back. After acknowledging how immature they both were in the text messages, Dr. Phil asked Thomas if he was telling Babicz the truth about only cheating on her with one girl, to which he responded yes.
He then played audio of Thomas admitting there were other women besides the one person he already told Babicz about. However, the AYTO star tried to spin it and claimed he meant cheating as in not being faithful by DM-ing and flirting with girls.
Dr. Phil alleged he had more audio and asked Thomas to "man up," but again the reality star denied having sex with anyone else while dating Babicz.
Are Nelson Thomas and Angela Babicz still together?
For an exercise, Coach Mike Bayer had Babicz give herself advice from five years in the future. She told her present-day self to leave Thomas because he would never be the man she wants him to be.
She then sat down in front of her ex and reiterated that she wants to let go of their toxic relationship, to which Thomas claimed he would accept. Even though Dr. Phil offered the two counseling, they got back together without taking any help.
The two then made YouTube videos, even Thomas has his own account now, about what took place during Dr. Phil and how their relationship is afterward.