Is DragCon Worth the Money? Breaking Down the Costs of Attending the World's Largest Drag Culture Convention
The time has come — for RuPaul's DragCon to return to New York City. This event, featuring contestants on the reality competition series RuPaul's Drag Race, is a celebration of queer culture and the world's largest drag convention. How much does it cost to attend RuPaul's DragCon? Here are a few of the costs associated with this convention.
What is the admission cost for DragCon?
Attending the world's largest drag culture convention isn't cheap, but to some fans of drag, it's definitely worth it. Where else can you meet dozens of RuPaul's Drag Race contestants in one day? This convention happens annual, sometimes in Los Angeles and, this September, in New York City. This year's RuPaul's DragCon NYC is at the Javits Center for three days and has multiple ticket packages available to attendees.
According to their website, a single-day ticket costs $40 plus fees. A weekend ticket costs $70 plus fees. The VIP Experience, which includes priority lines for meeting queens and other celebrities and priority seating for panels, costs upwards of $300. Kids 10 and under are free when accompanied by an adult with a ticket.
Panels and events throughout the convention are available at no extra charge. However, some activities, including a performance by Trixie Mattel, are exclusive to VIP attendees. There's also a kids zone with a "Drag Queen Story Hour," and a cosplay competition entitled "Cosplay for Your Life."
And what's a drag convention without an after-party? On Friday, September 6, 2019, (the first night of RuPaul's DragCon,) there will be a live show featuring the contestants on season 11 in New York City. A ticket to the after-party costs $42 for general admission.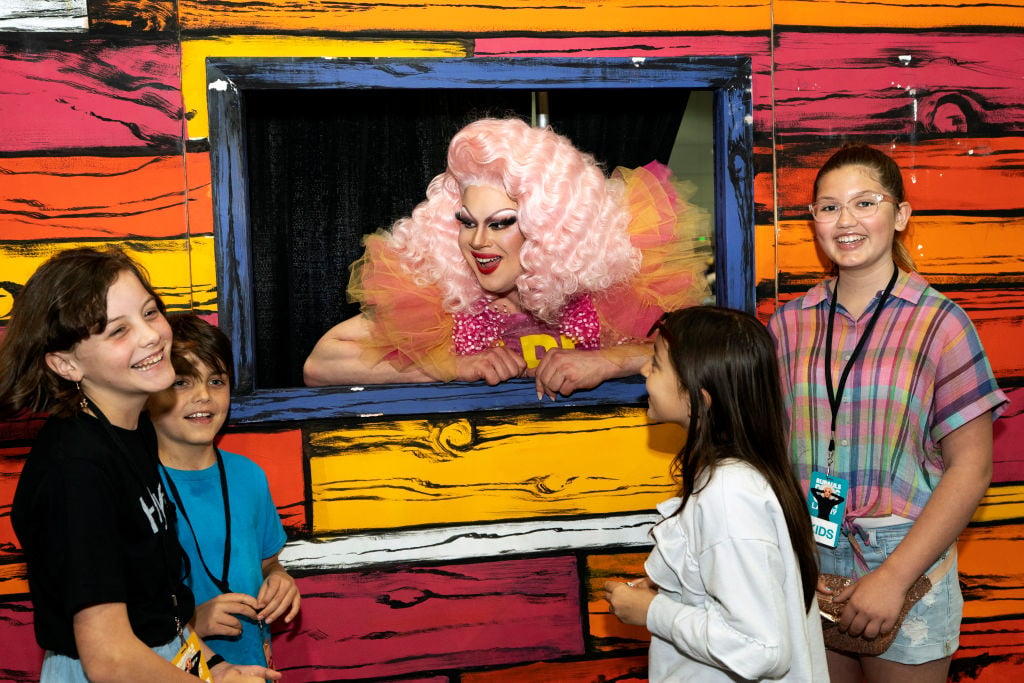 What do the 'RuPaul's Drag Race' contestants charge to meet them?
In addition to the cost of admission, meeting some queens costs money at RuPaul's DragCon. A few queens ask fans to purchase merchandise to meet them; other drag performers don't charge fees at all. In the past, some drag queens gave fans the option of purchasing merchandise, instead of paying exclusively for the meet-and-greet.
Season 9 contestant, Shea Couleé caused an uproar when her meet and greet cost fans $60 each. However, some queens attributed the high cost of their meet-and-greets to their expenses attending the convention — from designing a booth to producing merchandise to creating a look, some drag performers spend thousands of dollars to be at DragCon. For some fans, the price is worth it to spend time with their favorite RuPaul's Drag Race contestants.
"The meet and greet was worth it in my opinion," said one Reddit user. "You got two professional photos that would be uploaded to her website within a week, a photo on your phone, and she signed whatever you bought… [Shea Couleé] was one of the only three queens I wanted to see as I wasn't planning on seeing any more than that and she's my favorite, so I didn't mind, (mind is a strong word, I pretty much fainted when I saw the price,) spending that much to see her. I just wish the interaction was longer, but you only get so much time with a long line of people waiting."
When is RuPaul's DragCon NYC? What are other costs associated with the convention?
So, you bought your ticket, and you saved up money to meet your favorite RuPaul's Drag Race contestant. Now what? Of course, transportation to and from the venue costs an additional fee. For people who want an overnight experience, RuPaul's DragCon offers hotel deals, featuring hotels close to the Javits Convention Center.
RuPaul's DragCon takes place at the Jacob K. Javits Convention Center in New York City from September 6 through September 8, 2019. For more information and tickets, visit their website.