Drake and Rihanna Just Had a Flirty Exchange On Instagram Live
Let's cut to the chase. Drake and Rihanna just flirted hard with each other on social media and people are losing it due to the fact that these former lovebirds haven't really seen eye-to-eye in recent years.
After several years of friendship and even a bit of dating, the entertainers had a big falling out around 2016. But now, it appears that they have put the past behind them and are ready to move on to the next chapter in their lives.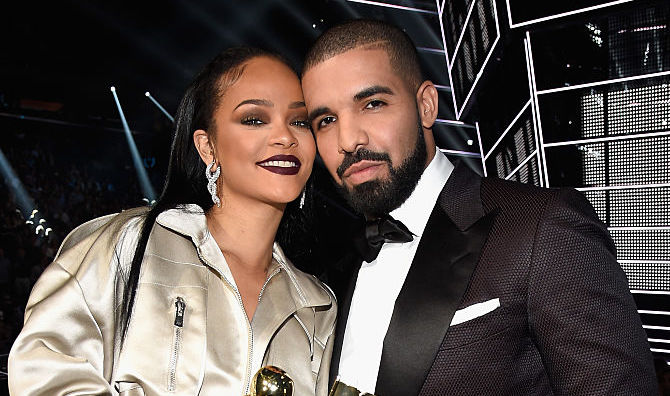 A look back at Drake and Rihanna's relationship
These two met in 2005 on the set of Rihanna's "Pon De Replay" music video. They dated off-and-on in the years that followed, starting in 2009, before seemingly hitting a rough patch in 2012. This was around the time Rihanna rekindled things with Chris Brown. But once she and the "Heat" singer split the following year, Rihanna and Drake appeared to make up.
"[Rihanna is] the ultimate fantasy," Drake told Rolling Stone in 2014. "I mean, I think about it. Like, 'Man, that would be good.' We have fun together, she's cool and sh*t. But we're just friends. That's my dog for life."
He would go on to profess his love for Rihanna in front of millions of viewers at the 2016 MTV Video Music Awards, and the entertainers soon made things official. However, the romance fizzled a short while later. Neither of them shared the reason behind their split, but it seemed like it could have been messy.
Rihanna told Vogue in a later interview that not only had they broken up, but they weren't even friends anymore.
"We don't have a friendship now, but we're not enemies either. It is what it is," she stated.
Drake and Rihanna have seemingly been working on their friendship
In December 2019, Drake told Rap Radar that Rihanna still wasn't a part of his life. But he admitted that he still had "the utmost love and respect for her and think[s] of her as family more than anything."
On Jan. 17, they crossed paths at an A$AP Rocky concert in New York, where they were allegedly seen looking friendly, according to HollywoodLife.
The appearance just so happened to come on the same day news broke that Rihanna had split from Saudi businessman Hassan Jameel, whom she began dating in 2017.
For his part, Drake has seemingly been single since calling things off with Jennifer Lopez in early 2017.
Fans expressed hope on social media that Rihanna and Drake would finally get back together and make it work this time. But neither of them has said anything related to a possible reconciliation as of this writing.
Drake and Rihanna's conversation on Instagram Live
During the week of March 22, Drake and Rihanna were seen interacting on DJ Snake's Instagram Live. When the "Nonstop" rapper noticed Rihanna was on the chat, he affectionately called her out by her first name and started messing with her.
Complex reports that he made jokes about her makeup line Fenty Beauty and asked her to release her highly-anticipated ninth studio album.
"Give drake some water," she teased at one point. In response, Drake reportedly wrote that the Anti singer had a "bad attitude." Screenshots can be viewed here and at the link above.
Who knows what the future holds for these two. But we're glad to see them at least having fun and getting back to a good place.
Read more: Drake Says This Changed His Relationship with Nicki Minaj 'Forever'