Drake and Tyra Banks Never Made It Past the First Date
During the spring of 2012, many were convinced a new celebrity love connection was in the works after Banks and Drake were spotted having some old-fashioned fun together
Drake has had a long history of romances. From his famous on-again-off-again saga with Rihanna to his even more renowned fling with Jennifer Lopez, the rapper has been linked to many famous women over the years.
But one of Drake's most overlooked relationships was with supermodel Tyra Banks, whom he went out on one date with back in 2012. Read on below to find out more details about their brief outing and everything Drake and Banks have said about it over the years.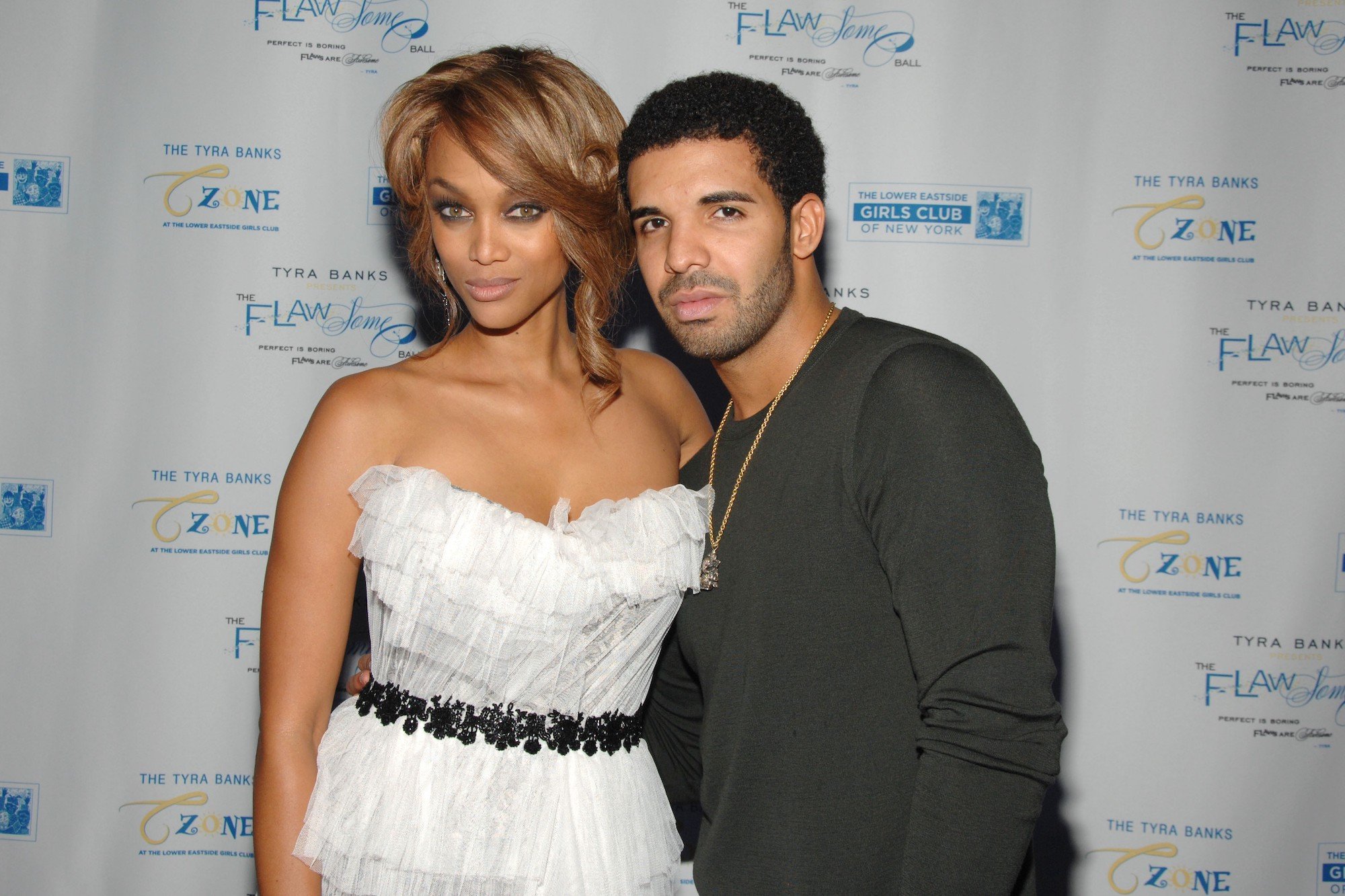 Inside Drake and Tyra Banks' Disneyland date
During the spring of 2012, many were convinced a new celebrity love connection was in the works after Banks and Drake were spotted having some old-fashioned fun together.
In photos posted on a Drake fan-based website, the America's Next Top Model host and the rapper could be seen enjoying some quality time together at Disneyland in California.
In one photo, the two were seen smiling from ear to ear while ordering some frozen yogurt. Another photo showed them getting comfortable and secure on a roller coaster.
Though it seemed like the two were making a romantic connection, it turns out that sparks did not fly between them that day.
The following year, Drake appeared on an episode of The Ellen DeGeneres Show where he revealed that he and Banks did not go on a second date after their Disneyland outing.
In fact, he wasn't even sure if their day spent at the theme park could even be considered a date.
"I went on a date with her one time, yeah," he told DeGeneres. "We went to Disneyland in disguise, actually, which was fun. I don't know if it was a date. It was a get-together. We're close as well."
Tyra Banks called out Drake for admitting they went out on a date
After Drake made this revelation on national television, many began to speculate that he and Banks were dating, which the famed supermodel wasn't thrilled about.
A few weeks after his appearance on Ellen, Banks stopped by the Steve Harvey show, where she explained her reaction to Drake's unexpected confession.
"I'm watching Ellen and I can't believe it, and then my phone is hitting up. And then social media, my Twitter, my Instagram… 'Ohh, girl you went to Disneyland? What you wear?'" Banks recalled. "People are going crazy, and I'm just like, 'It's not fair.' And Drake, I have words for you… I'm going to freestyle what I got to say to you, Mr. Aubrey."
The model then called out the "Started From The Bottom" rapper for spilling the beans about their secret date but did so in rap form.
"Drake rhymes with snake but no he ain't, he's more like a lion/Going on Ellen but not lyin', telling the truth what's up dude, about that day on Disneyland," she freestyled. "You ain't my man, right now/But why you gotta not kiss and tell, but chill and tell/You goin' to jali/And this is my Tyra mail."
Are Drake and Tyra Banks friends?
Though Drake and Banks only went out on a date once, that wasn't the last time the pair have been spotted together.
In 2016, the model appeared in the rapper's "Childs Play" music video as his fictional girlfriend.
In the video, we see the chart-topper and iconic supermodel enjoying what should've been a romantic anniversary celebration at the Cheesecake Factory. But when Banks sees that another woman is texting Drake's phone while he's in the bathroom, things take a turn for the worst.
Though the video makes it seem like Drake and Banks are on bad terms with each other, it turns out that that's not the case in real life.
While the two haven't had much to say about each other, at least publicly, since 2013, Drake admitted to having a crush on Banks back in 2016, which is a hint that things remained copacetic between the pair even after the rapper's confession.