Drake Just Put $1 Million Around His Neck
Celebrities love their bling. Rapper and former Degrassi star Drake is no exception. When he's not working on new music or beefing with Kanye West, Drake likes to order custom designed jewelry.
He definitely loves diamonds, and his new obsession is heart-shaped jewelry. He has a heart-shaped diamond ring. The ring made fans suspect that he was into the shape, but his newest purchase proves that heart-shaped diamonds are Drake's new favorite thing. He's not afraid to spend a little extra to get exactly what he wants either. 
Drake spent $1 million on a necklace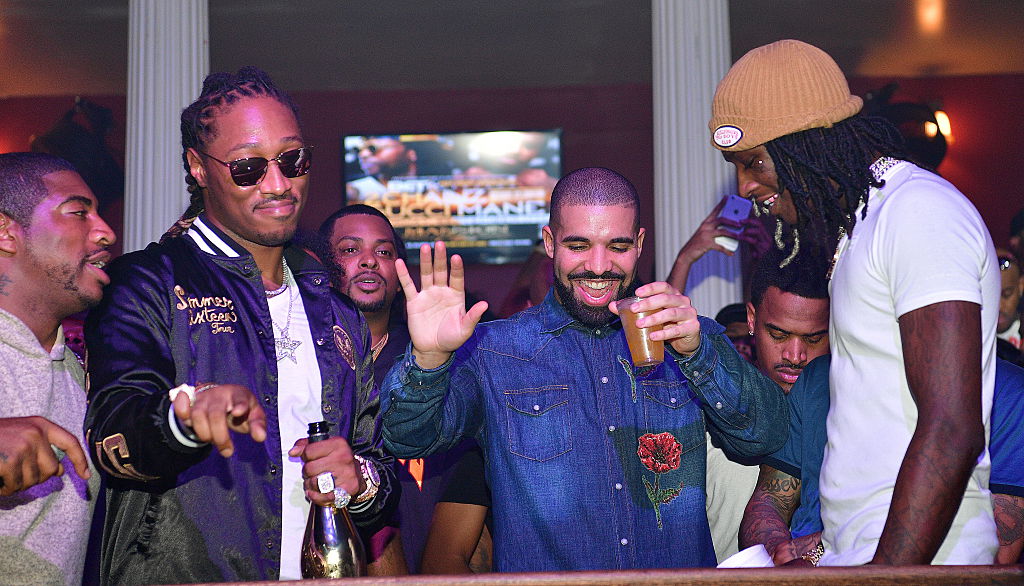 To call the piece a necklace is really almost doing it a disservice. This is beyond a necklace. The chain is made completely of heart-shaped diamonds, and the stones go all the way around. The hearts at the top of the chain, near the clasp, are slightly smaller than the ones in the middle, but not by much. 
The size of the diamonds near the clasp, where people aren't likely to see them, is further proof that Drake spared no expense on this piece. He spent $1 million for it, and it shows.
The stones are exquisite and so sparkly they're almost blinding. The piece contains 100 carats from Gemma Fine Jewelry. The necklace took a while to make. It was custom ordered by Drake, but apparently he's not the only one into heart-shaped diamonds. The stones are in very high demand right now, and they're incredibly difficult to make. 
The heart-shaped diamond necklace isn't Drake's only new bling
Drake seems to have gone on a shopping spree. He was seen showing off another new necklace last month. Although the other piece wasn't nearly as costly as the heart-shaped diamond chain, it is definitely more elaborate, and it has a deeper meaning for Drake. 
His other new piece is one of a set. The two matching necklaces have an owl and an eagle head. One is gold and the other is silver. Both are incredibly intricate and detailed, with feathering and diamonds for eyes. The diamonds are 40 carats each.
Each necklace cost around $200,000. Drake took one and gave the other to his friend Future Hendrix. Drake and Future just dropped a new single, "Life is Good." 
The necklaces were made by Jason of Beverly Hills. Like the heart-shaped diamond chain, Drake and Future had to commission these pieces. The owl and the eagle have a deeper meaning to the dynamic duo. 
The owl and eagle represent Drake and Future themselves, respectively. Drake's label OVO often uses the owl symbol, while Future's Freebandz uses the eagle.
Will fans see Drake and Future collaborate again?
Fans are hoping that these friendship necklaces are a sign of more collaboration projects to come. Drake and Future just recently released one song together – "Life is Good" – but fans would love to see the two work on a whole album together. 
If Drake and Future are buying necklaces together, it seems like their collab on "Life is Good" went well. The real question is, if the two dropped almost half a million dollars on jewelry to celebrate a single, how much will they spend if they do a whole album together?
However much money goes into their next friendship jewelry, fans would be shocked if Drake topped his most recent purchase. $1 million for a necklace is nothing to sneeze at. If Drake does collaborate on a whole album with Future, however, it'll be very popular. It would make a lot of money – definitely enough for another $1,000,000 necklace.