Drake's Looks and 'Degrassi' Role Lost Him the Chance to Work With 1 Famous Rapper
When Drake jumped into the hip hop scene, many recognized him from his time as Jimmy on the hit Canadian teen drama Degrassi. The rapper played an aspiring basketball star whose dream shattered when a school shooting left him in a wheelchair. However, even though fans adore "Wheelchair Jimmy," the role almost cost the actor-turned-rapper a shot at the industry he now dominates.
Aubrey Graham from 'Degrassi' became Drake, the rapper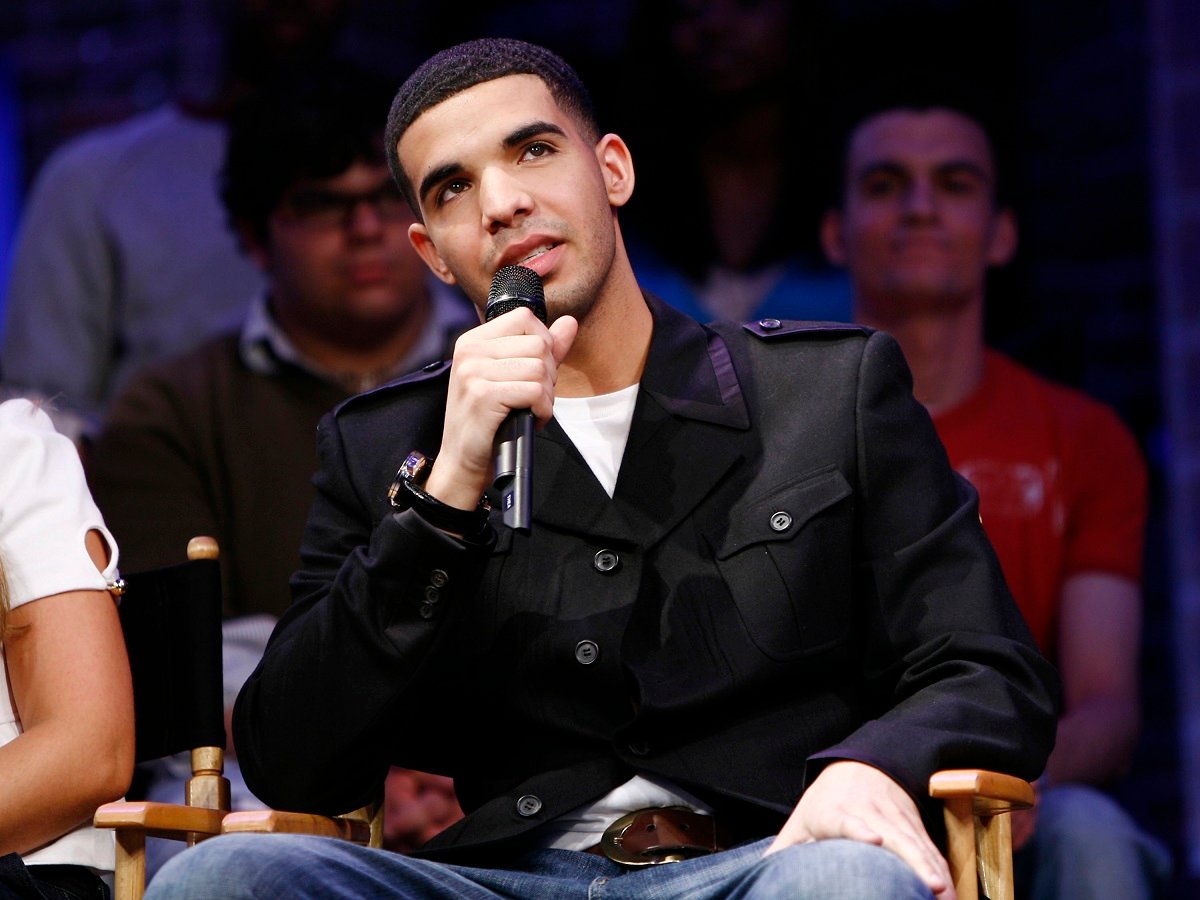 Jim Jones is best known for his work with the hip hop collective Dipset and his solo music. An endorsement of him could have changed Drake's life forever. Tired of acting, Drake wanted to pursue a career in music. He used his connections in entertainment to get his music to some of the biggest rappers in the game. However, it was hard to shake the Degrassi of it all.
Jones recently spoke with Complex about the first time he saw the rapper and how easy it was to dismiss it.
"Drake definitely ran across my desk," Jim admitted. "I got a call from Alan Grunblatt, I think I was on tour, and Alan was like, 'I got this guy named Drake, uh, he's an actor, he's on Degrassi.' I'm like, 'Who the f— is Drake on Degrassi?' He let me hear him rapping like this boy could rap his ass off."
Drake couldn't shake the 'Degrassi' image right away
Jones liked the music, but he wasn't sure about the rapper's image. At the time, the idea of a hardened artist still dominated everything from music videos to fashion. Despite his skills, Drake, who has made a career out of rapping through his sensitive side, just didn't fit the mold that Jones envisioned.
"I looked at him, I'm like, 'Boy, what do you mean? What am I going to do with boy? He's an actor. He's in a wheelchair on like uh, what is it, Disney Channel?' I'm like, 'Boy, I don't know how to make this work out," Jones told Complex.
Degrassi: The Next Generation aired on Nickelodeon's teen-focused The N in the United States, but Jones's sentiments echoed many others from the time. Degrassi's reputation as a show for kids followed it and Drake, especially when his character's rap career involved decidedly more family-friendly fare than his own.
If you ask Drake, he got kicked off Degrassi when those in charge learned about his musical ambitions. But according to the showrunners, Jimmy graduated high school, so the exit made sense. Regardless of how it occurred, the move changed the hip-hop world for the next decade.
Drake earned acclaim in the hip-hop world
Drake's mixtapes garnered immediate success. Add that to the rapper's work with industry heavy-hitters like Eminem, Kanye West, Lil Wayne, and Jay-Z, and his ascent was hard to ignore. Drake's first album was a massive hit, and each ensuing project seemed to elevate him to a new level. He still draws ire from hip hop purists, but the sheer success and genre-shifting change he brought is impossible to overstate.
Jones recognizes this and thinks back to the moment that he realizes he had made a big mistake.
"Once again, I just wasn't seeing past what I seen in front of me and s—like that," Jones told Complex. "Weezy was smart enough to do so, and I remember being on another tour in the back of the bus and hearing Weezy and Drake rapping, and Drake saying something about Princess Diana, and it's going crazy. I'm like, 'Wow, life is crazy."
It worked out for Drake, and Jones's openness is refreshing. Now that Drake's more famous for his music than Degrassi, the idea of him as a TV-star-turned rapper seems far-fetched. Jones' story shows how true this was. Luckily for both parties, they recovered from Jones's mistake, and millions of fans worldwide are grateful for that.
RELATED: Nicki Minaj Has Considered Hiring Drake to Executive Produce Her New Album