Drake Says This Changed His Relationship with Nicki Minaj 'Forever'
The 1 thing Drake says changed his relationship with Nicki Minaj.
Drake and Nicki Minaj used to be extremely close. They broke out on the music scene around the same time under the rap label Young Money Entertainment and went on to make magic together in records such as "Bed Rock" and "Moment 4 Life." Although they had moments where they weren't on the best of terms, they never stopped showing love for each other and always bounced back stronger.
In recent years, however, things have really changed. Drake and Nicki Minaj aren't nearly as close as they used to be, and it doesn't seem like they'll ever get back to that place. To let Drake tell it, his relationship with Nicki Minaj has been "forever" changed by one thing.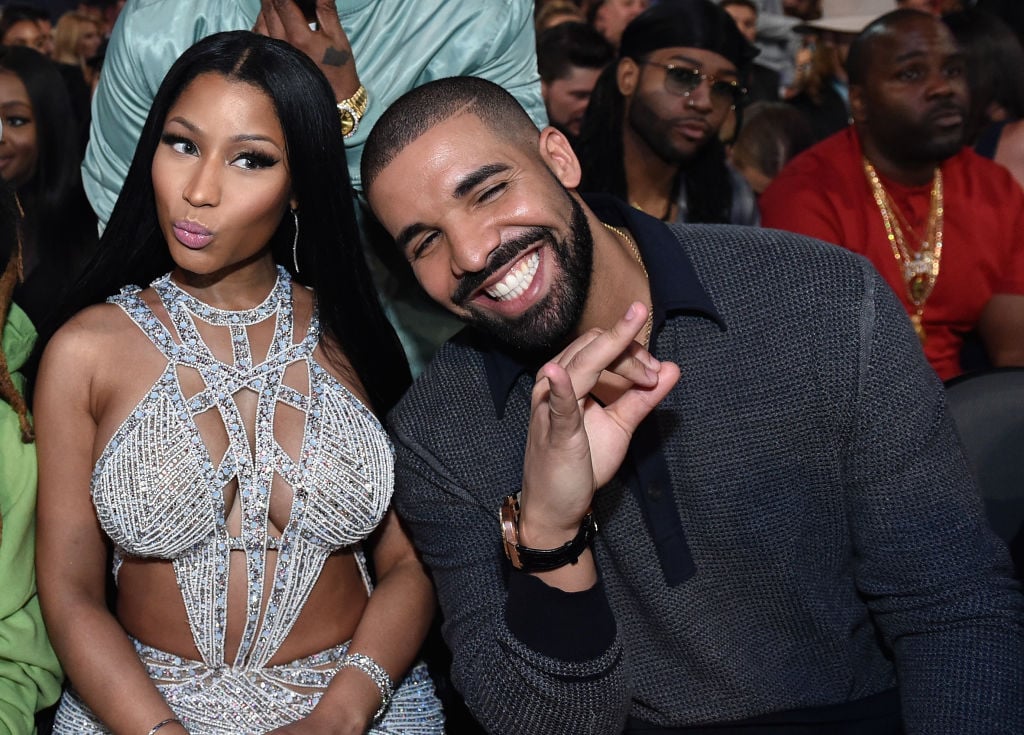 Why Drake and Nicki Minaj fell out
Let us again point out that Drake and Nicki Minaj have had many fights since they met in the late 2000s. But their relationship really started going south in 2015 after Drake began beefing with Meek Mill, who was in a relationship with Minaj at the time.
The "Dreams and Nightmares" artist ignited the feud after he publicly claimed that Drake did not write his own lyrics, sparking a back-and-forth between them. Drake responded with two diss tracks — "Charged Up" and "Back to Back" — one of which received a Grammy nomination. And Meek Mill tossed back some barbs.
Of course, this put Minaj in a weird position. And while she had tried to stay out of the drama, Drake dragged her into it by implying that she was more relevant than Meek Mill in "Back to Back." He also suggested that Meek Mill and Minaj's relationship would not last — and he was right. In January of 2017, the pair split up after two years of dating.
Drake and Nicki Minaj make up… and then fall out again
After the breakup, Drake and Minaj reconnected and seemed to pick up where they left off. Unfortunately, though, the reunion was short-lived.
The "Only" artists fell out again in 2018 after Drake made up with Meek Mill, who had developed a nasty relationship with Minaj following their split. The rappers appeared at a concert together and collaborated on Meek Mill's hit song "Going Bad" from his 2018 album, Championships.
In December of 2018, fans noticed that Drake and Minaj were no longer following each other on Instagram. If that wasn't a sign that something was amiss, Minaj dropped a big hint in February of 2019 when she released a freestyle over the "Going Bad" beat, titled "Barbie Going Bad."
In the track, she seems to shade both Drake and her ex-boyfriend, rapping, "When you lose the Queen, n****s friendly, dawg/ It was just back to back like Wimbley, dawg." She also accused an unnamed man and her "brother" of trying to "end" her.
As of writing, it's one of her latest comments that seemingly references the "God's Plan" artist.
Drake recently talked about his relationship with Nicki Minaj
In an interview with Rap Radar that was published on Dec. 25, Drake admitted that the drama changed his relationship with Minaj "a lot."
"Probably forever," he added. He did not say whether he's open to reconciling or whether he's still in contact with Minaj.
Fans are surely hoping that these two will one day make up. But it appears that they're happy either way. Drake is preparing to release a new album, and Minaj is off somewhere enjoying life as a newlywed.