Drew Barrymore Adopted an Inspiring Mantra for Parenting From 'The Simpsons'
Actor, author, and talk show host Drew Barrymore shares a lot with fans about life as a former child star. She was blacklisted from Hollywood at 12 and emancipated from her mother at 14 — and that was all before 1990. Some years later, she made a career comeback after teaming up with Adam Sandler and eventually starring in The Wedding Singer.
Now, she's a mom herself and someone other parents turn to for guidance. And she's usually willing to candidly share. She once revealed she developed a stellar mantra on parenting based on Homer Simpson. But the reassuring tips she needed about traveling with kids came from a different familiar face.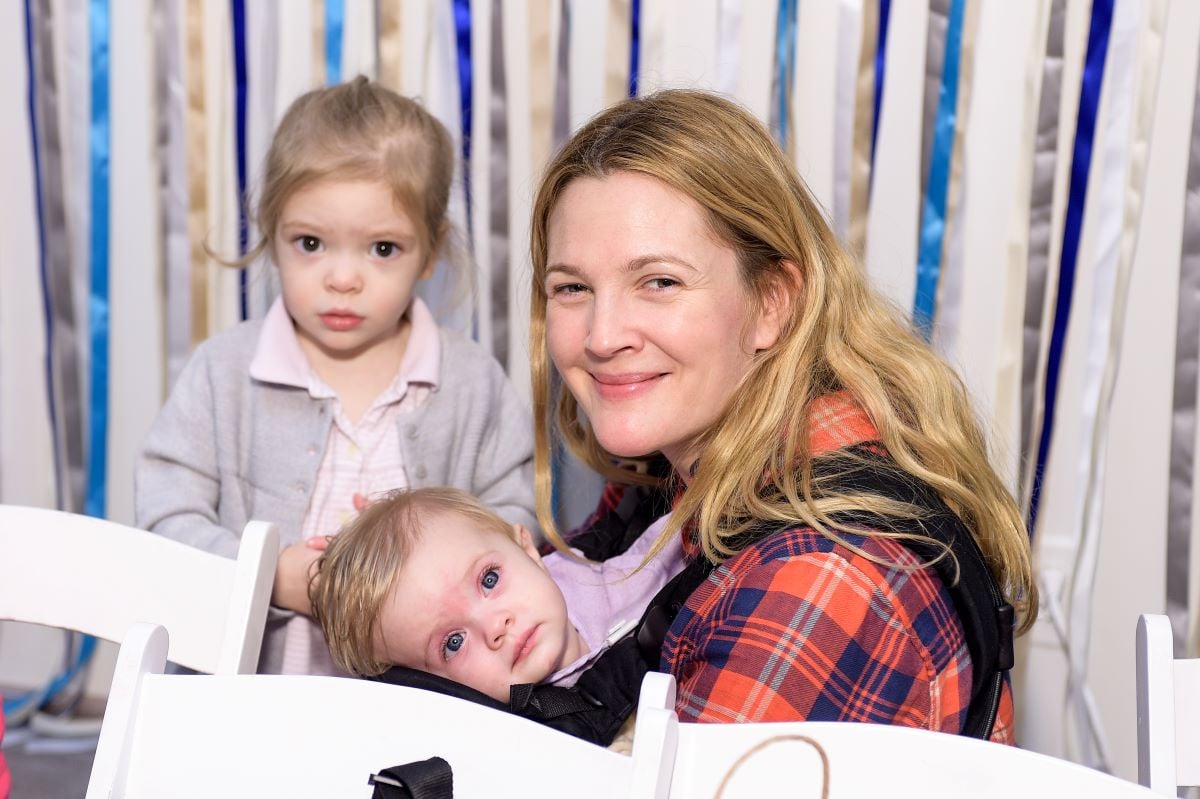 Drew Barrymore's two daughters, Olive and Frankie
Barrymore and her ex-husband, Will Kopelman, share two daughters — Olive, born in 2012, and Frankie, born in 2014. In 2016, Barrymore and Kopelman split in what she described as her "worst nightmare."
Still, the two remain dedicated co-parents. On a 2021 episode of The Drew Barrymore Show, Barrymore revealed she spent time with her kids, ex, and his new wife. "I went trick-or-treating on Sunday with Will and his beautiful wife Allie, my daughters' wonderful stepmother. I think, honestly, this is so ideal," she shared.
"You're never not together if you have children," she added. "I say this just trying to put one foot in front of the other with a lot of love and good intentions. High road, baby, less traffic."
And that's not Barrymore's only parenting mantra. There's another she grabbed from The Simpsons that kind of relates.
Drew Barrymore's parenting mantra is 'do it for her'
Barrymore shares in her second memoir, Wildflower, that she found a mantra in an episode of The Simpsons. It's titled "And Maggie Makes Three" and it's about Homer Simpson giving up his own dream of running a bowling alley when Marge becomes pregnant with Maggie.
As the episode ends, the Simpson kids ask why there are no pictures of Maggie in a family photo album, and Homer tells them it's because he keeps her pictures where he most needs them. He has them in his office, partially covering a plaque that reads, "DON'T FORGET: YOU'RE HERE FOREVER."
Barrymore notes, "But the way he has taped all the pictures of Maggie on the plaque, it has covered some of the words, and it now reads, 'DO IT FOR HER,' and that is what he now sees every day."
"Do it for her. That is it. You show that you love them endlessly. You devote yourself," she writes. "The way you live and the things you achieve and the way you behave will be more evident than trying to convince them of anything."
The parenting advice that changed Drew Barrymore's life
On another episode of The Drew Barrymore Show, Barrymore revealed that David Burtka, husband of Neil Patrick Harris, gave her parenting advice that "changed [her] life."
As a frequent flyer, she said she would sometimes feel under pressure when her kids started to act out on planes. She recalled Burtka once told her, "'I've been through it too. This is normal. You are doing a good job. It's okay, try to take the stress out of your body. People aren't as upset as you probably are projecting that they are."
"It's just hard to be a parent with two kids and you just want to make it okay for everyone else" she noted. "And weirdly not many people are making it okay for you in that moment and that's what you did. And I will never forget it for the rest of my life."
In the end, while Homer Simpson provided Barrymore with a good mantra, Burtka apparently gave her some of the most memorable advice.