Drew Barrymore Called 'Late Show' Flashing for David Letterman 'Scary'
In a moment that became instant pop culture history, actor Drew Barrymore gave David Letterman a surprise for the ages. As part of what she would later describe as kind of an act, Barrymore climbed on Letterman's desk for a celebratory dance. Then, she lifted her shirt and flashed him before sealing it all with a kiss on the cheek.
What was the occasion that inspired such a display from the grown-up child star? And what have they said about it since?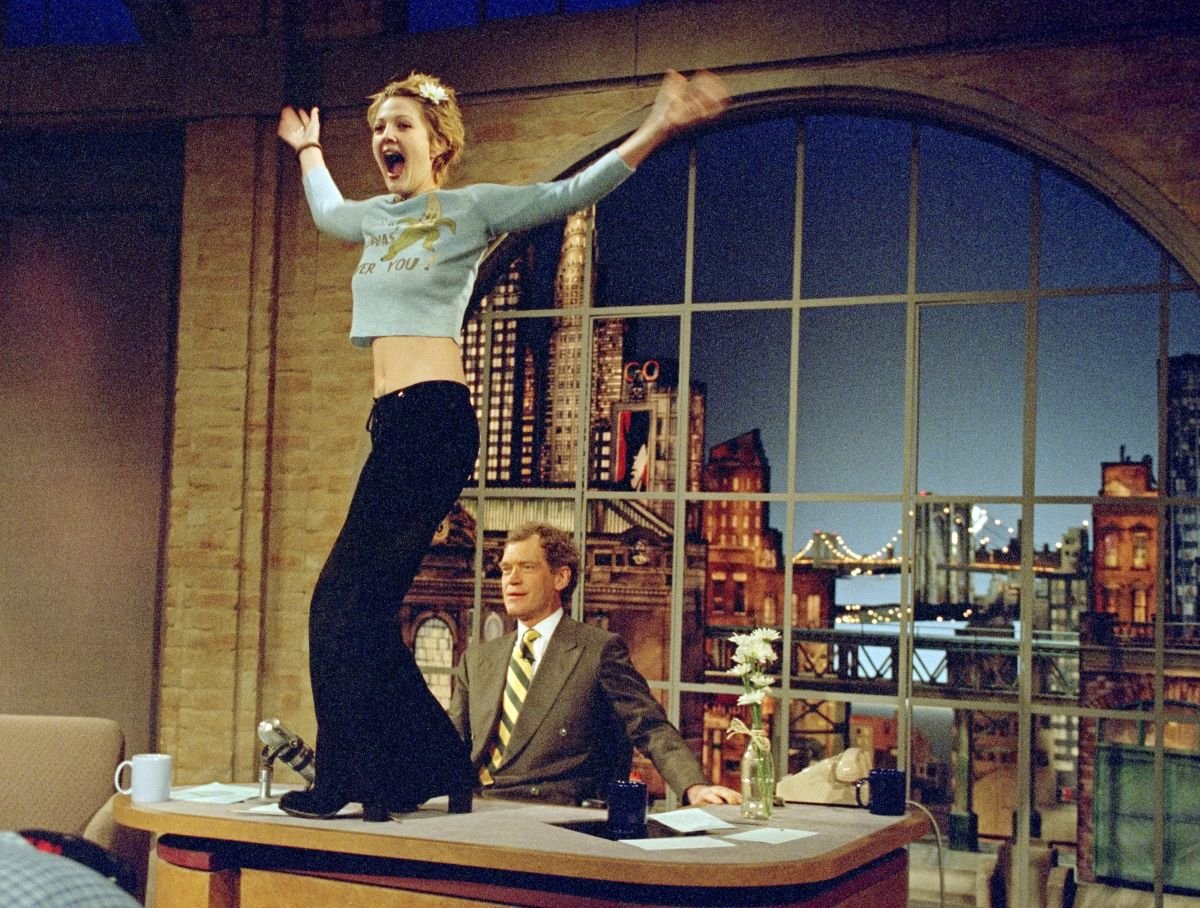 Drew Barrymore said flashing David Letterman was 'scary'
Barrymore told Entertainment Weekly in 2015 that celebrities didn't easily impress Letterman. So, that made her stunt all the riskier. But the self-described "wild child" wanted to do something special while visiting the Late Show With David Letterman in 1995 on his birthday.
"He's always been known as the person who had no problem letting the audience know he was not down with what the guest was doing," she explained. "It was scary." She also said the decision to steal the show for a moment was "completely spontaneous and not calculated in any way."
In the end, Barrymore's concerns about a poor reaction from Letterman were inevitably unfounded. "I can't thank you enough for that," he told her, seemingly speechless.
The moment apparently started a bit of a friendship between the two, as Barrymore recalled wanting to return to the Late Show after that. "I just looked forward to going back," she said to Entertainment Weekly. "There's an energy to his show. The more you tried to charm him, the less he wanted it."
Barrymore appreciated that Letterman wasn't a phony late-night host. She said, "He either liked you or he didn't. When you usually go on a talk show it's very buddy-buddy. But with him you have to work for it. But not too hard, because he won't like that!"
While others might have had to work for it, it seems like her formula sealed the deal on fast friendship with Letterman.
Drew Barrymore called the moment the 'end of an era'
In 1995, Barrymore was in what some might call rebellious early adult years when this happened. She posed for Playboy to the disapproval of Steven Spielberg, and then she got even more publicity of the slightly naughty sort when she flashed Letterman.
She wrote in her book, Wildflower, that she brought a Lolita-like character to the Letterman interview and at some point — she took over. But as Barrymore later watched the show with her friends, she realized the moment was the "end of an era" for her.
David Letterman thought he'd lost control of the class
When recalling the moment along with Barrymore on The Drew Barrymore Show, Letterman noted his first thought about Barrymore's behavior was, "Oh no, I've lost control of the class." He said he thought she might kick him when she first got on the desk, but then everything changed.
"You know in The Wizard of Oz when everything goes from black and white to color?" he asked. "That's what it was like."
Barrymore thanked Letterman for letting everyone know that moment was OK instead of making her feel bad about it. But it seems like as far as Letterman is concerned, the moment was more than OK!