Does Drew Barrymore Have a Higher Net Worth Than Her Frequent Co-Star Adam Sandler?
Actor Drew Barrymore's decades in the film industry have garnered notable credits and award-show recognition. These gigs have also earned her a lot of money. But how does it compare to the fortune of her friend and regular collaborator, Adam Sandler? Discover which star has a higher net worth here.
Drew Barrymore and Adam Sandler's movies together
Barrymore and Sandler first filmed the 1998 romantic comedy The Wedding Singer together. Sandler portrayed the titular character, who meets Barrymore's Julia when he agrees to perform at her upcoming nuptials. Though both are engaged, they fall for one another and get married in the end.
A few years later, the pair teamed up again for 50 First Dates, in which Barrymore's Lucy has amnesia due to an accident. Sandler's Henry must win her over every day when her memory resets. In 2014, they reunited for another romantic comedy, Blended, about two single parents who fall for each other after a bad blind date.
Barrymore got her start as a child actor
Barrymore comes from a Hollywood family and grew up in Los Angeles. She rose to prominence following her role in the 1982 sci-fi film E.T. Barrymore remained in the spotlight throughout the '80s and '90s, appearing in films such as Babes in Toyland, Poison Ivy, and Scream.
As an actor, Barrymore is perhaps best known for her performances in romantic comedies like Fever Pitch and Music and Lyrics, or her starring role in the Charlie's Angels film franchise. After decades on the big screen, she made her way to Netflix in the beloved dark comedy series Santa Clarita Diet, on which she was also a producer.
Sandler is also a writer and producer
Sandler entered the comedy scene in the '80s as a standup. He was later hired as a writer and performer on Saturday Night Live. After leaving the show, he became known for films like Happy Gilmore and Billy Madison. He then formed his own production company, Happy Madison Productions.
Over the past two decades, Sandler has continued to work steadily, often starring in multiple films per year. Some of the movies he's best known for include Click, Grown Ups, and the critically acclaimed thriller Uncut Gems. Through his partnership with Netflix, he's released films such as The Ridiculous 6 and Sandy Wexler.
Who is worth more, Barrymore or Sandler?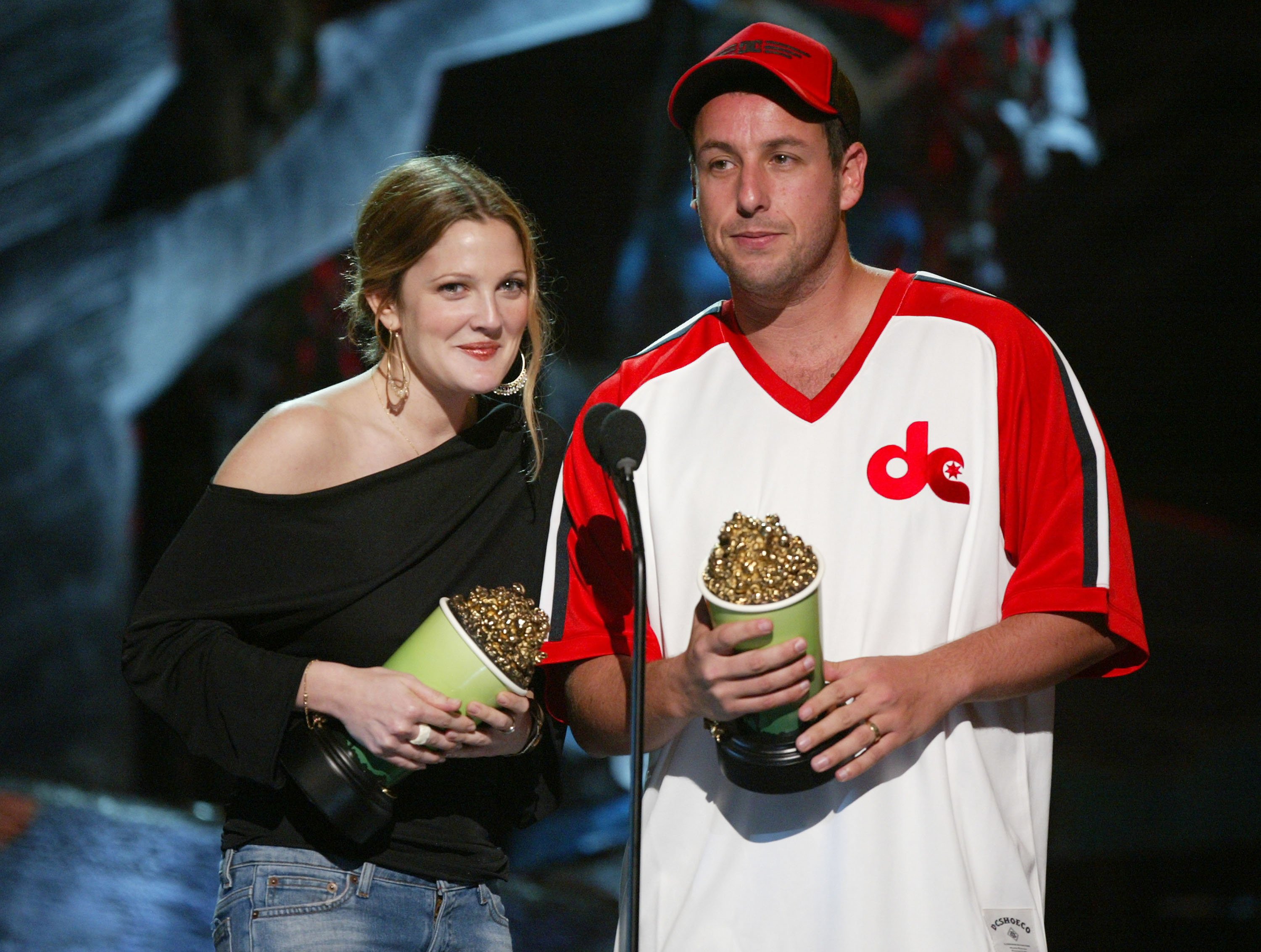 Sandler promoted his latest release, Hubie Halloween, on Barrymore's new venture, The Drew Barrymore Show. After discussing their years together, Barrymore told her old friend, "I've never really wanted to do anything important in this world, and in my life that isn't side-by-side with you."
Despite getting a few years headstart on Sandler in Hollywood, Barrymore hasn't made quite as much as her frequent co-star. While she's worth around $125 million, Sandler's net worth is more than triple that, at an estimated $420 million, making him one of the wealthiest men in show business.