Drew Barrymore Said Steven Spielberg Was 'Fatherly' Since She Was 6: 'He Single-Handedly Changed My Life'
Drew Barrymore credits iconic director Steven Spielberg with being a "very fatherly" presence when she was a child, explaining during an Armchair Expert podcast interview that the director "changed my life." The actor has shared a close bond with Spielberg since her role in E.T.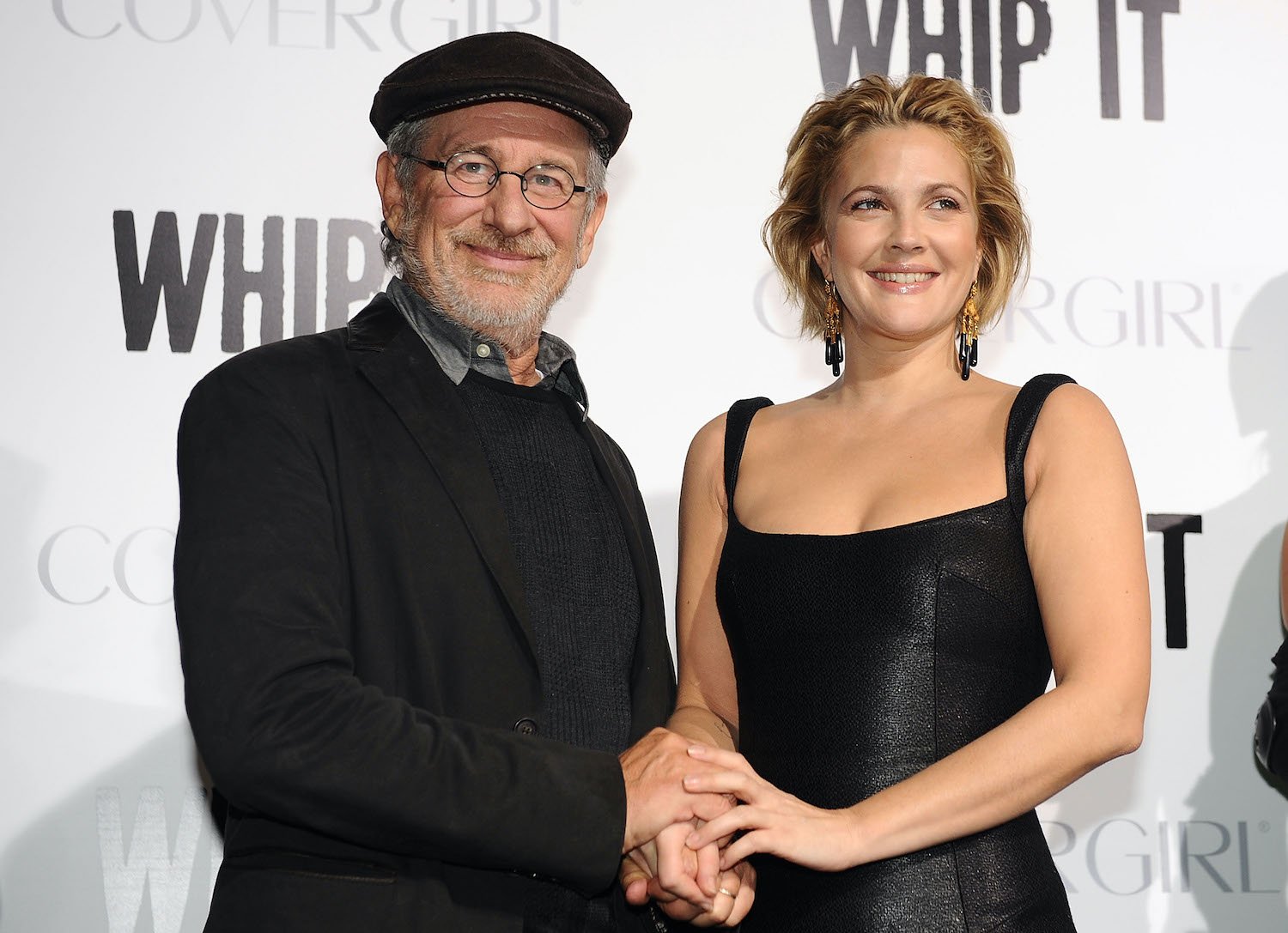 Drew Barrymore explained how Steven Spielberg changed her life
During the Sept. 27 episode of Dax Shepard's Armchair Expert podcast, Barrymore discussed how she and Spielberg developed a father-daughter relationship when she co-starred in the movie E.T. the Extra-Terrestrial.
"I got lucky," she said of her experience working on the movie with Spielberg. "He and I actively sought out a relationship throughout our lives because he saw and recognized that I did not have that. And for whatever — thank God — reason, he took it upon himself to be a consistency in my life and I love him so much."
Barrymore continued, "Because, since I was six years old, he was the first man I met who was — and this is the key word — safe. He was safe. He represented safety and he still does. And I love him for it. And I thank God that he's still in my life because that proves that he's safe. It wasn't just a flash in the pan safety. He's still there."
The actor praised Spielberg for being the constant parental-type figure that she needed. "He single-handedly changed my life. He was also someone who I didn't realize until I was older was also very fatherly," Barrymore said. "He calls me his first kid… He was appalled by me wearing red lipstick or when I did Playboy… he sent me a note, 'Cover up!'
"He did not like me acting older than my age," she continued. "And that is how a parent is supposed to make you feel. And no one ever made me feel that way, and I didn't even understand it when I was growing up, and now I'm like 'God, you really were the only fatherly person in my life.'"
She added, "And he wasn't mean about it, but he was just like, 'Wipe the lipstick off, you're too young.'"
Spielberg's impact can even be seen in Barrymore's parenting choices, as she shared that she's not allowing her daughters to get their ears pierced until they're 10 "because he made me wait until I was 10."
She added, "He's given me so much in my life and I'm so glad that he changed my life … My whole life would be so different without him taking a shine to me."
Barrymore said she loved to make the director proud
Spielberg made an appearance on an episode of The Drew Barrymore Show for the host's birthday in February and their love for each other was evident. "He's the first person who cared about me," she said about Spielberg.
He told her, "I've always cared about you ever since the first time this little blonde hurricane walked into an audition in my office and took us by storm and then soon took the entire world by storm. That was you then and that is you today."
Barrymore explained how important it is to her to always make Spielberg proud. "I always thought every time I was doing something good or right, I would always think about how you would think or feel about it because I loved making you proud," she said. "I lived to make you proud."