Dua Lipa Doesn't Think She's Benefited from Pretty Privilege
Over the past few years, fans of Dua Lipa have watched her accrue more and more success. Just last night Lipa took home a Grammy award for best pop vocal album for her sophomore album, Future Nostalgia. This was, of course, in addition to the two Grammy awards that the "New Rules" singer won back in 2019. Given the success of Future Nostalgia, fans are anxiously awaiting Lipa's next musical endeavor.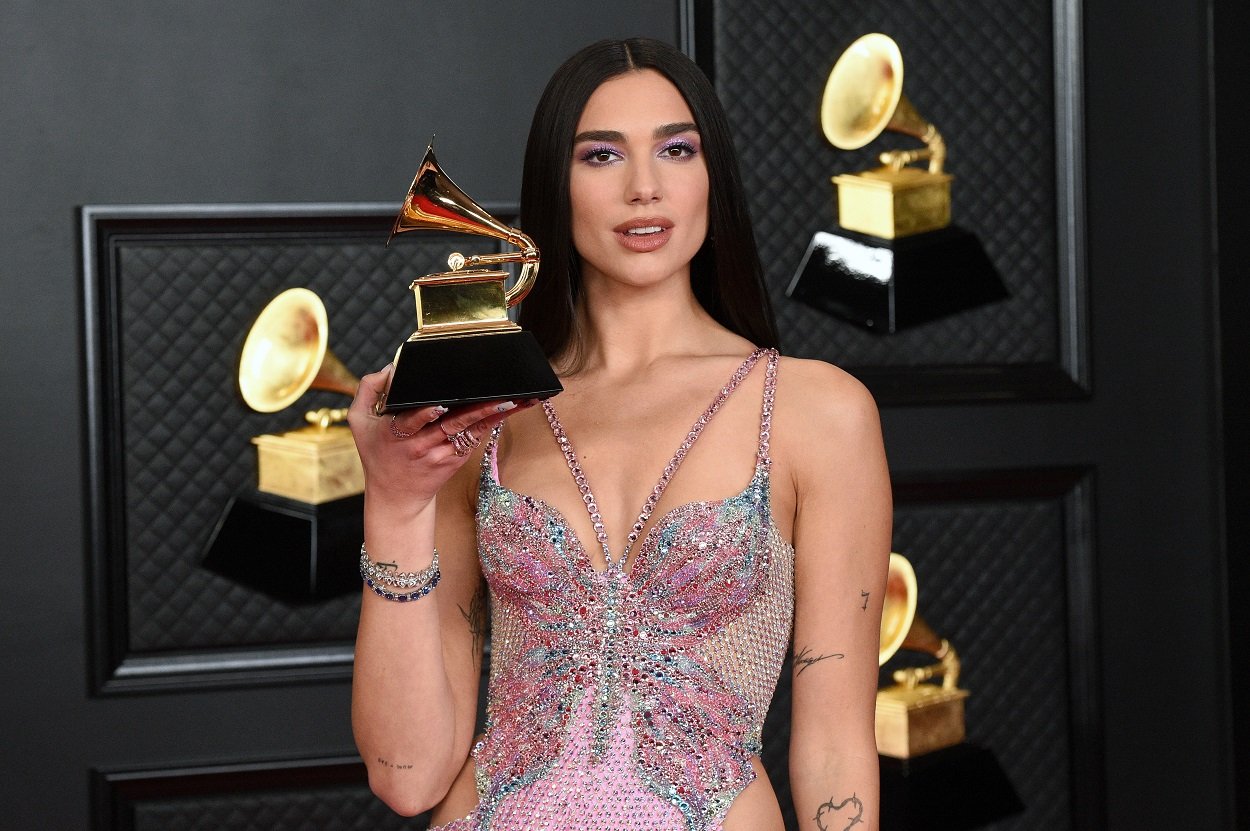 But Lipa hasn't just found success in the music industry. She's also found mainstream success in terms of fame and popularity also. To date, the Grammy winner boasts a whopping 62.2 million followers on Instagram alone and that number is steadily increasing. But what are the factors that have contributed to Lipa's success?
How has Dua Lipa achieved such massive success?
It's hard to really pinpoint exactly what factors allow a celebrity to catapult into superstardom. So much of fame is a lightning in a bottle effect and Lipa's trajectory is no different. Naturally, her talent plays a huge role in her success but other things like her interpersonal relationships with other celebrities, her label, her representation, her work ethic, her public persona, and her appearance contribute to her success also.
Though Lipa is thought to be beautiful by millions of people, she doesn't think her beauty has contributed to the success that she has achieved throughout the course of her career. In an interview with Rolling Stone, the "We're Good" singer was asked if her beauty gave her a certain power and she negated that concept. Her beliefs are, of course, in direct contrast to the concept of pretty privilege.
The Grammy winner doesn't think she benefits from pretty privilege
But what exactly is pretty privilege? It is the belief that those who fit the more conventional and "mainstream" standards of beauty are afforded more opportunities in life. The psychosocial phenomenon of pretty privilege also encapsulates the idea that most people have biases that allow them to favor people that are considered beautiful. Because of Lipa's appearance, it could be argued that her beauty has helped her achieve mass success. However, the Grammy winner doesn't see her beauty as something that has helped her career-wise. So what does exactly does she attribute to her success?
"I've never really seen being pretty or beautiful as some kind of power," Lipa revealed. "It's never been something that I identify with and — with no disrespect to you, obviously — I feel like I was a little bit shortchanged in a way, because I don't feel like I've gotten to where I am because of that. I'm extremely hardworking and driven, and I feel like that's the reason why I got to where I am, through my hard work and my drive, and I just wanted to make that clear because it has been playing on my mind."
It's interesting that Lipa doesn't look at her beauty as a type of power. But that doesn't mean that other people don't or that her career hasn't benefited from her appearance. While hard work and talent have also contributed to the singer's success, we'd argue that there's much more to it than that.