Duff Goldman's 'Happy Fun Bake Time' Reminds Fans of 'Good Eats – But With Better Puppets'
Insert variable Duff Goldman's Happy Fun Bake Time made its way to Discovery Plus on April 29. The family cooking show is reminding fans of Good Eats.
Give it to Food Network to come up with the most unique and fun twists to cooking to bring more interest to the culinary experience — adults and children alike. There's a food show by all kinds of chefs with all kinds of takes on food, creating a little something for all viewers and their food preferences.
Namely, there's Duff Goldman's Happy Fun Bake Time that made its way to Discovery+ on April 29, 2021. The exciting new family cooking show is reminding fans of Good Eats 'but with better puppets,' and here's why.
Who Duff Goldman is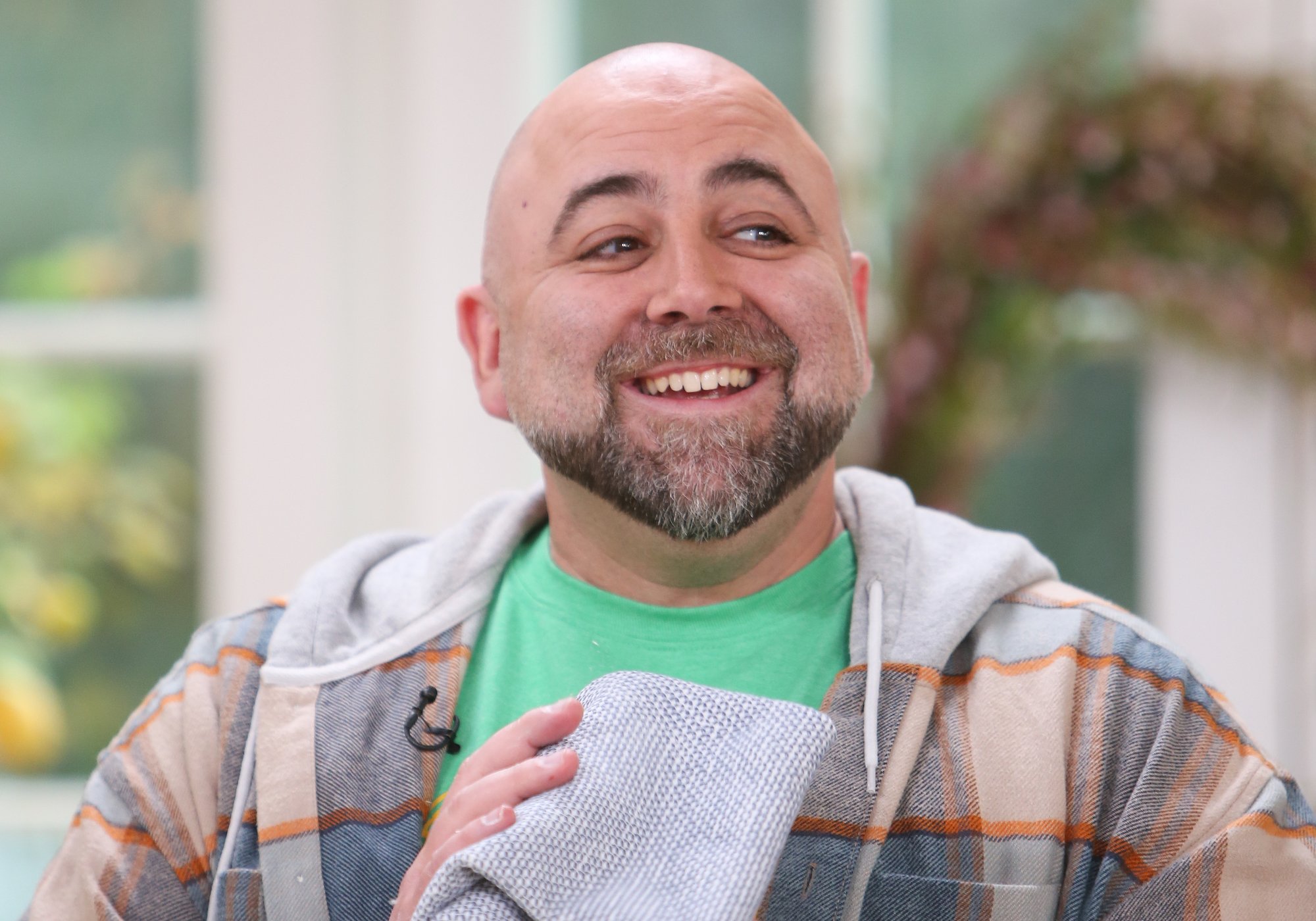 Before Goldman became the baker we know and love today, he actually studied (and got a degree in) philosophy and history at the University of Maryland, Baltimore Country.
While the two sound like they would make for one heck of a career experience, it seems culinary was always Goldman's first love because he decided to go back to school to freshen up his culinary skills at Culinary Institute of America at Greystone.
Now he's one of Food Network's biggest chefs, starring in many of their shows and gaining viewers' approval everywhere. The star chef has made an appearance on several cooking shows, but he's most popular for Duff Takes the Cake, Buddy VS. Duff, Spring Baking Championship, and Ace of Cakes.
Presumably, Happy Fun Bake Time will become a significant part of that list in the coming year.
His new show 'Happy Fun Bake Time'
According to Food Network's description of the new show, viewers can expect a "unique blend of science, eye-popping ingredients and free-spirited comedy [from] Duff Goldman and a cast of hilarious and fantastical puppets [that] make food science fun for the whole family by teaching basic cooking skills and revealing how ingredients work together to create food we love."
Essentially you can expect a mix of Bill Nye the Science Guy meets Elmo's World meets a kids baking show — rolled all into one interesting series. It's perfect for the whole family to watch and can be great for teaching and inspiring kids to get into cooking.
What fans are saying about the new Food Network show
So far, the show is generating a lot of buzz and excitement. Fans are curious about the new take on baking that finally moves past all the competitions, and typical recipe shows Food Network is known for producing. Here's what they're saying on Reddit.
The post started with an interested fan presumably yelling, "I'M SO EXCITED ABOUT THIS CONCEPT!!!!!"
Other fans were quick to jump in with their approval, as well. One added, "The first impression I had was 'Oh! This is the Sesame Street/toddler version of Good Eats!'" Another agreed with saying, "I saw a clip of it. It reminded me of Good Eats, but with better puppets."
It's clear people are ready to start watching it, but what are fans thinking after watching it? It seems the results are still positive. One fan told everyone, "It's a great show! My husband and I binged it already. Felt like an after-school show from the 90s. Loved it!"
Another agreed with this statement, adding, "I have watched a few bits of it, and it is super cute. Will be awesome for littles. Duff really is a great teacher and seems to really enjoy working with kiddos!"
With that being said, Duff Goldman's Happy Fun Bake Time is worth the watch — with or without the family. It's light-hearted, funny, and insightful. Not to mention it's the new twist Food Network needed to add to keep fans interested in cooking. Check it out and compare it for yourself. Do you see any similarities to Good Eats too?