Duggar News: What Has the Duggar Family Said in the Wake of Josh Duggar's Arrest?
Josh Duggar's arrest on federal charges might have come as a shock to fans of the reality TV family. Still, Duggar family critics were unsurprised that the eldest of Jim Bob and Michelle Duggar's children is once again embroiled in a scandal. While his exact crimes have not yet been made public, internet sleuths have offered several theories, ranging from improbable to very possible. His family, including his 18 siblings, are remaining relatively quiet. Still, there has been some movement and at least one statement in the hours since Josh's arrest was announced. So, what is the Duggar family saying about what is going on? 
The Duggar family shut down Instagram comments following Josh Duggar's arrest
The Duggar family was quick to act when news of Josh's arrest broke. While most of the Duggar family is staying quiet, many made a strategic social media move. Josh's siblings, many of whom use Instagram to promote products, have shut down their comments. Jessa Duggar, who has become something of a Duggar spokesperson, limited comments on Instagram in the moments after the news of Josh's arrest broke. Joy-Anna Duggar, John David Duggar, Jedidiah Duggar, Justin Duggar, and the official Duggar family Instagram did the same. 
While federal agents have not publicly shared the charges against Josh, Duggar family critics believe the rest of the family was aware that the arrest was coming. Long before family members started limiting their social media comments, they went quiet. Jim Bob and Michelle's last post was published more than a week ago. Anna Duggar had fallen relatively quiet until she posted her pregnancy announcement last week. Jinger Vuolo, who is currently promoting her book, also walked away from Instagram in the hours after Josh's arrest. Jinger's comments remain open at this time. 
Joseph Duggar and Kendra Duggar took to Instagram to post family photos
As Josh was being booked for his crimes, and the rest of his family was shutting down comments on their Instagram, younger brother Joseph Duggar and his wife, Kendra Caldwell, were doing the opposite. Joseph and Kendra inexplicably took to social media for the first time in weeks to share new family photos. The couple did not mention Josh's arrest or any family drama. Kendra also posted an advertisement in her Instagram stories.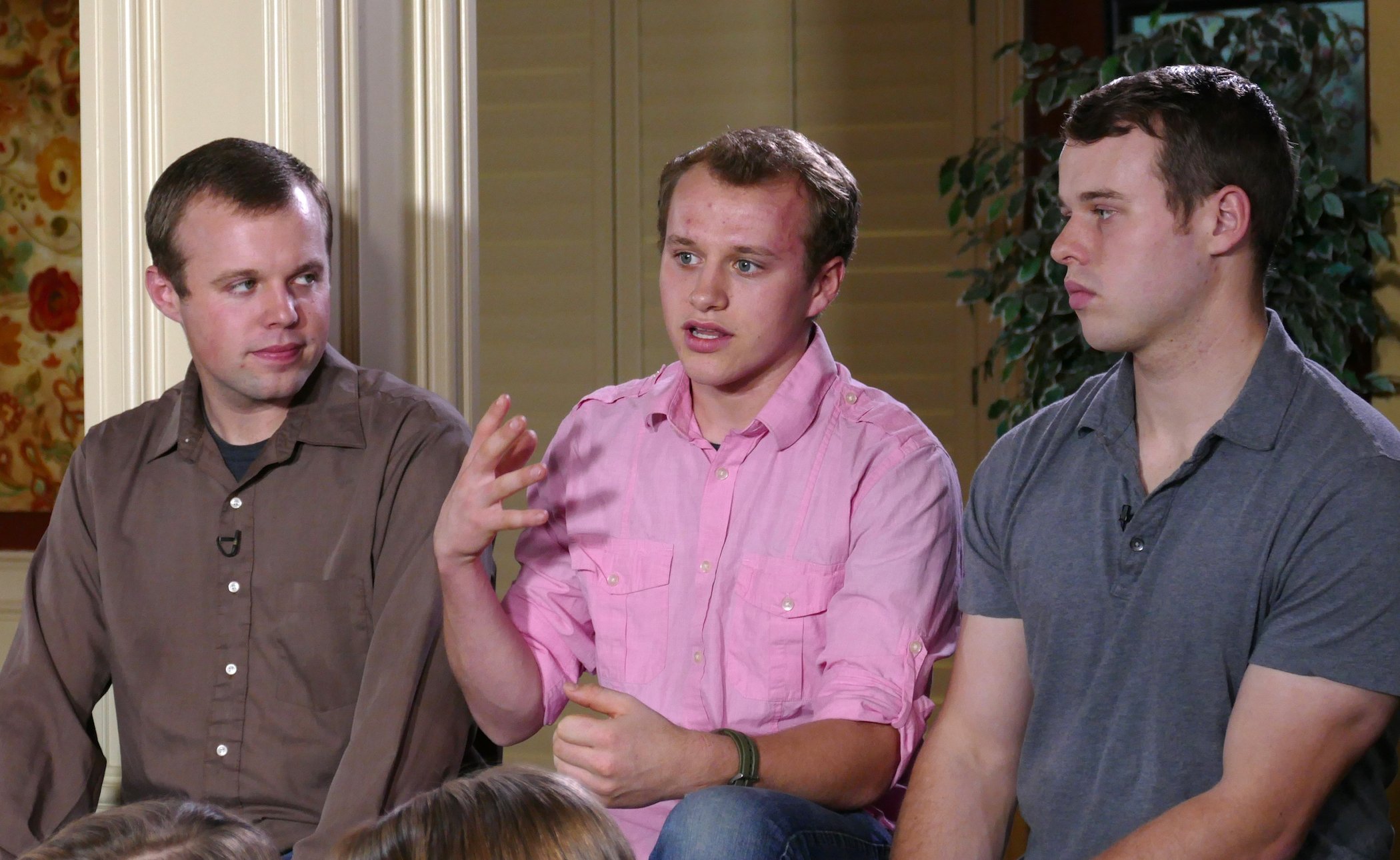 Shortly after posting the new photos, Joseph and Kendra followed the family's lead and shut down social media comments. The pair, who live on Jim Bob and Michelle's property, has remained mostly out of the spotlight and out of family drama since getting married. The couple tied the knot in 2017. Joseph and Kendra are parents to three children. 
Derick Dillard and Jill Duggar issued a statement to the media but are remaining tight-lipped.
Jill Duggar and her husband, Derick Dillard, are the only family members who have issued a statement regarding Josh's arrest so far. Entertainment Tonight reached out to the couple on April 29. They told the publication that they had just learned of Josh's arrest and that the entire situation was "very sad." They did not share any additional information about the arrest.
In recent years Jill and Derick have rebelled against the Duggar family and spoken out against Jim Bob and Michelle. Derick, who is due to graduate from law school in the next few weeks, is known for taking to social media to discuss Duggar family dirt. He has remained quiet since the news broke. Family critics theorize that a more expansive statement is to come following the announcement of the charges. More information is expected to be made available in the coming days. This is a developing story.