Dulé Hill Almost Turned Down Role of Gus on 'Psych': 'I Didn't Want to Play a Geeky Character for 5 or 6 Years'
Initially, Dulé Hill didn't want to play Burton "Gus" Guster on Psych. As fans of the long-running USA comedy series know, the actor eventually changed his mind and joined the show. Ahead, find out why Hill had a change of heart.
What is 'Psych' about? 
For those who aren't full-fledged Psych-Os, the nickname for Psych fans, here's a rundown of the show. Shawn Spencer (James Roday) is very good at observing his surroundings thanks to years of training from his dad, Henry Spencer (Corbin Bernsen), a retired police officer.
One day, Shawn is accused by the police of committing a crime he didn't commit. In reality, he solved the case thanks to his astute powers of observation. To get out of being arrested, Shawn convinces the police he's a psychic. With the help of his best friend, Gus (Hill), Shawn starts solving cases for the police. 
Dulé Hill played the character of Gus for 8 seasons 
Psych premiered on July 7, 2006, and ended after 8 seasons and 120 episodes in March of 2014, according to IMDb. During that time, Hill played Gus, Shawn's sidekick and best friend, who worked at a pharmaceutical company when he wasn't helping solve crimes.
On the show, the duo built a business around Shawn's fake psychic abilities working with the local police department on cases. But in real life, the actors helped solidify a devoted fan base for the series. When the show came to an end, fans continued to show their love for Shawn and Gus, which eventually led to the cast reuniting in 2017 for Psych: The Movie. 

He liked that Gus 'was an oxymoron'
Hill, who now stars in Black Monday, sat down with HuffPost in 2013 to discuss Psych and how he came to play Gus. During the interview, the actor shared he didn't jump at the role right away.
"You know, I initially said no because I didn't want to play a geeky character for five or six years. Coming off The West Wing, I realized a show could run that long," Hill said. 
He played Charlie Young on Aaron Sorkin's critically acclaimed political drama from 1999 to 2006. Hill went on to say after revisiting the character of Gus, he began to see the part in a new way.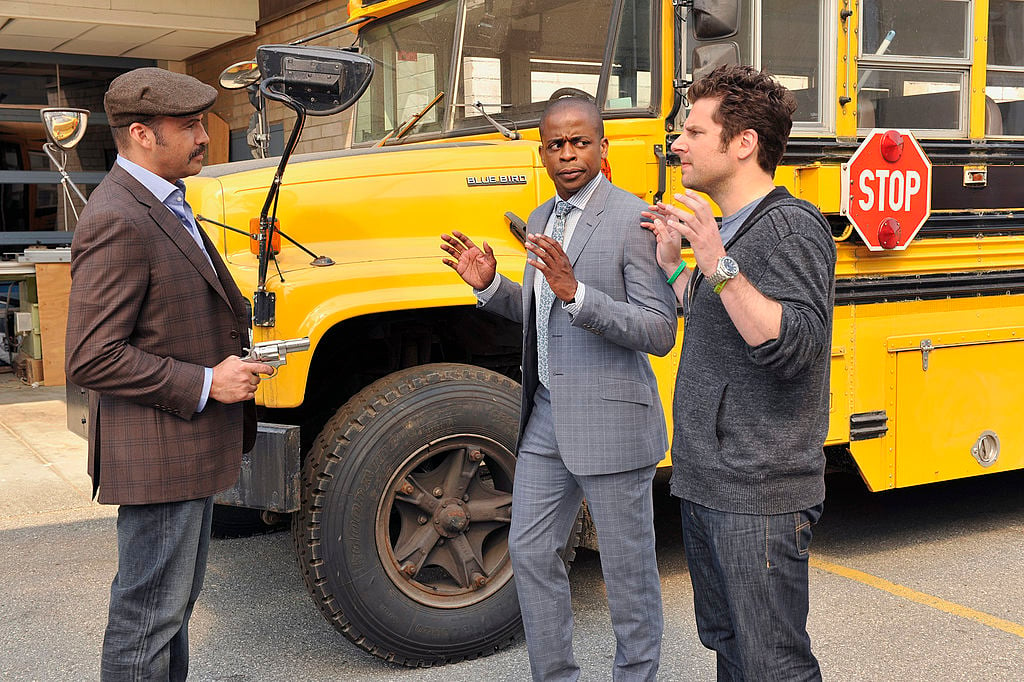 "But my agent hit me back a couple weeks later and said, 'Take another look at it and see how you want to approach it.' I did that. I saw how I was going to approach it. And then I met with [creator] Steve Franks, everything clicked," he said. 
Hill continued, sharing what he liked about the character. 
"Once I took that second look, what I liked about Gus was that he was an oxymoron. He swears he's cool, but he really isn't. But because he isn't, he is. It was dynamic that I really enjoyed," he said. "This guy thinks he's a ladies man, but he's really not, yet he's an eternal optimist in the midst of it all. Nine times out of 10 he's going make the wrong decision."
Hill is set to reprise his role as Gus in a second Psych movie, Psych: Lassie Come Home. The film will premiere on NBCUniversal's streaming service, Peacock, on a yet-to-be-released date in 2020.